Leading pharmaceutical companies invest billions of dollars each year in research and development with little or no guarantee of a return on their investment. With the average cost of developing a new drug hitting the $800 million mark, accurately forecasting the market potential for new compounds is becoming an essential tool in long-term strategic planning. Forecasting is also essential in understanding how the dynamics of a market are changing, evaluating licensing and acquisition opportunities for a particular therapeutic candidate, and raising the awareness of company executives of both current and potential future competitors.
Last, but not least, pharmaceutical product forecasting provides precious building blocks for modeling and simulation exercises that investment analysts need to conduct on a continuous bases to estimate return-on-investment decisions and fine tune their portfolios. As I was conducting such a modeling exercise on Pfizer (NYSE:PFE), I discovered some discrepancies in the information provided by the company regarding its oncology division. After doing some research, I think I might have managed to understand the dynamics involved.
According to Pfizer's 2012 10-K, the oncology division -- which currently includes Inlyta, Sutent, Torisel, Xalkori, Mylotarg (in Japan), and Bosulif (in the U.S.) -- realized revenue of $1,310 million at the end of 2012. Since Sutent and Inlyta realized revenue of $1,236 and $100 million, respectively, a simple calculation assigns all remaining products in the division a combined revenue of (-$26) million, which does not make much sense. After digging a little deeper, I discovered that Pfizer assigns revenue generated in emerging markets and revenue generated from products that have lost patent protection to different segments of its financial statement, which is rather confusing.
Both Sutent and Inlyta are indicated for advanced renal carcinoma, a rather crowded space where they have to compete with another five products, including Bayer's (OTCPK:BAYRY) Nexavar (Sorafenib), Novartis' (NYSE:NVS) Afinitor (everolimus), Roche's (OTCQX:RHHBY) Avastin (bevacizumab), GlaxoSmithKline's (NYSE:GSK) Votrient (pazopanib), as well as Pfizer's own Torisel (temsirolimus), a Wyeth legacy product.
Click to enlarge images.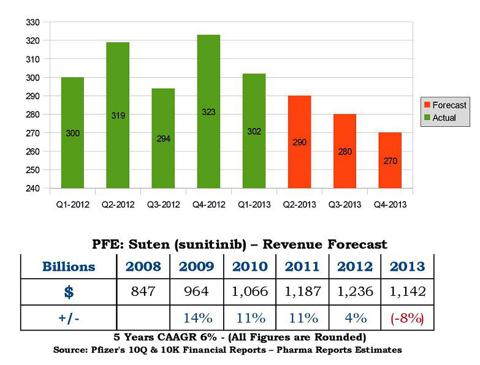 Sutent, launched in January 2006 in the U.S., is currently considered the standard of care for treatment-naïve patients with advanced disease. Sutent experienced a (-7%) sequential decline in revenue in Q1 2013 to $302 million. Pfizer cited stiff competition and cannibalization of product revenue in Japan, where Inlyta is approved for the same indication as Sutent.
GSK's Votrient, which grew by over 60% to $280 million during 2012, is currently the main threat to Sutent in the field. Some analysts are predicting that it might surpass Sutent's dominance by 2016.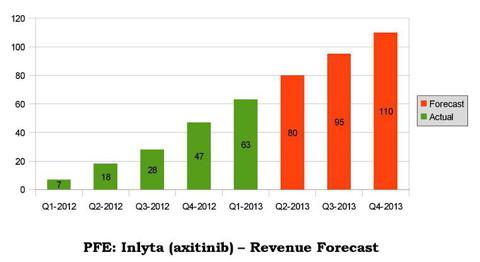 In January 2012, Pfizer launched Inlyta (Axitinib), a selective oral inhibitor of vascular endothelial growth factor (VEGF), in the U.S. as a second-line treatment for patients with advanced renal cell carcinoma after the failure of one prior systemic therapy. Inlyta was launched in Japan in June and in Europe in September. During Q1 2013 Inlyta realized $63 million in revenue, a growth of 34% over the previous quarter. The average monthly cost of Inlyta is just under $8,900, roughly the same cost as other treatments for advanced kidney cancer.
Inlyta was shown to outperform Bayer's Nexavar (sorafenib) in delaying disease progression and is currently being investigated as a first-line treatment for the disease. U.S. basic patent for Sutent is scheduled to expire in 2021 while that of Inlyta expires in 2020. However, in May 2010, Mylan Pharmaceuticals (NASDAQ:MYL) filed an abbreviated new drug application with the FDA seeking approval to market a generic version of Sutent and, in effect, challenging Sutent basic patent.
Judging from quarterly sales trend and how both Sutent and Inlyta are responding to pressure from a hostile market environment, we tend to believe that Inyta might achieve higher growth during 2013 than that mentioned in a previous forecast; however, this higher growth might be achieved on the expense of Sutent. For 2013, we project net sales of $350 million for Inlyta and a decline of 8% for Sutent to $1,140. However, since actual performance will depend on how Pfizer will allocate marketing resources to each product during the year, we will revise this forecast periodically as new data points become available.
Disclosure: I have no positions in any stocks mentioned, and no plans to initiate any positions within the next 72 hours. I wrote this article myself, and it expresses my own opinions. I am not receiving compensation for it (other than from Seeking Alpha). I have no business relationship with any company whose stock is mentioned in this article.