Groupon (NASDAQ:GRPN) has seen its stock rise 54% YTD. The company, which lost nearly $4 million last quarter, still maintains a market cap of $5 billion.
image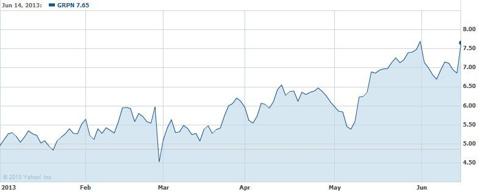 Just last Friday, Groupon saw its stock rise 11.5% due to an upgrade from Deutsche Bank (NYSE:DB). DB's analyst Ross Sandler raised his price target from $6 to $10. Sandler says that a push by Groupon to provide more targeted searches to customers would allow the company to see up to 20% in billings.
Here is why Sandler's price target really doesn't make any sense still. Let's assume that Groupon billings do rise 20% due to this target coupon campaign. Even this would not justify a $10 stock price. A $10 stock price would mean a $6.6 billion valuation.
Groupon's business model is about getting a cut of the revenues from companies. While attracting more coupon sales does help revenue, it doesn't mean that those billings will stay. Groupon has to not only satisfy coupon enthusiasts by providing great deals, but also help make sure companies are getting their money's worth.
Sandler says that this "pull" strategy could turn Groupon around. I have to disagree with this simply because not enough is even known to say that the company should be worth $6.6 billion. I do agree with Sandler that targeting emails to customers based on their preferences will increase the volume of coupons sold. This will increase revenue, but keep in mind, the company still lost $67 million last year.
Will a 20% increase in billings lead to profitability? Maybe. Will it justify a $6.6 billion market cap? Most likely not.
There is also new competition coming into the space as well. In UK, Barclaycard will has just launched a new service called "Bespoke Services," which will offer similar deals to Groupon. While the service is only in UK, given Barclaycard's strong presence, they should be able to market the new coupon system fairly well.
The market seems to have gotten excited about this upgrade. It's possible bulls were just looking for a reason to buy the stock. I still don't understand the current stock price, let alone a $10 valuation. Groupon needs to earn at least $200 million so it can justify the current valuation of $5 billion. This would give it a P/E of 20, which I still consider would be on the higher end given that the company's current business model won't allow for much growth going forward.
I encourage investors to stay away from this. The stock at this price is not really even considered speculation. Even if a 20% billing increase were to happen, the stock seems to have priced it in already.
Disclosure: I have no positions in any stocks mentioned, and no plans to initiate any positions within the next 72 hours. I wrote this article myself, and it expresses my own opinions. I am not receiving compensation for it (other than from Seeking Alpha). I have no business relationship with any company whose stock is mentioned in this article.