If you are invested in the current market, it is quite tempting to seek out high-risk/high-reward plays that might benefit from an economy that seems to be turning around. What is likely more prudent is to have some foundation investments in your portfolio that are less risky, more stable, and more predictable. I have held dividend paying Cal-Maine Foods (NASDAQ:CALM) in my portfolio for years. It has almost been a "set it and forget it" play. How often do you get to play a small-cap stock that controls 20% of its market?
Cal-Maine Foods is in the egg business. In fact, the company controls about 20% of the fresh egg market. Eggs are highly consumable, and a food staple. They can shift in popularity, but eggs sell each day, each week, each month, and each year. While an investment in eggs may lack sex appeal, a consistent price and good dividend should be enough to keep many investors happy.
One interesting dynamic about investing in Cal-Maine is that the reports and discussion of the business reads much more like a commodities report than an equity report. There are discussions about the number of hens, fertilizer prices, egg prices, and the impact of weather.
Click to enlarge images.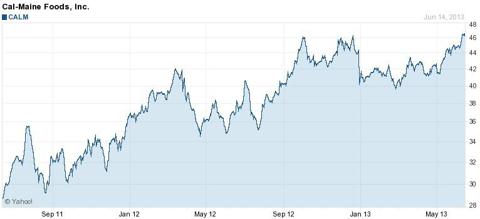 Over the past two years, CALM has ranged from a low of $28.50 to a high of about $46. As of this writing, the equity is testing 52-week highs for the third time in the last 12 months. Is an equity like Cal-Maine Foods a buy as it tests a 52-week high? Cal-Maine has been trading above all moving averages for about six weeks. The company is sitting in what may be considered extremely overbought territory. It would seem as if it is best to wait, but remember, this company pays dividends.
Dividend Policy
Cal-Maine pays dividends on a quarterly basis. The dividend is variable and equates to 33% of profits. For many investors, there is nothing sweeter than getting to divide up profits, or at least a portion of profits, on a quarterly basis. If you re-invest the dividends you can actually set up a decent situation that provides what is about as close to a residual income as you can get. The most recent quarter saw a dividend of 42.3 cents per share.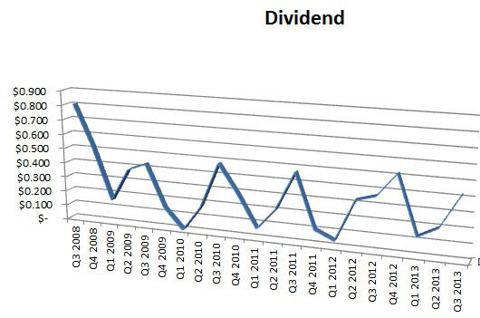 Growth Story
Cal-Maine Foods expands its business as opportunities avail themselves. A couple of more recent acquisitions are expected to deliver new synergies and open up additional market opportunities to Cal-Maine Foods. This can bode well for the health of Cal-Maine as well as the bottom line. Cal-Maine has traditionally been very strategic with acquisitions and makes them when they are accretive to the company as well as the financials.
Most Recent Quarter
Cal-Maine reported its most recent quarter on April 5 of this year. The company carries a strong balance sheet and operates in a profitable manner.
Current total assets: $754.6 million
Current total liabilities: $233.3 million (includes $56.8 million in long-term debt)
Current operating income: $30.9 million
Current other income: $14.9 million
Current NET income: $30.5 million
Fully diluted share count: 24.1 million
As you can see, there is stability in this equity. While investing in eggs may not seem as chic as investing in General Motors (NYSE:GM), the company does offer a very attractive dividend policy and controls a substantial chunk of its market. Both of these attributes should be attractive to investors.
Cal-Maine may well be trading high at the moment, but investors should keep it on their radar. The key when investing in this company can be the dividend. If you time it right you can benefit from a dividend score. The 50-day exponential moving average is at about $44 and supplying support. For that reason, I feel that CALM is a decent play at any point. If you are fortunate to get in lower than $46, be thankful. While no investment is foolproof, Cal-Maine has been good to me and my portfolio for years now. Everyone should have some portfolio stability. Why not give Cal-Maine a look?
Disclosure: I am long CALM. I wrote this article myself, and it expresses my own opinions. I am not receiving compensation for it (other than from Seeking Alpha). I have no business relationship with any company whose stock is mentioned in this article.