Summary
The market has been quite hard to predict as of late. The three major indices: S&P 500 (NYSEARCA:SPY), Dow Jones Industrial (NYSEARCA:DIA), and Nasdaq (NASDAQ:QQQ) have been all over the place. Things have been moving up and down in all directions on light volume. There is not much conviction to any moves, and the market is just waiting for the Fed to pull the plug on QE or back off recent statements of a slowdown. Additionally, earnings are around the corner in early to late July that should provide some more movement for the market in a trend. This week, the big news for the markets is housing data, the Fed monthly meeting, and key data from Asia and Europe.
Chart Overview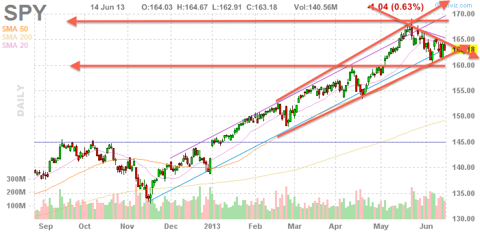 As we can see from the chart above, we are range bound in a channel, and we are in a descending triangle all at the same time. Support is firm at 1600 and within the channel. Resistance is strong as well. It is definitely a market that is showing lots of indecision all around. A break above the triangle would be bullish and losing 1625 then 1600 would show weakness.
Economic Data
| | | | |
| --- | --- | --- | --- |
| Date | Data Report | Market Expectations | Previous Report |
| June 17 | Empire Manufacturing - June | 0.8 | -1.4 |
| June 17 | NAHB Housing Market Index - June | 45 | 44 |
| June 18 | CPI - May | 0.2% | -0.4% |
| June 18 | Housing Starts - May | 950K | 853K |
| June 18 | Building Permits - May | 983K | 1017K |
| June 19 | Crude Inventories - 06/15 | NA | 2.52M |
| June 20 | Initial Claims - 06/15 | 340K | 334K |
| June 20 | Continuing Claims - 06/08 | 2967K | 2973K |
| June 20 | Existing Home Sales - May | 5.00M | 4.97M |
| June 20 | Philly Fed - June | -0.2 | -5.2 |
| June 20 | Leading Indicators - May | 0.2% | 0.6% |
It is not a super strong week of data, but there are some definite market moving stories to watch. On Monday, we get a key data point in the Empire Manufacturing and NAHB Housing Market Index. One key ETF to watch for the housing market index is SPDR Homebuilders (NYSEARCA:XHB). XHB will react very strongly to the housing information this week. Both points are for June, which will give us a solid look at the month for both manufacturing and housing. Both reports are expected to show a rise. Housing Starts and Building Permits on Tuesday will be pretty important as well. Finally, Thursday it will be important to watch jobless claims and Philly Fed. Philly Fed is for June and jobs data is key to the Fed's decision on when to taper QE.
Foreign Markets
Outside of the USA, Europe and Asia will be key to the market on certain days of the week. The important reports to watch will be the eurozone ZEW Survey on Tuesday. Europe's data has started to show a slowdown in negative readings and some readings are even turning around. These reports will be key to see if economic confidence is growing. Thursday is a big day for the Bank of Japan (BOJ) when it buys a round of Japanese stocks and bonds as well as foreign stocks and bonds. Thursday, we get the Chinese HSBC Manufacturing Flash Index and PMIs for Germany, France, and the eurozone. Finally, we finish with a key speech from BOJ Governor Kuroda on Friday.
Earnings
| | |
| --- | --- |
| Date | Key Company |
| June 17 | Discover Financial (NYSE:DFS) |
| June 18 | Adobe Systems (NASDAQ:ADBE) |
| June 19 | FedEx (NYSE:FDX) |
| June 19 | Red Hat (NYSE:RHT) |
| June 20 | Oracle (NYSE:ORCL) |
| June 20 | Kroger (NYSE:KR) |
| June 21 | Carnival (NYSE:CCL) |
This week, we get some important earnings from companies with a March to May earnings season. The key earnings to watch this week are DFS, FDX, ORCL and CCL. Each one will give a pretty good indication of what we can expect for the market in the coming month when we get Q2 earnings. DFS will give us a look into financial markets especially credit. FDX is an economic bellwether that can give insight into the domestic and global situations. ORCL is a great tech bellwether and CCL will give us a look into consumer spending habits. Expectations are not high for FDX, ORCL and CCL so some potential surprises could occur.
Fed Outlook
The Federal Reserve is the key to the week. The market will be moving up or down on what the Fed does. Expectations are that the Fed will begin to plan its taper this week and details about when that may happen will start to be revealed. The market is expecting that taper will start to occur before the end of the year. The sooner it is planned, the more damaging it will be. A longer ways out, the market can digest it more easily. There is some chance that the Fed will back off its taper due to recent results of weakness in the economy. The market will be moving strongly on what is decided, so look for a big move in the latter half of the week. If the Fed does continue QE, it will bring bond yields back down quite significantly and could help put in a bottom for iShares Barclays 20-Year Treasury (NYSEARCA:TLT).
Conclusion
It is an important week for the market. We may see a large swing in the market if the Fed pushes taper more quickly. If it backs off those talks, we could see a big push up. If it shows more indecision, the market will likely do the same. Other reports from here at home and overseas will have some interesting influence, but the Fed is the key.
Disclosure: I have no positions in any stocks mentioned, and no plans to initiate any positions within the next 72 hours.
Business relationship disclosure: The Oxen Group is a team of analysts. This article was written by David Ristau, one of our writers. We did not receive compensation for this article (other than from Seeking Alpha), and we have no business relationship with any company whose stock is mentioned in this article