Investment markets have been rattled in recent weeks due to various uncertainties associated with the economic outlook, the future of Fed stimulus and the increasing volatility in Japan. But while the markets worry, Tootsie Roll (NYSE:TR) is a little candy maker with a $1.9 billion market cap that continues to plug right along. Sometimes, sweet stocks do come in small packages.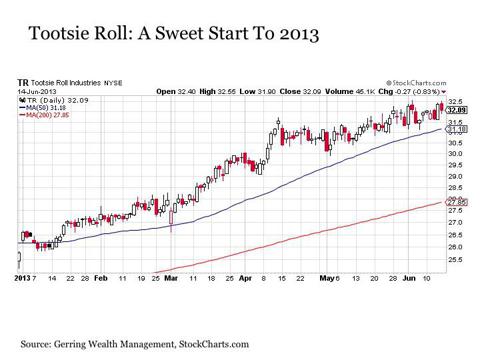 Tootsie Roll's stock has enjoyed a tremendous 2013 so far. For the year-to-date, the company stock has gained +24.5% outperforming the broader market as measured by the S&P 500 Index (NYSEARCA:SPY) by over 9 percentage points.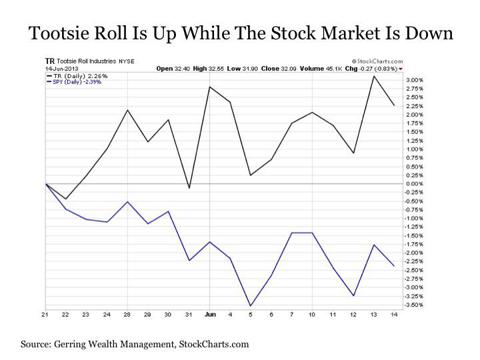 Perhaps just as notably, Tootsie Roll's stock has widened its lead since the onset of the broader market correction starting on May 22. For over the last 17 trading days, Tootsie Roll stock has risen by +2.25% while the S&P 500 has been down by -2.39% over the same time period.
So what is enabling Tootsie Roll to hold up so well in what has otherwise been a turbulent market in recent weeks. Presumably the fact that the company specializes in defensive, low cost products such as candy and confections that consumers will purchase regardless of economic conditions is certainly a plus. In fact, consumers might even be inclined to buy a few more of these products during tough economic times to help try and take the edge off their stress. And with a strong roster of highly recognizable brands such as Junior Mints, Charms, Charleston Chew, Dubble Bubble and Andes just to name a few, the company is well positioned in this regard.
Several points further highlight the benefit of this focus on candy and confections during down markets. For example, Tootsie Roll has outperformed its more diversified peers during the recent decline including Hershey (NYSE:HSY), Mondelez (NASDAQ:MDLZ) and Nestle (OTCPK:NSRGY). It is worth noting that the more candy focused Hershey has posted more comparable results during this time period and for the year-to-date, while the larger and more globally focused Mondelez and Nestle have relatively struggled.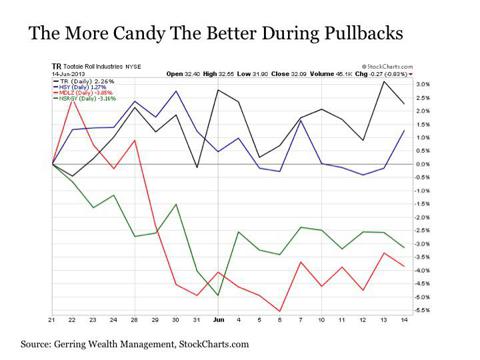 Tootsie Roll has also held up particularly well during periods of extreme market stress over time. For example, dating back to the very beginning of the financial crisis in July 2007, the maximum cumulative decline experienced by Tootsie Roll stock was -26%, which compares most favorably to the maximum -55% cumulative decline posted by the S&P 500 Index. And not only has Tootsie Roll's stock provided far greater downside protection, it has also significantly outperformed the market during this overall time period by a considerable margin.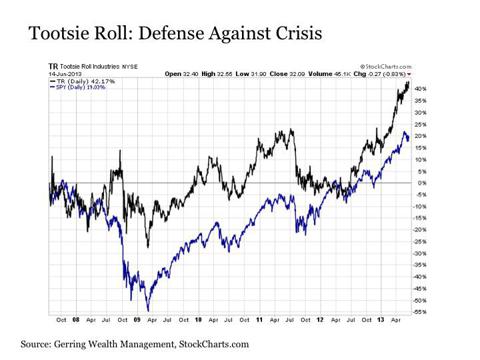 So what exactly is it about this company that has made its stock work so well in recent years? This is where the story gets interesting. For from a fundamental perspective, Tootsie Roll offers very little about which to get excited.
First, revenue growth has been solid but generally unexciting in recent years. After a solid burst higher on the top line toward the middle of last decade, revenue growth generally languished for a few years before showing some renewed signs of life. But even with recent gains, revenues have only grown at a 1.5% annualized rate since 2006.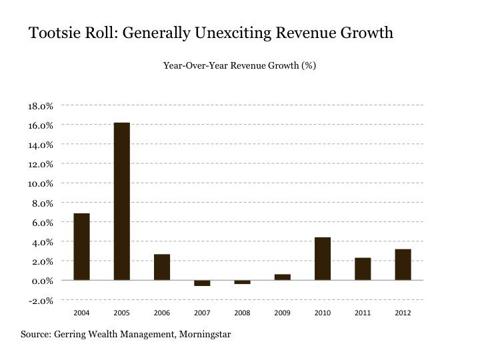 The story deteriorates further when focusing on the bottom line. Sluggish revenue growth can sometimes be more easily digested with evidence that they are part of a corporate effort to increase operational efficiencies and reduce costs. But such has not been the case over the last decade. After peaking at $77 million in 2005, earnings have fallen by a -5.5% annualized rate to $52 million in the most recently completed year. And while earnings were $8 million better in 2012 versus the previous year, annualized earnings are still down at an annualized -1.2% during the aftermath of the financial crisis since 2009. Moreover, Tootsie Roll has seen year-over-year earnings decline in six out of the past nine calendar years.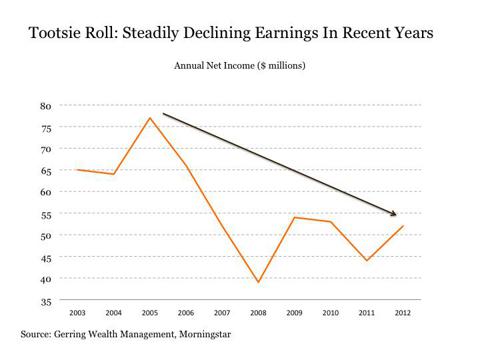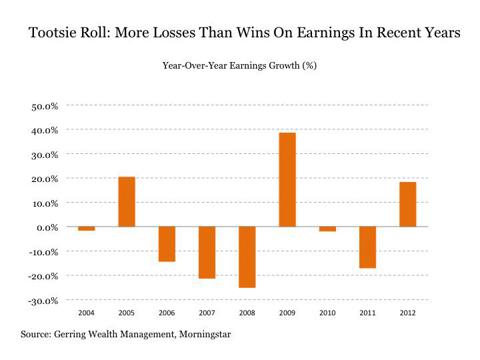 These revenue and earnings trends have placed a heavy weight on margins in recent years. A decade ago, Tootsie Roll was a company with gross margins well north of 40%, operating margins in excess of 20% and profit margins consistently above 15%. But these once impressive profitability readings have given way to something less stirring in recent years. Today, gross margins have fallen a full 10 percentage points to the low 30% range, while operating margins are now below where profit margins once were in the 10% to 13% range and profit margins are now in the single digits.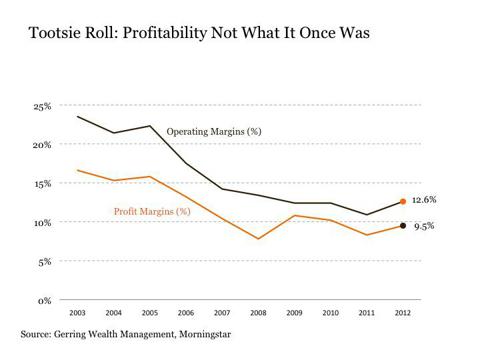 Tootsie Roll has also generated less in the way of return for its shareholders in recent years. Whereas return on equity was once consistently in the low double-digits, it has since fallen into the mid to high single digit range.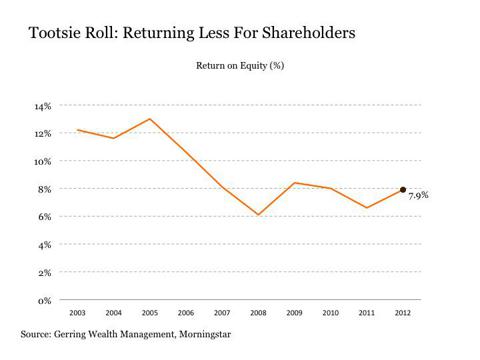 Tootsie Roll's declining fundamental performance also comes at a price, as the stock is far from what would be considered inexpensive on a valuation basis. The average price-to-earnings ratio for Tootsie Roll stock over the last decade has been 29 times earnings. While this is considerably more expensive than the average multiple for the broader stock market, it is certainly not unusual for a highly defensive consumer staples company to enjoy a premium multiple, particularly one that is more closely held. As a comparison, Wrigley was a closely held stock that also commanded a healthy premium stock multiple before it was finally acquired by Mars and Berkshire Hathaway (NYSE:BRK.B) back in 2008. But with all of this being said, Tootsie Roll stock is also now quite expensive from a relative valuation standpoint. With the stock trading at 37.3 times earnings today, this represents a near +30% premium to its long-term average valuation. It should be noted, however, that the stock's valuation has been trending higher in recent years consistent with the broader market indices, so this may help at least partially explain the higher than normal multiple today. Even with this additional consideration, the stock is currently rather expensive.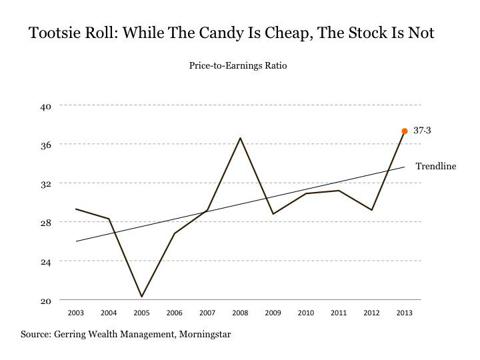 The story on Tootsie Roll builds up to an obvious question. Here we have a company in Tootsie Roll that is a generally solid free cash flow generator with virtually no debt that has a strong roster of iconic brands in a defensive industry and a market capitalization of just $1.9 billion that has also been experiencing deteriorating fundamental performance for the better part of a decade. All of these characteristics and more are screaming that Tootsie Roll is a prime takeover candidate. So what gives? This is where the story becomes even more interesting.
Tootsie Roll will almost certainly continue on its own under current leadership for the foreseeable future. As mentioned above, Tootsie Roll is a closely held company with 50% of all shares held by insiders and 5% owners of the company. And the two people at the top of the company are listed among these select owners. The first is Melvin Gordon who has been running the company for over 50 years and at 93 years old makes Warren Buffett look like a young punk in comparison. The second is his wife, Ellen Gordon, who at 81 years old is the President and Chief Operating Officer of the firm. The couple earned a combined pay of $7.5 million in 2012 and not only have never expressed any interest in selling the firm, they are generally more reserved in the information that they share about the company and its operations at any given point in time.
To the credit of current leadership, the one point they repeatedly emphasize when discussing their company is the steadfast focus on what is best for Tootsie Roll in the long-term while largely ignoring any short-term fluctuations along the way. Despite their persistently weakening operating performance in recent years, their ability to sustain this discipline is admirable in an overall market environment that has become so reactive to daily fluctuations nowadays.
All of this information leads us to the bottom line.
Bottom Line
Tootsie Roll stock has performed tremendously well thus far in 2013 and has been a generally steady performer through the depths of the financial crisis as well as for much of the post crisis period. But following the robust gains over the last several months, Tootsie Roll stock now appears expensive relative to its historical valuation. And with the company nowhere close to where it once was from a fundamental perspective, it may prove challenging for Tootsie Roll to maintain this premium valuation for an extended period. Thus, an extended consolidation or considerable correction in the short term would not come as a surprise at all.
Tootsie Roll stock may be worth consideration for ownership on a sustained pullback in the -15% to -25% range despite its deteriorating fundamentals. This is due in part to the general consistency and stability of the underlying business in which it operates, which is likely to continue to be viewed favorably by investors particularly if economic conditions continue to deteriorate in the months ahead. Also, while it may not be a takeover candidate today, the inevitable passage of time will ultimately bring a change in leadership that may be more open to considering potential restructuring opportunities for the business. In the meantime, one can own a company with an attractive roster of well-established brands and a stock with a dividend that steadily increases its dividend at a solid 3% to 4% rate in recent years. Lastly, if the focus is indeed on the long term over the short term, the opportunity continues to exist at some point in the future for a fundamental turnaround after what has been an extended period of weakness in recent years.
This post is for information purposes only. There are risks involved with investing including loss of principal. Gerring Wealth Management (GWM) makes no explicit or implicit guarantee with respect to performance or the outcome of any investment or projections made by GWM. There is no guarantee that the goals of the strategies discussed by GWM will be met.
Disclosure: I have no positions in any stocks mentioned, and no plans to initiate any positions within the next 72 hours. I wrote this article myself, and it expresses my own opinions. I am not receiving compensation for it (other than from Seeking Alpha). I have no business relationship with any company whose stock is mentioned in this article.