Trex Inc. (NYSE:TREX), the Virginia based company that both manufactures and distributes decking and railing applications, could quite possibly be poised to move forward as the housing industry once again heats up in the U.S. Through development of new technologies, and the uncovering of unmet consumer needs, Trex has positioned itself at the forefront of innovation.
Likewise, due to its use of lower cost supplies and massive use of recycled materials, Trex has made some real inroads for itself in the home improvement sector. This, coupled with the company's increased market share - as well as anticipated future opportunities - could signal a real opportunity for this company's shareholders.
Analyzing the Financials
While the company's net sales saw a past dip - due in large part to the U.S. economic and housing crisis of 2008 and 2009 - these figures have begun to come back up quite nicely. After hitting a record high of more than $350 million in 2007, Trex's net sales had dropped between 2008 and 2009 from $329.2 million to $272.3 million. However, as of first quarter ended Mar 31, 2013, Trex saw its trailing twelve months net sales figures up again to $319.1 million.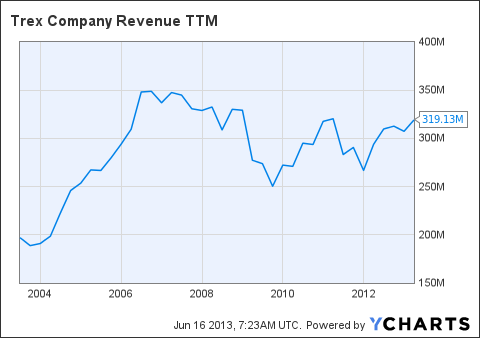 TREX Revenue TTM data by YCharts
The company's EBITDA as a percentage of sales has also been moving in the right direction, with an increase between 2007 and the first quarter of 2013 of 760 bps (from just 10.5% to 18.1%). Here, too, the company seems to be making very positive financial progress.
One reason for the overall success of Trex has to do with the company's strong executive team. Cumulatively, the company's top six executives possess in excess of 140 years in senior positions, and each have a minimum tenure of at least 5 years with Trex.
Much of the company's success has been attributed to the "Trex Turnaround" that began in 2008. Between 2005 and 2007, though the company sported a great brand, it had very poor financial results. With a new executive team recruited in early 2008, Trex began to regain its innovation leadership, along with a vast improvement in operations and a revamped branding campaign. With these factors in place, Trex started to see a notable increase in its market share, helping to restore the company's overall financial health.
The company's "complete transformation" over the past several years can be broken down as follows:
Product Innovation: In 2010, Trex began to offer its Transcend decking and railing products. By 2013, the company now reports that it has its most comprehensive offering in the company's history.
Operation: Trex has also seen substantial improvement in productivity, which has helped the company to generate strong cash flow with lean inventories.
Branding: In the area of branding, Trex has now begun to utilize more segmentation studies in making more successful product-specific and niche market in-roads.
All of these criteria have played a part in Trex increasing its overall market share to 37% in 2011 from just 30% in 2008. The company has also increased its gross margin. Between its fiscal year 2007 and early 2013, gross margin is up 11.2% to 35.1%. Likewise, the company's EBITDA has increased substantially, up 52% to $58 million.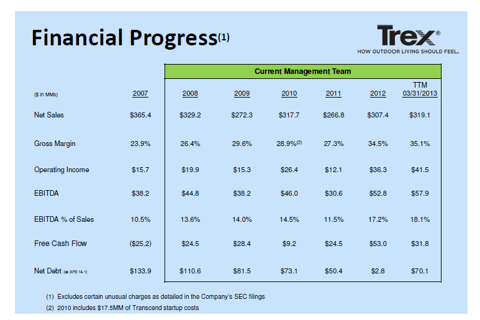 In addition, Trex has continued to generate free cash flow, which has further strengthened its overall balance sheet. Between 2008 and 2012 alone, the company generated approximately $140 million of free cash flow - all while substantially decreasing the company's net debt.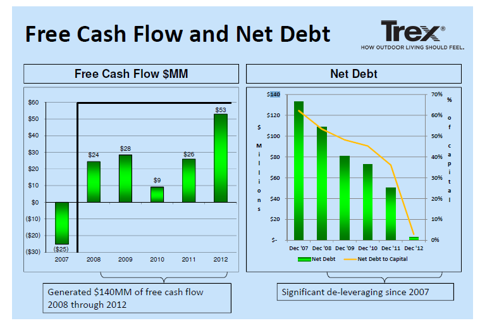 While these are positive figures for Trex, this growth has also helped to increase the company's shareholder wealth. Between January 2008 and May 2013, share price has risen by nearly 600%. This equates to a $10,000 investment made on December 31, 2007, being worth $62,000 in early 2013. This also equals to a shareholder value increase of more than $700 million.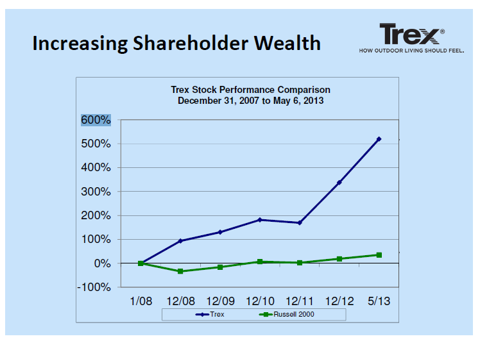 Primary Markets and Results
Trex's primary market is the $170 billion residential home improvement segment. In the residential market alone, Trex sees opportunity in a number of areas - especially as consumer confidence - and likewise, spending - has continued to increase over the past few years.
Likewise, even during the economic downturn, Trex saw opportunity in the fact that more consumers were repairing and remodeling their current homes in lieu of purchasing new properties.
While the market for composite plastic was a mere 3% in 1999, this key market focus for Trex had increased substantially - to 35% - by 2011, with residential decking and railing sales in the neighborhood of $3.2 billion that same year. This movement is anticipated to continue on a path of growth, as composites tend to offer better aesthetics, functionality, and durability in comparison to wood.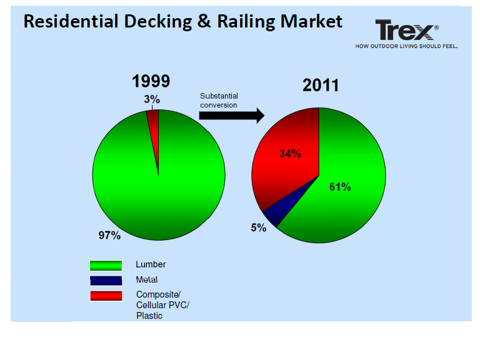 Trex also sees opportunity in the area of competition in the marketplace - in an industry that has seen a great deal of consolidation since 2006. Between 2008 and 2011, 8 companies have exited the marketplace - giving additional room for growth to Trex, one of the most steadfast players in the industry today.
Trex plans to substantially expand its product portfolio. This includes the offering of complete outdoor systems, with decking and porch flooring, railing, steel deck framing, deck lighting, and trim. The company also plans to provide additional complementary accessories such as outdoor furniture, pergola kits, and deck drainage systems.
The company also intends to focus on particular product niche buyers, such as through developing an opening price point for its high performance decking product, and by developing a high performance product with certain aesthetic and performance attributes - as well as a number of other specifically targeted products.
Going forward, Trex is also planning an expansion into international markets by developing a sales presence throughout Europe and Australia. The company intends to develop consumer specific products for the European market.
Due to its focus on actionable segmentation studies, Trex is being much smarter about its audience and its overall market dynamics. This more pin-pointed customer focus will help the company in more precisely targeting its marketing and advertising efforts. It will also allow the company to key in on its "Good, Better, Best" retailing platform.
Here, Trex will be able to better position its products to particular buyers who possess specific decking and accessory needs. Additional marketing leverage will come via Trex's position of strength in terms of superior products. Subsequently, in 2013, the company won four Platinum awards and one Gold award for design excellence.
These awards come as a result of Trex's world class manufacturing methods, with its collective "team accountability" from shop floor to top floor. The company drives such employee accountability through its pay-for-performance incentives, as well as real time plant performance tracking and analysis. Some of the company's best results have also come about due to its computer modeling and process mapping throughout the product production process.
Building an Unbreakable Bond
Along with Trex's actual product offerings, the company also anticipates offering licensing agreements with its Trex Pergola, Trex Outdoor Furniture, and Trex CustomCurve brands. And, with Trex's products being sold through large home improvement retailers such as Lowe's (NYSE:LOW) and Home Depot (NYSE:HD) - throughout approximately 2,800 retail locations, the company's offerings continue to see widespread exposure on both the consumer and contractor side.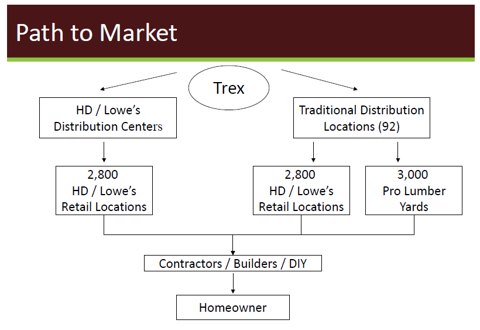 In this vein, by building "unbreakable bonds" with contractors, Trex will likely sell more on the consumer and builder side. This is especially the case as 80% of contractors steer homeowners towards their lead brand. Likewise, contractors who are loyal to their brand will typically follow that brand to a different dealer in order to purchase it. In the area of dealer support, Trex has seen a 30% increase since 2009.
On the operations side, Trex saw continual improvement in this area - even through the recent economic downturn. The time frame between 2007 and early 2013 saw the company significantly improve its working capital. One of Trex's key areas of cost reduction includes its utilization of low cost recycled plastic. Today, Trex's decking products contain approximately 95% of recycled content - making the company one of the largest scrap recyclers in the United States.
At present, Trex keeps roughly 400MM pounds of wood and plastic scrap out of landfills every year, recycling 3.1 billion plastic bags in 2011 alone. The company is also proud that it cuts down zero trees in manufacturing its products.
This mass use of recycled materials, along with its use of employing advanced technology and just-in-time models have given Trex a significant competitive advantage. In fact, this has helped Trex to reduce its total inventory dollars from $80 million in 2007, down to only $18 million at year-end 2012.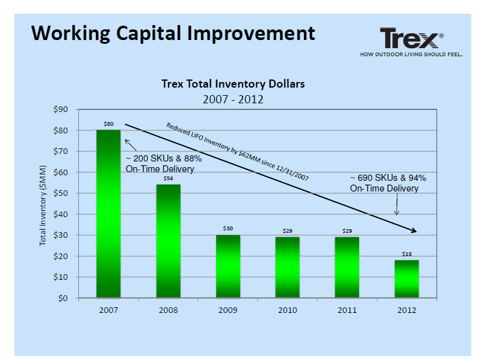 The Bottom Line
By keying in on its focus on organic growth and expansion, acquisitions and business combinations, and strategic alliances (such as with its licensing agreements), Trex will likely remain on its path of continued growth. And even though Trex has an EV/EBITDA ratio of 26, which is above the industry average of 20, indicating that it's expensive when compared to its peers, the general market expectation is that its future growth will justify the current multiple. This is evident from the company's PEG ratio of 0.82, which is below the widely accepted investment threshold of 1.
With the significant category expansion opportunities, along with its compelling marketing campaign, substantial market share gains, and expanding international customer base, Trex could be a real winner for those who are a part of the company's shareholder family.
Disclosure: I have no positions in any stocks mentioned, and no plans to initiate any positions within the next 72 hours. I wrote this article myself, and it expresses my own opinions. I am not receiving compensation for it (other than from Seeking Alpha). I have no business relationship with any company whose stock is mentioned in this article.