Sentiment toward the market has been nothing but doom and gloom for a month now, but the average stock in the S&P 500 is only down 1.96% since the index peaked on May 21. Below is a chart showing the average performance of stocks in each sector since the May 21 closing high. As shown, Healthcare stocks are actually up on average now, while Technology stocks are down just 0.73%. Consumer Staples and Consumer Discretionary are down minimally at this point as well. The big declines have come in the Utilities sector, where the average stock is down 5.07% since May 21. That pretty much wipes out a year's worth of dividends.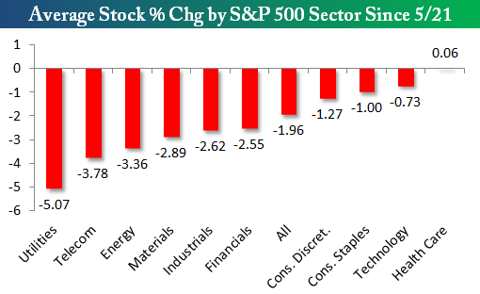 Of the stocks in the S&P 500, 156 of them are up since May 21. Below is a list of the 35 best-performing stocks over this time period. As shown, Hewlett-Packard (NYSE:HPQ) is up the most with a gain of 19.61%, followed by Micron Technology (NASDAQ:MU) at 18.61%, and CME Group (NASDAQ:CME) at 17.12%. Gannett (NYSE:GCI) and Staples (NASDAQ:SPLS) round out the top five with gains of 15.60% and 12.41%, respectively.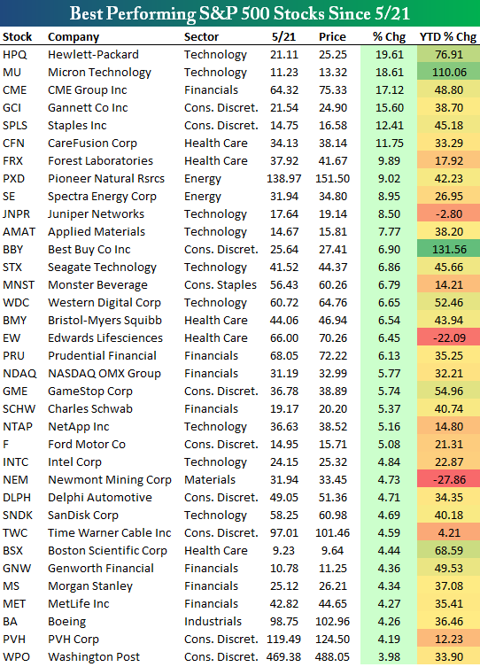 With 156 S&P 500 stocks up during the pullback that started on May 21, 344 of them are down. Below is a list of the 35 stocks that have been hit hardest since May 21. Iron Mountain (NYSE:IRM) tops the list with a decline of 24.91%, followed by Peabody Energy (NYSE:BTU) at -20.78%, and Salesforce.com (NYSE:CRM) at -17.55%. First Solar (NASDAQ:FSLR) and Cliffs Natural Resources (NYSE:CLF) round out the list of the top five losers.