Share price sometimes defies logic since the primitive parts of our brain controlling fear and enthusiasm also effect investment decisions. We tend to believe what we see and hear because early in our evolutionary history everything was simple. Selection favored those quickest in determining if a sound or a track meant having dinner or possibly becoming dinner. Now we have investors watching numbers while listening to pundits and analysts who supposedly keep them from the bears.
93 Percent of This Year's Articles Claim the Maker of Possibly the Best SSD Drive Will be Bankrupt Within Months
The Market was correct in punishing OCZ Technology (NASDAQ:OCZ) when a potential buyout by Seagate (NASDAQ:STX) failed. OCZ's former CEO left a financial disaster requiring restating prior financial statements and a mess so large OCZ is afraid to release any 10-Qs since summer 2012. Is an 86% price drop too much or too little? Does a world leader in technology belong at the bottom with companies with near-zero price to book ratios that include primarily low-tech China-based manufacturers of basic materials, retailers, pork processors (can you say, "OINK"), metal molders, electronic component manufacturers, shell corporations and Greek coal shipping dinosaurs (Figure1 a.-b.)?
Figure 1. a. Companies with lowest price to book ratios, by country of business. (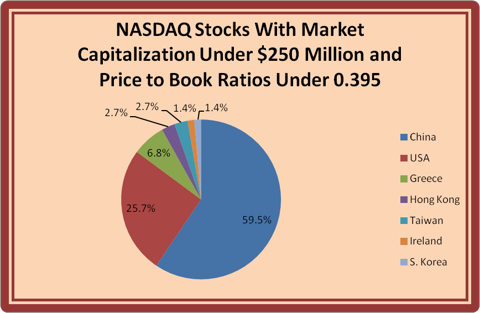 Figure 1. b. Companies with lowest price to book ratios, by sector.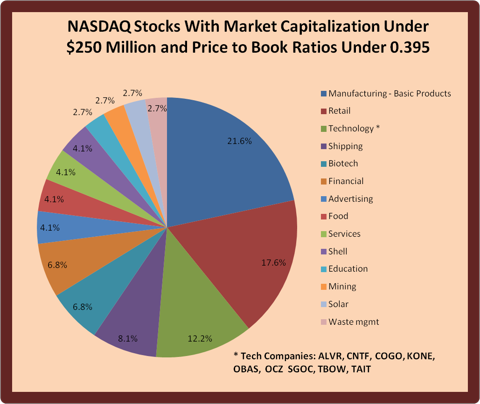 By April, one pundit predicted bankruptcy in "6 months," a claim parroted by another who felt we had "solid financial info" to make that judgment. Even with a new loan, they claimed Nasdaq would delist OCZ in April or May. However, a more pragmatic author, noted that delisting OCZ is not in Nasdaq's interest and predicted exactly what has happened, Nasdaq granted OCZ an extension until September 16.
A re-analysis of the earlier results and those since suggests OCZ is healthy, getting wealthy and is very wise in playing its cards this way. OCZ recently "told" shareholders it does not need $20 million more in loans to succeed and whispered so all along. We just were not following the right tracks and were listening to the wrong sounds.
Bankruptcy Is a Tool
Bankruptcy is a tool for creating an orderly liquidation of a company with massive debt and no hope for continuing operations (via Chapter 7), or for allowing a company to be reborn by restructuring debt and obligations, such as, interest rates, monthly payments, even balances (under Chapter 11). Being broke or having minor debt is a long way from bankruptcy. When things get bad, creditors generally do not want to force defaulting debtors into bankruptcy. They willingly modify agreements and offer forbearances to avoid legal costs, forced modifications, bad public relations, and because they have more control over conditions outside than in court where the trustee rules. They are so willing to negotiate to such an extent that I sometimes get homes returned to borrowers after foreclosure.
In deciding if bankruptcy is appropriate, it is important to determine if a debtor's situation will improve or worsen in coming months or years. If income may increase or costs decrease, it is best to file for bankruptcy sooner than later because a trustee structures debt payments by a debtor's existing ability to pay, not on potential future income. Now that OCZ landed a good enterprise deal, it will pay more than it would if it filed for bankruptcy earlier this year.
Using the Bears' Own Argument, the Situation Has Improved and New Contracts Show OCZ Will Remain Solvent for 3-5 Years
Some argued that OCZ is in a cycle of death because it needs a big enterprise deal, yet big business will not deal with OCZ because if OCZ goes bankrupt, the products will lack warranties. Sounds logical. Since February 6, OCZ's revenue is shifting from 70% consumer and 30% enterprise to the opposite. OCZ is getting new enterprise deals. In May, OCZ announced another enterprise deal with Netgear. Since the drives carry a 3-year warranty, apparently customers believe OCZ will be solvent for several years than investors who do not seem to be listening. The contract was significant enough to file a notice with the SEC. Since March, OCZ formed a collaboration with Mellanox, introduced a new generation Vertex 450 SSD, won the Best of Interop award in the Data Center & Storage category, partnered with the Rombus Group in Germany, extended a partnership with Accusys, and inked a deal with AB S.A. to sell drives and power units in Central Europe.
Secured Loans Do Not Mean Property Is Taken During Tough Times
In February, pundits such as Ashraf Eassa argued that Wells Fargo would call its loan and take Indilinx from OCZ. In a series of articles hawking bankruptcy, Eassa and Austin Craig claimed that because of the new loan, Hercules would run off with all of OCZ's jewels. Did anyone learn anything from the housing crisis? Did we all think the CEO and CFO were idiots and essentially refinanced the house to pay off the credit cards? On January 22, OCZ announced it paid down its Wells Fargo loan, from $20 million at its worst, to $7 million. Then on February 28, OCZ paid off balance. How did they do that? Where did the money come from? They did not even renegotiate the terms.
Most believe that every time a company wants money, it requires it, Yet, we also know that business scraped by during this difficult decade. We should know that even when things are tough, people should pay secured debt before unsecured debt. In the worst case scenarios, workers are laid off, inventory sold, some suppliers are paid more slowly than usual, and there may be salary reductions. The CEO previously stated that in the worst-case scenario he would sell the least essential parts of the business. I do not take that to mean Indilinx. Only when OCZ sells parts of the business will I wonder if they are having problems turning things around.
OCZ is Not Burning Cash and It Turned a Bad Loan Into a Great Loan By Walking Away from Unnecessary Parts
Did we really believe a company, busy weeding and pruning its parts, needed $30-$40 million? It just paid off a $35 million loan never fully used even while the former CEO bled the company. Yet, on March 11, OCZ looked like it was getting $20-30 million from Hercules Technology Growth Capital (NASDAQ:HTGC) and would raise an additional $10 million by May 31.
OCZ obtained a $10 million loan advance from Hercules and then failed to become current with the SEC as required for additional funds. On April 21, in "OCZ: Game Over" Craig analyzed the first quarter's unaudited results to determine OCZ was burning cash at a rate of $10-$13.3 million per month and had only $10 million in cash (after getting the new loan advance of $10 million). Craig came back 40 days later to say OCZ was surviving off the Hercules loan. Yet, two months after the first analysis claiming a monthly cash burn greater than the loan amount and a balance no greater than the loan, OCZ is still solvent, has a couple new enterprise deals, and it walked away from the remaining parts of the Hercules loan that everyone hated.
By taking only a partial loan, OCZ appears to have pulled a financial coup. OCZ claimed it needed the loan to buy NAND (March 19th Roth Conf. at 16:30). They now have an interest-only loan until November at a cost of only $125,000 per month. In combination with documents released this year, starting with OCZ's 2012 10-K (see figure below) you will understand that while OCZ wanted more money it may not require more.
OCZ is Not Burning Cash and It Turned a Bad Loan Into a Great Loan By Walking Away from Unnecessary Parts
(OCZ 2012 10-K re Wells Fargo Loan. Click to enlarge)

The $35 million Wells Fargo loan helped OCZ maintain excessive inventory and balanced books so the former CEO could give customers rebates. We learned on January 22, that at its worst, OCZ owed $20 million (using about $5.46 million per month by October). That improved to about $15 million or $2.65 million per month by November 30. The improvement coincided with a new CEO and early steps to quench the bleeding. Please note, the first thing OCZ did was pay off the secured loan.
OCZ cut its inventory and channel inventory about 60% or $120 million (see Roth Slide 19). OCZ cut other costs. It even laid-off hundreds of workers, which at $50,000 per worker may have saved $2.5 million per quarter. After ten months, OCZ owed only $7 million on the Wells Fargo loan, with the average dropping to $700,000 per month. Could OCZ be feeding us worst-case scenarios?
At the Roth Conference, the CEO noted how he is turning OCZ around. Return rates on drives are now "alarmingly low" (Roth Capital webcast at 6:25). OCZ is getting Tier 0 enterprise business from "named banks" (Roth at 7:00; Slide 11). It is also shifting from being pure hardware and is selling enterprise solutions.
Was the Hercules Loan Interest Rate Toxic or just Ugly?
More than 2,000 years ago, Julius Cesar's attempted to curtail the power of patricians, who loaned money at rates far higher than today, by capping loans at 12%. If the rich did not kill him, society and OCZ's loan might be better today. Eassa and Craig predicted OCZ was heading to bankruptcy because the rate was so toxic OCZ would default on or before the date for first full payment of principal and interest. OCZ shareholders were foolish to sell on belief that Hercules' interest rates will sink OCZ.
First, why did pundits assume OCZ would pull all the funds out on Day One to suffer interest on the entire loan? It only used $20 million of the Wells Fargo loan under insane conditions. Currently OCZ is paying about $125,000 per month on $10 million; at $20 million, it would have paid $250,000 per month until November. Assuming OCZ borrowed all the money at once and the loan was 10% instead of 15%, no one would rejoice because OCZ savings would be a mere $41,700 per month for every $10 million of debt. In the scheme of things, this is not enough to matter.
OCZ is Hiring New Workers
Craig wanted to us to believe that OCZ was publishing sham ads for new employees, alleging it is a "standard tactic" for failing businesses. We do not need to invent conspiracies and fraud to make a bad situation look even worse. OCZ is not sham organization trying to sell a non-existent gold mine. OCZ produces the finest products in the world, where workers must have pride in their product to the extent that sham ads would tarnish their image. Now it is obvious OCZ's job ads and the April 18 update (OCZ "continues to hire key enterprise talent, primarily in engineering and sales") are legitimate since OCZ continues to innovate, expand and develop new products resulting in least one large enterprise deal.
Conclusion
OCZ remains a risky investment. We will not be certain of the risks or rewards until OCZ releases audited financial statements. Until then, insecurity has its price. Yet, we should not blind ourselves to signs and sounds indicating OCZ is becoming healthier and less dangerous. If I am correct, OCZ share price appears to have paid as much from our miscalculations as for the company's mistakes.
Shareholders sold off in fear that the Hercules loan gave away the company. It was a bad loan, but it is no longer an issue since the $10 million loan is not going to sink OCZ in the near future.
We know that the major source of bleeding is gone, but what cost to sales? OCZ's R&D and sales are shifting from mostly consumer to mostly enterprise, we remain uncertain to by how much. Yet, look to online retailers and notice they sometimes lack consumer drives. This would happen if they sold out or if OCZ is not shipping enough. This is a good sign since it only makes sense to withhold consumer products if OCZ is shipping more enterprise products and needs to shift parts and labor to the more profitable enterprise arm of the company.
OCZ has plenty of reasons for withholding financial results. Short sellers continue to express a desire to take shares to zero. Articles bash OCZ and that affects a company's ability to get loans, it scares customers, and prevents selling of bonds or share dilution (which would have been preferable to many over the share price drop they suffered). OCZ cannot feel secure in being more transparent when competitors may attempt to take advantage of a weakened OCZ. These are some reasons why companies sometimes go private to focus on long-term company health goals instead of meeting quarterly expectations. It is also a reason why some are willing to wait.
If you wonder if OCZ is oversold, you need only look at the companies with which it sits: companies with the lowest price to book ratios. None of the companies in the basement have the kind of potential that OCZ has. Not one pig farmer, retailer, metal fabricator, "tech" company or Greek coal shipping dinosaur has half the potential of OCZ. Most of the Chinese companies have opaque auditing systems that doom them to never-ending doubt and extreme short selling. OCZ's doubt will end this summer.
OCZ's existing shareholders are essentially venture capitalists or IPO investors. They may never get to buy an IPO before it goes public, but they can buy shares of OCZ which is so beaten down it has the feel of an IPO.
I believe OCZ is doing a decent job updating shareholders under the circumstances. Watch and listen and you will realize OCZ gives plenty of hints that it is improving its products, its sales, its innovations, and its collaborations.
Disclosure: I am long OCZ. I wrote this article myself, and it expresses my own opinions. I am not receiving compensation for it (other than from Seeking Alpha). I have no business relationship with any company whose stock is mentioned in this article.
Additional disclosure: I am not a registered investment advisor and do not provide specific investment advice. The information contained herein is for informational purposes only. Nothing in this article should be taken as a solicitation to purchase or sell securities. Before buying or selling any stock you should do your own research and reach your own conclusion. It is up to investors to make the correct decision after necessary research. Investing includes risks, including loss of principal.