A durable competitive advantage is a critical component of any company worthy of attention. Couple that with a steady ability to generate greater returns over time and a willingness to pay back shareholders through dividends and buyback programs, and you begin to form the basis of a strategy made infamous by Warren Buffett. His strategies are simple to understand and bring the confidence of having been time-tested. So let's put on our selective contrarian hats and apply Buffett's famous value-investing formulas to the United States' premier provider of supplemental insurance, Aflac (NYSE:AFL).
Aflac was founded in 1955 and is the largest provider of supplemental insurance in the US with its market share larger than the next four competitors combined. What is impressive is that this only accounts for 15% of Aflac's total business (you read that correctly). The remaining 85% is comprised of the company's operations in Japan. Aflac is the #1 life insurance provider in Japan in terms of individual policies; a ranking it has maintained since 2003. Aflac is represented by over 120,000 licensed agents, covers more than 140,000 small businesses, and insures 1 out of every 4 Japanese households. All of these operations combined to generate 2012 annual revenues in excess of $25 billion utilizing assets of more than $118 billion.
Off the bat, Aflac looks to have a strong business model capable of producing consistent earnings, growth, and shareholder value. But, is this durable? Well, let's take Buffett's word for it and agree that a look backwards 10 years can give us a very strong indicator of the next 10. Since 2003, Aflac has maintained a consistent return on equity (RoE) of over 13%, averaging 17.34%. From 2003-2012, the insurance giant has seen its earnings per share, EPS, grow from $1.52 to $6.11, an impressive 16.72% compound annual return. During this same time, Aflac has retained 76% of earnings, on average, and distributed out the remaining 24% as a dividend. Notably, Aflac is also a member of the S&P's Dividend Aristocrats -- members that have raised their dividends year after year for a staggering 25 years.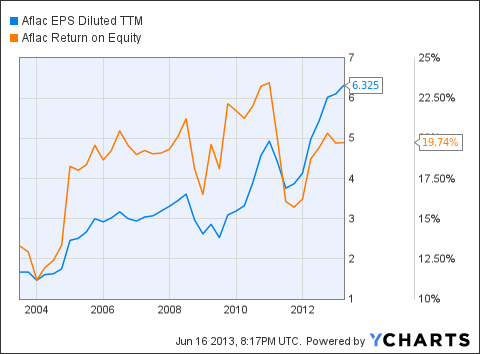 AFL EPS Diluted TTM data by YCharts
We're also interested in corporate leverage and stock buyback programs. Aflac does not disappoint in either category. Foregoing future policy benefits (which we will assume Aflac has become incredibly adept at managing through premium rates and fraud management), the company is currently leveraged with less than $5 billion in long-term debt. With 2012 net income of $2.8 billion, Aflac could pay off all of this debt in less than two years. Finally, Aflac is no stranger to stock repurchasing. From 2003, the firm has bought back 50 million shares (almost 10% of total outstanding).
So now that we have a good idea of the kind of company that Aflac has been, let's project out for the next 10 years and figure out if we're really quacking (ahem: barking) up the right value-tree, here. A final figure to keep in mind during this is that Aflac is trading at a current price-to-earnings (P/E) ratio of 9.03 with a historical ratio between 8.7 and 23.8. According to a 2013 Value Line data pull, the life insurance sector was trading at a current P/E of 23.72 (and a forward P/E of 13.26).
1st Look: Better than a Government Bond?
Start by dividing Aflac's 2012 EPS, $6.11, by the current 10-yr Treasury rate, 2.12%, and you will calculate a relative value of $286.85. This means that you would have to pay over $280 for a share of Aflac in order to earn the same return on your investment as a 10-yr government bond.* Well, that's an obvious win for Aflac. But let's grab a far more conservative rate of return that Buffett and Graham would recognize, 8%. At that rate, you could expect to pay $76.38/share. With Aflac trading at $57.51, earnings of $6.11 represent an initial return on investment of 11%. Would you rather own a government bond at a fixed rate of 8% (something that does not exist, by the way) or a share of Aflac with an 11% initial return and a coupon that is projected to increase annually at 16.72%? Point: Aflac.
(*Buffett advocates valuing a single share of a company in the same manner as you would the entire company. From that perspective, earnings are considered a return on investment. Although AFL retains 76% of its earnings, we also know that it churns those earnings into future shareholder value and overall growth.)
2nd Look: It's All about the Equity
We know that Aflac has averaged a return on equity of 17.46% in the past decade and has retained an average of 76.12% of those earnings. Multiplying these values shows that Aflac adds approximately 13.29% (76.12% of 17.46%) of equity per year. Aflac's current book value per share is $34.05. Increasing annually at 13.29% yields a book value of $118.59 in 2022. At 17.46% RoE, that would generate an estimated $20.71 in earnings for that year. See the below table for an estimated price and 10-yr return calculation based on historical values. (These estimates do not include the likely $37.62 in accrued dividends during that same period.)
| | | |
| --- | --- | --- |
| EPS | 8.7 | 23.8 |
| Price | $180.18 | $492.90 |
| CAR* | 12.33% | 24.23% |
*CAR - Compound Annual Return
Last Look: EPS Valuation
If you're not even a little intrigued at this point (you may be beyond help), this is where it will get very exciting. If the per share earnings continue their trend upwards at 16.72%, and dividends continue to flow at an average of 24%, we can calculate the projected earnings and dividends for the next 10 years.
| | | |
| --- | --- | --- |
| | EPS | Div |
| 2012 | $6.11 | $1.46 |
| 2013 | $7.13 | $1.70 |
| 2014 | $8.32 | $1.99 |
| 2015 | $9.72 | $2.32 |
| 2016 | $11.34 | $2.71 |
| 2017 | $13.24 | $3.16 |
| 2018 | $15.45 | $3.69 |
| 2019 | $18.03 | $4.31 |
| 2020 | $21.05 | $5.03 |
| 2021 | $24.57 | $5.87 |
| 2022 | $28.67 | $6.85 |
| Total | | $37.62 |
The projected earnings for 2022 would be an impressive $28.67. Re-using the above table, we are able to lay out a range of the company's 2022 value based on historic P/E ratios.
| | | |
| --- | --- | --- |
| EPS | 8.7 | 23.8 |
| Price | $249.43 | $682.35 |
| CAR | 16.03% | 28.33% |
Considering what we have worked through here, it is obvious that Aflac is an incredibly strong company that has consistently delivered strong growth year-over-year. It is a huge brand name firm that has carved out the supplemental insurance niche. It has created a very durable competitive advantage and seems to be trading at an absolute bargain. This bargain price is very likely due to the lack of understanding of Aflac's Japanese exposure and the overestimated fear that currency fluctuations affect the firm's profitability. While the responses to these concerns extend beyond the scope of this article, I will address them briefly. Aflac has made it very clear that it converts very little money between the yen and the dollar. It does not produce items in one country to be sold in another (it is insurance, for goodness sake), but does get hit by analysts when it translates its yen profits into dollars for nothing more than SEC filing requirements. As we are value investors here, short-term exchange fluctuations and short-sighted analytics do nothing more than provide us with great opportunities at great prices.
Still not convinced? Grab yourself a financial calculator, plug in $5,751 for your present value (the cost of 100 shares at today's price), 10 for years, 16.03% for interest, and press 'FV'...and that's the conservative projection. As for me, I will be opening a 15% portfolio position in AFL this week with plans to add more as the yen continues to strengthen and AFL continues to be grossly undervalued. Happy Hunting!
-Roger
Disclosure: I am long AFL. I wrote this article myself, and it expresses my own opinions. I am not receiving compensation for it. I have no business relationship with any company whose stock is mentioned in this article.