Many fertilizer stock investors are probably wondering why the US nitrogen producers have been weak, and whether this is a buy opportunity.
This is especially true because two high profile new North American nitrogen plants have been cancelled -
Yara International (YARIF.PK) cancelled its Belle Plaine Saskatchewan expansion last week and Agrium's proposed Midwest plant was suspended on June 3. Agrium (AGU) is listed on both the NYSE and TSX and is my only fertilizer pick currently.
These two plants would have added over 3 million tons of annual urea production capacity to the Midwest and Canadian Prairies circa 2017.
The good news is this is almost half of the nitrogen capacity expansions I warned about in my article of April 17.
But the two big nitrogen producer plant cancellations failed to stimulate stock prices.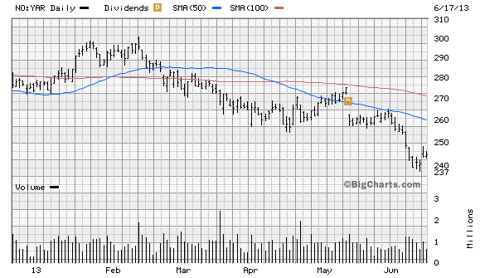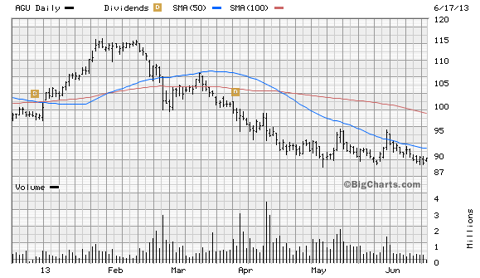 Rentech Nitrogen Partners (NYSE:RNF), which has its only nitrogen plant in East Dubuque, IL, and should have responded positively to the plant cancellations, continues to fall.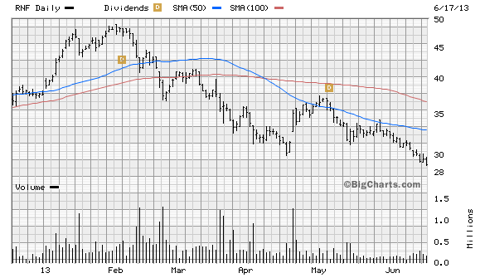 So what is going on? Is it the very wet cold 2013 Spring and hurried planting season that kept corn farmers from applying N fertilizers?
Or, as the contrarian bulls will argue, the constant precipitation has leached out a lot of nitrate left over from last year's drought, and some fields are N deficient, implying more nitrogen application once farmers have a chance to test their soils for N levels.
My guess is that both are true: much of the early N application was deferred and deficiencies will result in more Summer beside the stalk "side-dress" application.
But this has subtle but very important implications for prices because the late application causes corn farmers to choose urea and UAN over ammonia and pre-plant starter mixes.
This has opened the door to offshore urea importers giving them more time to send product to the US.
The monster-sized Chinese urea industry (at least 65 million metric tons per year capacity) has surplus product they are capable of off-loading elsewhere.
Add to this the fact the Chinese low-export-tariff window kicks in July 1 until Nov. 1 and export tariff rates were cut from 7% to 2% with a threshold of $366/metric ton FOB Chinese ports before tariff rates start increasing. That equates to $333/short ton, a little more than where the Gulf price is right now. Of course, the Chinese would have to tack on shipping to their FOB price, but I suspect commodity time-charter freight across the Pacific to be pretty cheap these days.
Here are two charts, one showing how Chinese urea exports escalate in the second half of the year, and the second comparing 2013's versus 2012's low export tax window being placed a notch down, allowing Chinese urea to be more competitive.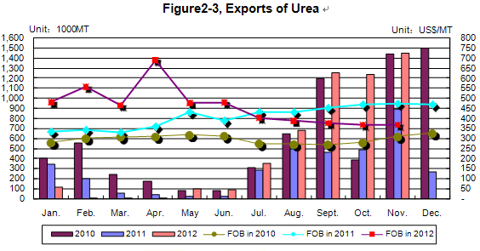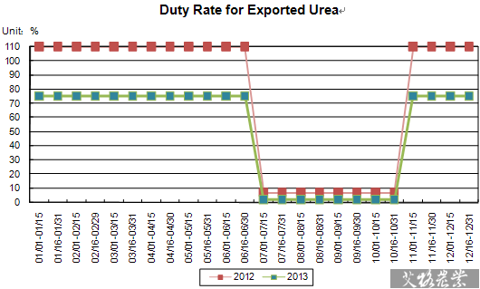 Here is one version of the 2013 Chinese fertilizer export tax table. As you can see the tax regime is in place for other nitrogen products such as UAN (low all year at 7%), phosphates such as DAP and MAP.
In bold you can see the low 2% urea tax rates that are going to kick in as of July 1. Reports say the Chinese ports are busting full with urea ready to ship as soon as July begins.
It should be noted that many Chinese producers "game" the high taxes by pre-shipping their product during the low tax period to ports outside the PRC such as Macao, to advantage themselves of the low rate, thus parking the product for shipment after the window has closed. Apparently, the PRC is going to stiffen monitoring of these abuses this year.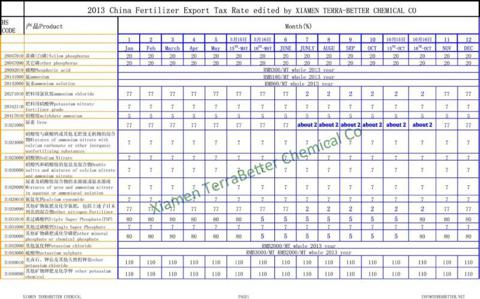 Normally, a reduction in commodity export tariffs by only 5% would not be enough to impact world markets. But things are different this year.
The Chinese urea export tax regime was put in place in 2008 to keep fertilizer in the country due to strong food demand during the world crisis in crops that year.
But last year, Chinese drought and poor crop conditions caused weak fertilizer demand. A strong build-up in urea plant capacity came on line just as industrial demand for urea and ammonia softened due to the Chinese growth recession. Capping this off has been the weaker export tariff, designed to help local producers off-load their excess production.
The Chinese have not historically been a large exporter of urea to the US, as this would require inland transport from Pacific ports.
Another reason for the excess Chinese urea available at a lower cost than previously has been the excess in anthracite coal production, which is a substrate for most of the Chinese ammonia and therefore urea production.
The natural and more proximal large markets for Chinese urea have been India, other Asian countries (e.g. Japan, Indochina) and then Brazil which has been a big importer with the second corn plant getting bigger and more popular.
The excess urea has caused more aggressive Chinese competition, pushing other, mainly middle-eastern and Russian producers to send more product to the US.
In particular, Oman, which historically sold into India, has been pushed out, and has exported aggressively to the US since 2010, with the value of exports rising from about $150 million in 2010 and 2011 to $465 million in 2012.
The result has been steadily weaker US urea prices than what we've seen in a quite some time and a far cry from the plus $700/st level in early April 2012.
NOLA (New Orleans LA) urea swaps were recently quoted at $323/short ton according to Farm Futures.
Retail urea prices in the Plains as of June 10 were $435, Illinois at $440, with Iowa at $595.
Since US Midwest nitrogen product prices are so much higher than at NOLA, due to the difficulty and cost to get them there, you can see why US nitrogen producer equities should be so sensitive to plans to site plants smack dab in the middle of the corn belt, even if completion of these plants is still a few years off. The healthy premiums on Midwest products would disappear, unless price discipline among producers was excellent. That's a nice way of saying the US nitrogen oligopoly (few sellers) would probably be disrupted by more plants.
Since the late US planting season favors urea and UAN solution application, demand should be good, but could possibly be delayed after Q2 ends in two weeks.
Gulf swaps for late season urea and UAN have fallen because of the potential for large import competition in the second half, flowing up-river from NOLA.
This year, we don't have quite the extent of problem of too high (2011) or too low (2012) water levels in the lower Mississippi and Missouri and Ohio Rivers, preventing urea barges from moving upstream.
Several US nitrogen fertilizer producers have emphasized UAN production over urea and ammonia, due to its ease of application and higher price per unit of N produced.
Unfortunately, UAN has fallen in sympathy with urea as they are more or less interchangeable if you have the luxury of time for the plant to use the nitrogen (urea being added to irrigation water provides amide nitrogen whereas UAN provides not only amide, but also ammonium and nitrate ions, the latter being immediately plant useable therefore faster acting).
UAN prices are down another $6 to $256/st for 32%, and swaps through September quoted at $232.50, down $15 week over week.
All in all, this is a bearish scenario for major US nitrogen producers and we expect earnings shortfalls and/or analyst downgrades to kick in as the summer progresses.
Therefore, we are not recommending long positions in CF Industries Holdings (NYSE:CF), Rentech Nitrogen, CVR Partners (NYSE:UAN) or Terra Nitrogen (NYSE:TNH) at this time.
We want to see July weather play out. We already suspect the late plant will cause lower end of corn crop yields to be curtailed which is bullish.
If we see shortfalls in the 2013 corn harvest predictions by the USDA in mid-July, we'll be more inclined to believe we might have a good post-harvest N application.
Softening natural gas prices have relieved some of the operating cost pressure that seemed to be mounting for US nitrogen producers.
NYMEX and AECO spot natural gas prices have been behaved, at $3.76 USD/mmBTU and $3.22 CAD/mcf respectively last Friday.
But for us, the best days for urea and UAN margins for US producers are most likely in the rear-view mirror.
The only question is when will the discounting of the equities be exhausted. We believe we haven't gotten there yet.
Our top (and only) pick in the space continues to be Agrium Inc. which is at $89.66, up 86 cents on the NYSE.
We think Agrium's herbicide, fungicide and other chemical product sales will be robust due to the wet weather in the US.
We expect that AGU will plow some of its recent $1 billion note offering into a stock buyback.
AGU shares trade "ex" 50 cents on June 26 and we expect a higher quarterly dividend (my estimate is 75 cents) to be announced a week before or on the Q2 release date (August 8).
The million dollar question should now be, is CF Industries going to also suspend part of its $3.8 billion nitrogen expansion plan? Is Iowa Fertilizer, backed by the Orascom N.V. group, going to go ahead? If either of these happens, you could see the pendulum swing back toward higher price expectations for 2014 and beyond.
I think CF, even though it announced later (last November) successfully fought off the plant expansions by AGU and Yara with its brownfield at Port Neal having a lower cost which nullified the first mover advantage. CF stock is really discounting its nitrogen assets as well as its phosphate and off-shore JV interests.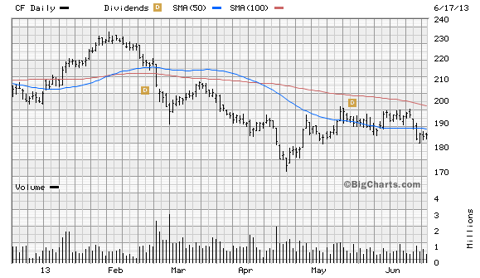 My feeling is CF will wait for even more deterioration in urea/UAN prices before pulling the plug on either of the Donaldsonville or Port Neal expansions. I am looking for the continued dwindling of urea and UAN margins, light Q2 N application and weakness in phosphate prices to cause analyst earnings cuts for CF's Q2, which it reports in August.
Any cancellation of the remaining nitrogen plants and/or expansions should give a psychological lift to nitrogen equities in spite of the near-term threat of greater off-shore imports
It should be noted that CF Donaldsonville experienced a tragic nitrogen distributor head rupture in the area closed for maintenance and turnaround, which cost the life of a 30 year veteran (aged 55 same as me) and seven others were injured, Friday night.
Our condolences to all the CF employees who do their jobs 24/7 all year around, in the midst of often hazardous, toxic and explosive or high pressure chemicals and equipment.
This is my last fertilizer report until after the July WASDE report (July 11), unless something extraordinary happens - taking a market break.
Disclosure: I am long AGU. I wrote this article myself, and it expresses my own opinions. I am not receiving compensation for it (other than from Seeking Alpha). I have no business relationship with any company whose stock is mentioned in this article.