As the Fed gets ready to hold its June meeting, all stock investors are carefully weighing what the outcome will be and how it will affect their portfolio. In particular, there has been an enormous amount of concern over the prospect of rising interest rates in the last few weeks and how certain firms will fare. Conventional wisdom seems to be that banks will do well in the rising rate climate as their net interest margins - NIM - rise.
In particular, various commentators and analysts have suggested that Wells Fargo (NYSE:WFC) is particularly well positioned to benefit from higher interest rates because the firm has been sitting on as much cash as possible, delaying making investment decisions until interest rates rise. While I certainly agree that Wells Fargo is well run, I believe another bank offers even greater opportunity in a rising rate climate: First Horizon (NYSE:FHN). (Full disclosure - I used to work in securities trading for Wachovia Securities, now a part of Wells Fargo, so I am perhaps biased in believing it has great management.)
First Horizon is a small-cap bank holding company based in Tennessee with a market capitalization of roughly $2.65B. So for investors looking the stability and safety of a large geographically diversified financial firm, First Horizon is the wrong choice. But for investors looking to invest in a financially sound bank with a geographically concentrated branch network that has no international exposure, and stands to benefit from the ongoing housing recovery and rising rates, FHN is one of the best choices out there.
First Horizon is the parent company of First Tennessee Bank and FTN Financial. First Tennessee has roughly 170 branches mainly in the state of Tennessee, but the bank has additional branches in Arkansas, Mississippi, Georgia, North Carolina and Virginia. First Tennessee has dominant market share throughout much of Tennessee and is the largest bank based in the state and one of the 50 largest banks in the country. FTN Financial is the securities business for FHN handling fixed income sales and trading, securities underwriting, mortgage banking and a host of other investment banking style services. FTN Financial is quite small compared to most major investment banks, but it has the potential to grow into a more significant profit center for FHN going forward.
Like most major banks and regional banks, First Horizon was hit very hard by the financial crisis. The firm's stock plummeted, and investors have only slowly begun to recoup their losses as the graph below shows.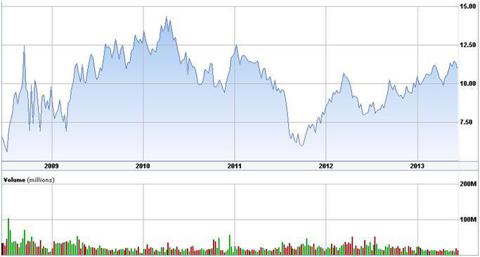 During the crisis, FHN was forced to suspend its dividend, and for a little while things looked bleak for the bank. Since then, the bank has improved greatly. The firm restored its dividend and then raised it, troubled loans have come down markedly (nonperforming were 1.63% as of March 31, 2013, vs. 2.23% a year earlier), and charge-offs have fallen 43% in the last year.
In fact, by most financial measures, First Horizon's performance has improved significantly since the crisis with commercial loans and deposits both up, and loan loss reserves down significantly as the chart below shows.
| | | | | |
| --- | --- | --- | --- | --- |
| FYE | 2012 | 2011 | 2010 | 2009 |
| Tangible Book Value | 8.44 | 8.66 | 8.31 | 8.49 |
| Total Assets | 25,520 | 24,789 | 24,669 | 26,069 |
| Commercial Loans | 8,797 | 8,015 | 7,338 | 7,159 |
| Demand Deposits | 4,602 | 4,613 | 4,376 | 4,394 |
| Loan Loss Reserve | 1.7% | 2.3% | 4.0% | 5.0% |
Like most regional banks, First Horizon's stock has performed well over the last few months, but I believe the firm has a lot more room to run based on its ongoing goal of improving its net interest expense - NIE - and the opportunities that rising rates will present for improving the firm's NIM.
First Horizon has benefited greatly from the ongoing refinancing boom driven by the Fed's low interest rates. However, this boom is beginning to slow as higher rates approach and the number of borrowers who can still refinance dwindles. To offset this headwind, FHN has set about reducing its expenses through a variety of tools including improving staff efficiency, reducing pension expenses and cutting variable compensation.
Further, as a geographically concentrated firm with the bulk of its operations in Tennessee, First Horizon is benefiting from that state's relative economic outperformance. A lower than average unemployment rate in many of the key Tennessee areas, and strong growth in cities like Nashville and Knoxville, led to a 6% year-over-year growth in core loans in 2012, and analysts are projecting 8% core growth for 2013.
While the housing rebound is well underway and perhaps nearly complete in areas like California, Florida, Texas and parts of the Northeast, prices and sales volumes still have considerable room to appreciate in Tennessee which should act as a long-term tailwind for FHN's stock.
First Horizon is also very well prepared for rising rates. The firm has 53% of their assets in investments that will benefit from increased interest rates, and analysts estimate that these assets will increase in value by 5.4% for every 100bps increase in short-term interest rates. These figures both indicate that FHN is one of the best positioned regional banks for any increase in interest rates, well ahead of most peers. For example, for comparison purposes, BB&T has 15% of its assets in investments that will benefit from rising rates, and the benefit to those assets will be 2.0% according to analysts. KeyCorp (KEY) has 39% of assets in investments that will benefit from rising rates, and that benefit will be 0.6%.
FHN also has limited litigation risk at this point since all of the bank's private label mortgage originations (third party originations sold to FHN) are older than five years which is the statute of limitations in most states. While there are $1.5B in damages claimed in 9 pending lawsuits against the firm, losses look manageable, and FHN trades at roughly 1.3x tangible book value vs. 1.4x for peers, suggesting that the market is not overly concerned about these risks.
Finally, FHN is a reasonable possibility as an acquisition target for a larger firm such as BB&T (NYSE:BBT) or US Bank (NYSE:USB). FHN has #2 market share throughout the state of Tennessee compared with #6 and #7 for BBT and USB which makes FHN an attractive target with minimal branch overlap with either of the potential acquirers. FHN trades at just slightly above tangible book value, with the market giving First Horizon virtually no value for its FTN Financial segment.
In summary, FHN is an extremely well positioned firm that is highly dependent on the future of the economy in the state of Tennessee. With the US economy on the rebound, and TN's future looking bright, First Horizon represents one of the best plays on the improving economy and rising future interest rates.
Disclosure: I am long FHN. I wrote this article myself, and it expresses my own opinions. I am not receiving compensation for it (other than from Seeking Alpha). I have no business relationship with any company whose stock is mentioned in this article.