By Sumit Roy
While holdings of gold in exchange-traded funds have plummeted this year, contributing to the yellow metal's 17% price decline, we've seen the opposite when it comes to platinum. Holdings of platinum in various ETFs have surged 523,000 ounces, or 36%, since the start of the year.
Platinum ETF Holdings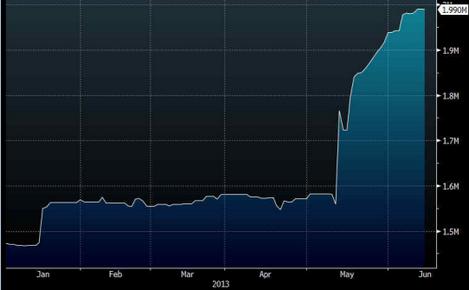 The bulk of those inflows have benefited the NewPlat ETF, which launched in April on the Johannesburg Stock Exchange, giving South African investors access to one of the country's most precious commodities. Still, all that buying hasn't stopped platinum from falling. Prices for the metal are down 7% year to date, dragged down by the large losses in gold.
However, if inflows into platinum ETFs such as NewPlat continue apace, it could alter the supply/demand balance in the market. Analysts at HSBC are forecasting a record deficit of 844,000 ounces for the platinum market this year, due in large part to buying by ETF investors:
…[T]he newly launched South African platinum ETF is absorbing a significant amount of metal at a time of static mine production growth. ... Jewelry demand remains strong and may be benefitting from the dip in prices. Should industrial or auto demand push above forecasts, we believe the market response may be soundly positive for prices, especially if investment demand remains firm.