Two months ago, Morgan Stanley (NYSE:MS) received the Federal Reserve's approval to finish buying Morgan Stanley Smith Barney, the retail brokerage that it jointly owns with Citigroup. Morgan Stanley already owns 65%. MS closed Monday's trading session at $26.21. Over the past year, the stock has traded in a range of $12.29 to $27.17. MS has substantially outperformed the S&P 500, gaining 37% year to date compared to "just" 15% for the S&P.
Click to enlarge image.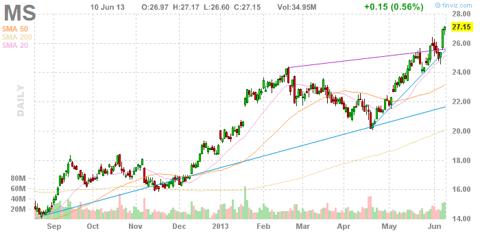 Growth and the Balance Sheet
MS's earnings for the quarter totaled $1.2 billion, down roughly 12% from a year ago. Per share, those earnings amounted to 61 cents, beating the 57 cents expected by analysts. Revenue totaled $8.5 billion, also down from a year earlier and also beating analysts' expectations of $8.3 billion.
In the investment bank, revenue from trading bonds and commodities for clients fell -- a common theme for banks this earnings season. The bank also made less money advising companies on strategies such as mergers and acquisitions. However, the investment bank did underwrite more stock and bond offerings. The wealth management unit brought in more fees, and clients shuttled more assets to Morgan Stanley. The number of wealth management representatives fell, down about 440 to 16,300. But the annual revenue that each representative brought in rose to about $851,000 from $780,000 a year earlier.
Valuation
The firm shifted wealth-management advisers who work outside the U.S. into the institutional securities unit. Including those changes, the company's total number of so-called global representatives fell to 16,703 at the end of March from 17,193 a year earlier.
MS's trailing P/E is at 47.67, well above the industry average of 22.67 and above the S&P 500 average of 16.70. The stock is currently trading 5% above its intrinsic value of $25.93, suggesting that the stock is overvalued on a fundamental basis at these levels. MS's current price/sales is 1.94, also above the industry average of 1.56. The beta of 2.44 implies higher volatility for the stock with respect to the S&P 500. MS's total debt/equity is 280% and throws up a red flag in my modeling. MS pays $0.20, or 0.70%, in dividends.
Morgan Stanley has been trimming expenses, including office space, equipment, and marketing costs. The amount the bank spent on salaries and benefits fell 5%. Headcount was down 7%, with the bank cutting about 3,900 jobs.
Recommendation for the Next Six Months

Morgan Stanley's valuation is the most expensive in the industry. MS has gained 37% year to date and I believe that this stock is overdone, looking for a pullback to $24.20. Selling at current levels, I would recommend putting a stop-loss order at $28.20 and setting a target limit at $24.20.
Disclosure: I have no positions in any stocks mentioned, and no plans to initiate any positions within the next 72 hours. I wrote this article myself, and it expresses my own opinions. I am not receiving compensation for it. I have no business relationship with any company whose stock is mentioned in this article.