Licensing has become an integral part of toy marketing. According to the NPD Group, toys based on licenses accounted for 30% of all U.S. retail dollars last year and about 25% in units. This is considerably higher than estimates a few years ago, which put the dollar share at 25%.
Movie and TV Licenses Lead the Pack - For Now
This year will see a large and diverse offering of toys based on movie and TV licenses. Here are the highlights:
Movie

Category

Release

Date

2013

Master

Licensee

Retail Sales US

Forecast 2013

US $ million

Box Office US

Forecast 2013

$ million

Transformers Beast Hunters [TV]

Action Figure

2/13

Hasbro

50

n/a

Max Steel [TV]

Action Figure

3/25

Mattel

45

n/a

G I Joe

Action Figure

3/29

Hasbro

90

130

Iron Man 3

Action Figure

5/3

Hasbro

135

375

Star Trek Into Darkness

Action Figure

5/17

Hasbro

50

315

Hulk and the Agents

of Smash [TV]

Action Figure

6/13

Hasbro

45

n/a

Superman

Action Figure

6/14

Mattel

65

270

Marvel Avengers

Assemble [TV]

Action Figure

7/7

Hasbro

15

n/a

XMen Wolverine

Action Figure

7/26

Hasbro

10

140

Thor II

Action Figure

11/8

Hasbro

135

350

Hobbit Smaug

Action Figures

12/13

Glorbil

65

300

Scaris [TV]

Dolls

3/1

Mattel

35

n/a

Oz the Great

Dolls

3/8

Jakks

20

300

Frozen

Dolls

11/4

Mattel

65

280

Smurfs 2

Preschool

6/31

Jakks

40

90

Croods

Preschool

3/22

Mattel

30

150

Turbo

Preschool

7/1

Mattel

40

145

Despicable Me 2

Preschool

7/3

Hasbro

25

205

Planes

Preschool

8/9

Mattel

40

100
Source: Klosters Trading Corporation
Action Figures are the toy category most driven by movie and TV licenses -- more than 50% of all sales dollars for the category in the U.S. are either spent on movie or TV licensed products. In comparison, only 5% of total sales are media-license driven in the dolls and preschool categories.
The movies in the table above are expected to represent 30 percent of all movie ticket dollars spent this year in the U.S.
This being the case, it behooves us to consider what the probable future shape of the U.S. movie and TV industry looks like.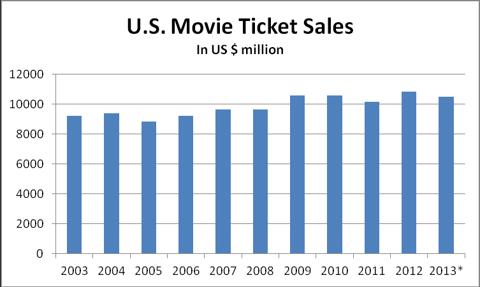 While cinema ticket sales have been marginally up during the past 10 years, bond analysis firm Fitch Ratings offers a somewhat pessimistic outlook. The company forecasts a "modest" decline in ticket sales this year and long-term challenges that should "cause concern" for lenders. Studios will find it "difficult to replicate" the success they had last year with hits including The Avengers and the Dark Knight. In fact cinema chains AMC and Regal are very much concerned about the sharply negative trend they foresee for the remainder of the decade. One solution being actively discussed is the consolidation of theatres, from the current 39,000 screens down to approximately 20,000. This has caused disputes between studios and theatre chains. Studios are pushing for shorter theatrical windows before films move to other distribution channels while theaters want to keep films running on their screens as long as possible to maximize revenue.
These events indicate that the importance of movies as toy drivers is bound to decline over time.
Shifting Gears
Parents are moving away from TV as their main information source for toys as well. Jeff Adelson of Levelwing says, "Online toy sales have climbed substantially in the last ten years, and parents are doing their research about toys online. 39% of toy purchasers cited online retailers as their most oft-used resource, with 43% citing video sharing sites. Therefore, toy manufacturers must begin user-generated content initiatives (both written and video reviews), as well as content development about their products online. Only 24% of toy purchasers said that they relied on traditional media like TV and magazines for their toy information."
Manufacturers must consider how the prime consumer group, kids age 2 to 11, are viewing TV. Cynopsis Media reports audience numbers of this age group in comparable weeks in early April between 2010 and 2013 for the top 10 basic cable ad-supported networks: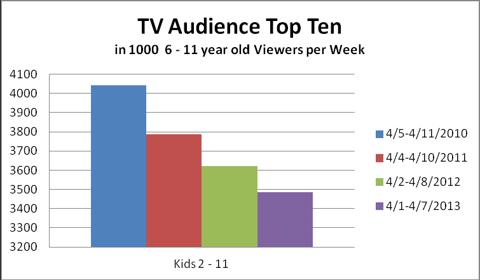 Approximately 30 percent of all toy sales are made for products that carry licenses and the most important drivers are movies and TV series. Mattel (NASDAQ:MAT) and Hasbro (NASDAQ:HAS) are the main beneficiaries of the 2013 offering and are, therefore, dependent on licenses to a substantial degree.
The two main drivers for toy sales -- movies and TV -- are losing impact, and manufacturers must seek alternatives. Factors to consider are why licenses have become so important to the toy industry and whether they are good for a manufacturer to have.
The Good and the Bad
There are pros and cons for toy licenses. The main benefit is that the license typically has a built-in consumer following that will benefit the product carrying the license. Movies such as Spiderman, Star Wars, and The Smurfs are a classic example of this. Not only will such a license make negotiations with major retailers easier and quicker, it will also likely provide a ready consumer pool who is predisposed to buy the product. In short, rather than building a consumer franchise, manufacturers can essentially rent it via a licence.
The main negative is cost. A good license will cost anywhere from 10% to 20% of net sales, with hefty minimum guarantees and upfront payments being the norm. Another negative is that license agreements are limited in time -- usually between three to five years. This means that a toy manufacturer can create a business around a license and then lose it if the licensor elects not to extend the license period. Lastly, it is time consuming to satisfy the demands of the licensor through reports, meetings, and discussions.
There are more insidious problems attached to licenses. Steve Reece, a European toy consultant, said:
"Those companies who focus only on the short term tend to exhibit an over reliance on licensing and/or transient technology, neither of which act to effectively lay down solid, dependable, long term foundations for their business. Technology can provide a short term boost to sales and a competitive advantage, but even patented technology has it's limitations in terms of true protectability. Licensing is a powerful and normally essential part of a Toy company's product approach. However, once a company enters the licensing 'treadmill' it tends to rely on a significant proportion of it's revenue coming from hot licenses, and retailers also rely on the company to supply less licensed merchandise. When the company has a weaker year for licenses, revenue falls as do retail listings on other non licensed products."
In other words, a license can change the way a business is seen and built. A license can be an effective shortcut, but a manufacturer surrenders a lot of control over its fate to the licensor, whose business imperatives can be very different from its own. It can also affect the way a business is run -- rather than planning optimally for what is best for the business, the manufacturer must plan to satisfy quarterly licensing requirements.
DIY Branding
For these reasons, the logical alternative is for toy manufacturers to build their own brands, making sure that all measures protecting their intellectual property have been taken. Once the brand has been firmly established, the manufacturer can seek licensees.
An example for this is the Monster High brand, owned by Mattel. Monster High fashion dolls were released in July 2010, and now are the No. 2 fashion doll after Barbie [also owned by Mattel]. Not only has Mattel introduced the brand in a variety of toy categories other than fashion dolls (e.g., vehicles and play sets), it has licensed the brand to at least 25 companies, including Sakar, Crayola, Majesco and Universal Studios, for non-toy products such as clothing, backpacks and cosmetics. Monster High fashion dolls account for an estimated 67 percent of total Monster High sales; other Mattel toy categories account for another 15 percent, and nearly 20 percent go to non-toy products sold by third-party licensees.
Monster High fashion dolls have affected the Barbie brand, according to Google Trends.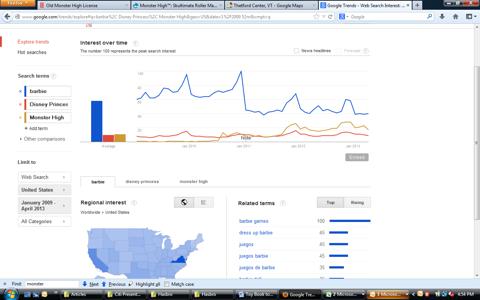 Mattel's overall fashion doll sales have increased, and this trend is expected to continue this year.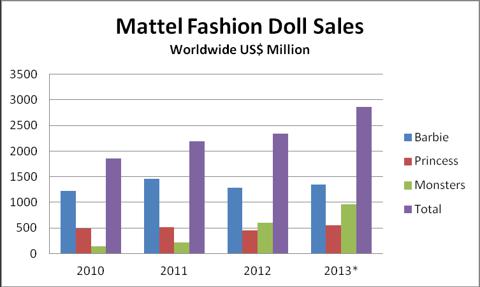 Source: Mattel SEC filings
Mattel's fashion doll business is an example of successfully mixing licenses with brands. The Disney Princess brand has a devoted following, is loved by the retailers, is profitable for Mattel, and represents about 20 percent of the company's total fashion doll empire. Its loss would be a major blow, but it would not be fatal. Barbie is a mature brand, stagnant or gently declining, and still represents about 47 percent of the total. Monster High is new, rapidly growing, already at approximately 33%; and is expected to continue expanding at a rate that exceeds the decline of Barbie.
Less Is More
Licenses have their place in the toy business but are best used in moderation. A license can be lost for any number or reasons, and its place in your business should never be so dominant that its loss will jeopardize the survival of the company.
This article was first published by the Toy Book on 6/17/2013
Disclosure: I have no positions in any stocks mentioned, and no plans to initiate any positions within the next 72 hours. I wrote this article myself, and it expresses my own opinions. I am not receiving compensation for it. I have no business relationship with any company whose stock is mentioned in this article.