While searching for investment opportunities, I tend to follow a "prudent man" approach: I try to invest in value investment in bottleneck situations in connection with a certain growth aspect (GARP). In other words: Investments you would like your daughter or son to be involved in, considering the safety of capital as well as income.
To do this I try to understand the assets or the products of the companies at the lowest level possible and to understand management's plan and strategy. Thereafter, I identify gaps in market perceptions versus "my" reality and look for inflection points and step changes. Although I am using external information to filter, validate and compare financials and NAVs within peer groups, in general I am not a great believer of detailed models, as the assumptions too often are inadequate.
Energy names, especially globally diversified exploration and production companies, often match these criteria. One of my favorite names is Anadarko Petroleum Corp. (NYSE:APC), a large cap independent oil and gas explorer and producer, with international operations. To my mind it has an improving asset quality onshore and offshore in the U.S., the Caribbean, Africa, Asia and South America and therefore offers some downside protection.
As many energy companies explore and develop assets in consortium - due to the enormous risks and the costs involved - and APC had a good run recently, I had a closer look at Cobalt.
As this article will demonstrate, Cobalt International Energy (NYSE:CIE) has often worked in a pool with Anadarko (and other companies), delivering value for shareholders. Together they had major discoveries (see below).
I believe that Cobalt is currently unfairly valued by the market, and as I will clearly demonstrate, Cobalt not only has a fantastic portfolio, but there are multiple near-term catalysts due to a high-impact exploration campaign coming. It offers a significant upside potential over the next 6-12 months with several near-term results from new exploration wells.
About Cobalt International Energy
Cobalt is an oil-focused exploration and production company. The Company explores for oil in the deepwater U.S. Gulf of Mexico [GoM] and offshore West Africa (Gabon and Angola), with an emphasis on sub-salt and pre-salt exploration, development, and production. The Company was formed in 2005 and is headquartered in Houston, Texas.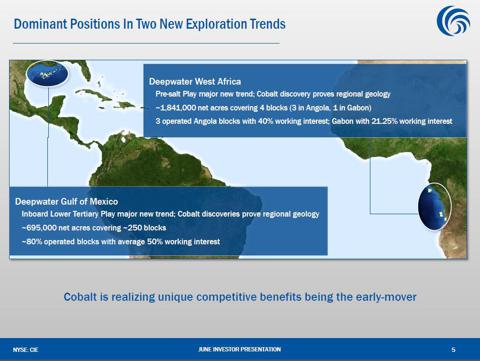 Source: CIE Investor Presentation, June 2013
Assets and Wells
On February 2, 2009, Cobalt announced the successful drilling of its first well in the deepwater U.S. GoM and the discovery of the "Heidelberg" field. An appraisal well confirmed commerciality; first oil is expected in 2016. Cobalt has 9.75% Working Interest [WI], APC is the operator of the field. This was followed shortly after by the announcement the "Shenandoah" prospect, Cobalt's second well in its history, was also a success. Cobalt has 20% WI, APC - again as operator - expects first oil in 2017.
Together with Total E&P USA (NYSE:TOT) Cobalt found oil at "North Platte" (60% WI and operator, further appraisal drilling on track). "Cameia-1" ("Block 21" offshore Angola, operator and 40% WI) found oil in a commercial size (first oil expected in 2017), but needs an FPSO to develop. The testing of "Cameia-2" (drill stem test) was a bit disappointing as no commercial hydrocarbons have been found, but the test indicated good quality rock. The company maintains existing development plans with a 100 mbpd FPSO which may be a bit oversized, but P10 resource could provide upside and 4-5 production wells plus 1-2 injectors would fit. So all-in-all, the "Cameia" investment thesis remains intact to me.
During summer 2013, Cobalt expects well results from 4 exploration wells: "Lontra" (in Block 20, Angola; greater than billion barrel potential), "Mavinga" (in Block 21, Angola; Cameia discovery look-alike), "Diaman" (in Diaba, Gabon; potential deepwater pre-salt play opener with several similar prospects, pool with Marathon (NYSE:MRO)), and "Ardennes" (GoM; 42% WI & operator: Inboard Lower Tertiary and Miocene objectives). Besides this, "Heidelberg Sanction" (GoM; with 2016 production/cash flow decision) is imminent.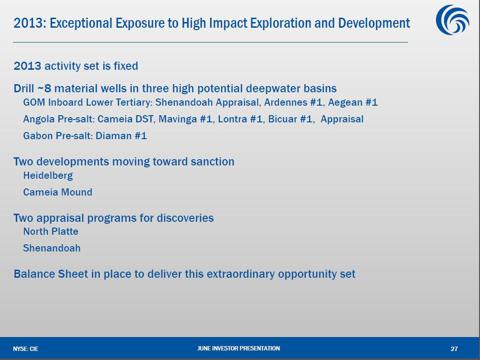 Source: CIE Investor Presentation, June 2013
Later in 2013, results from "Aegean" (GoM, Inboard Lower Tertiary objective; spudding after "Ardennes" is finished, results towards YE 2013) and "Bicuar" (Angola; deeper pre-salt primary objective) are coming. Beside this, a "Lontra step-out" or "Idared" or "Baleia" drilling (in Angola; additional exploration or appraisal wells) as well as further appraisal activity at "Shenandoah" (GoM) is planned for 2013 by the respective operator.
I agree, the company offers a relatively high exposure to single exploration well results, but this is not company but sector specific: They are inherently risky. And the litigation risks, namely via the FCPA, and the need for a good relation to the West-African governments have to be in mind.
Management
Cobalt's management has been involved in many of the top finds in the Gulf of Mexico. Joseph H. Bryant (Chairman of the Board and CEO) not only was the former President and COO of Unocal, he served BP as Chief of Exploration (Angola) Ltd., and president of BP Canada Energy. Not only he has been drilling for oil for the past 35 years, but he is personally involved in the group's positive development: He is the largest private shareholder of the group. Beside this, Mr. Bryant is also a board member of the American Petroleum Institute. James W. Farnsworth, Cobalt's Chief Exploration Officer, ran BP's global exploration operations in North America (especially in the Gulf of Mexico and Alaska), West Africa, North Africa, South America, Russia, and the Far East. James H. Painter (EVP, Execution and Appraisal) has more than 33 years of experience in the oil and gas industry. Prior to joining Cobalt, he was at Unocal Corporation, Devon Energy Corporation (NYSE:DVN) and at Ocean Energy Inc. (focusing at the Gulf of Mexico and International Exploration). Michael D. Drennon (EVP, Developments) has 36 years of industry experience. Prior to joining Cobalt, Mr. Drennon served as Vice President, Operations for Parker Drilling Company (NYSE:PKD) and held various executive positions at BP and Amoco in the United States, United Kingdom, China, Trinidad, Norway and Angola.
Financials
As Cobalt has no oil or gas production (yet) and therefore no Free Cash Flows, the quality of the balance sheet and its ability to finance the capex requirement is essential. Due to a placing in 2013, Cobalt is fully financed throughout 2014 at least. This is usually a good recipe for outperformance. Its market cap does not speak against becoming a take-over target, as its assets from Africa to the Gulf may attract large international oil companies in search of a better Reserve-Replacement-Ration [RRR]. Market liquidity improved due to the registered public sale of shares of Cobalt's common stock by funds affiliated with Riverstone Holdings, The Carlyle Group, First Reserve Corporation, KERN Partners and Goldman, Sachs & Co (NYSE:GS) on May 10, 2013.
Conclusion
Cobalt International Energy offers exposure to a significant exploration upside from a high-impact, high-activity drilling calendar. To my mind, the most recent discoveries and its exploration potential help to diversify the asset base with little priced into equity yet.
Disclosure: I am long CIE, APC, BP. I wrote this article myself, and it expresses my own opinions. I am not receiving compensation for it (other than from Seeking Alpha). I have no business relationship with any company whose stock is mentioned in this article.