Introduction
Car sales in the month of May have impressed analysts, customers and car manufacturers, as 2013 continues to show an impressive improvement in the American car industry. With the exception of Mitsubishi (OTCPK:MMTOF), all of the major car manufacturers had positive year-to-year increases in the month of May. Ford (NYSE:F), General Motors (NYSE:GM) and Toyota (NYSE:TM) are the biggest manufacturers of cars in the American market, all with a sizable amount of market share. It is only logical that we assess the potential of these companies on the stock market and find the appropriate option for automotive stock enthusiasts.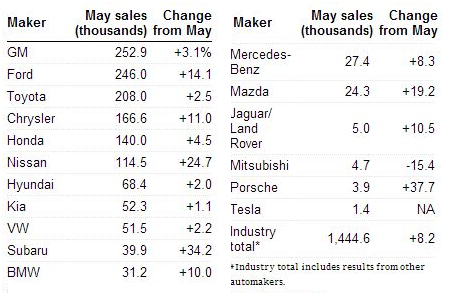 Source: Autodata
Tracking Financials
General Motors in particular has added new models to the Buick and Cadillac series, whose sales are up by 23% and 37%, respectively. GM is North America's largest automaker and has a market capitalization of $47.1 billion. Over the last 3 years the company's results have been less than optimal, as negative net-income growth underlines the re-structuring that the company had to take. As the company introduced new vehicles, 61% of the company's product line will be turned over in the space of the next two years. Currently the company's net margin is 4.2%, but I expect this to be much higher in the coming years as a fleet of new cars such as Silverado, Sierra and Malibu are introduced.
| | | | |
| --- | --- | --- | --- |
| Indicator | | | |
| Market Cap | $60.4 bil | $47.1 bil | $202.4 bil |
| Price/Earnings ttm | 10.5 | 8.8 | 22.7 |
| Price/Book | 3.4 | 1.7 | 1.7 |
| Net Income Growth (3 Yr Avg.) | 27.8 | -61.1 | - |
| Revenue Growth (3 Yr Avg.) | 4.9 | 13.3 | -3.3 |
| Dividend Yield, % | 1.95% | - | 1.17% |
| Net Margin % TTM | 4.3 | 4.2 | 3.5 |
| Debt/Equity | 5.1 | 0.4 | 0.6 |
| Return on Equity | 34.4 | 22.7 | 7.2 |
| Current Price | $15.52 | $34.46 | $118.69 |
Data from Morningstar on 17 June, 2013
Ford, on the other hand, has a market capitalization of $60.4 billion and has announced it's discontinuing car-manufacturing in Australia as the company suffered a $141 million after-tax loss for 2012-13. Unlike General Motors-- whose sales of Chevrolet Volt have been catastrophically low-- in the first five months of 2013, Ford has already surpassed its full-year hybrid sales record. In 2012, the company was plagued with a money sinkhole called Europe, where massive losses were incurred by the blue oval. After a 16% loss in year-to-year sales for last year, a similar trend is expected this year, too. Ford expects to cut its assembly capacity by 18% (355,000 units) and reduce the European workforce by 13%, which should save it $450-500 million annually. This should undoubtedly improve the company's net margin further.
The company's 1.95% dividend is a big incentive for investors when choosing between Ford and fellow American car maker GM. In the U.S, Ford has gained slightly more market share in 2013 and earned 60% more in corporate net income during the first quarter. The last time I wrote about Ford, its debt/equity was far less than the stated 5.1 in this table. Contrary to popular belief, this is a good thing as this is shows that Ford Finance has given out more loans than before - loans that will earn it interest revenue.
Toyota is the only non-American auto manufacturer I have included in this analysis because of the weaker yen, which has allowed Toyota to price its products competitively. Toyota has taken over the crown as Asia's largest manufacturer in stock market value, while it already is the world's largest auto maker. With a market capitalization of $202.4 billion, Toyota completely overshadows its U.S. rivals but fails to show similar dominance in the field of revenue growth and net income growth over the past 3 years. While it loses market share to Ford and General Motors in the U.S. market, Toyota has the advantage of having access to emerging markets, from where it aims to gain traction and fuel its growth for the coming years.
Dividend and Stock Performance
A very important source of revenue from stocks is the quarterly dividend. In the case of Ford, GM and Toyota, this is even more important as the largely varying market capitalizations can cloud the real dividends being offered by the yields. Furthermore, Ford and Toyota have an advantage over GM from the outset, since GM still does not provide dividends. Ford offers a yield of 1.95% at a payout ratio of 14.1%. Toyota's yield of 1.17% is paid at a ratio of 52.3%, which is a very healthy amount.
Ford's prudence is understandable with its roll-back, reinvestment costs in Europe and the aggressive product introduction in the North American market. Toyota, on the other hand, has decreased its dividend amount over the past three years due to the uncertainty and slowdown of the world economy. However, its stock has had a completely different outcome over the last few years, as the graph below illustrates.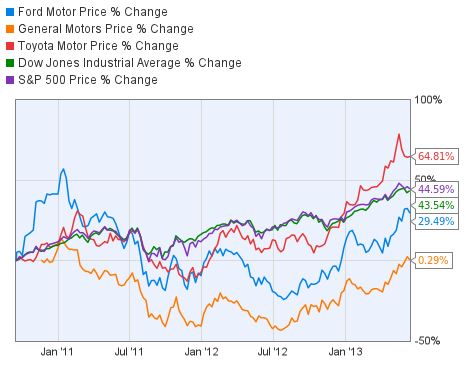 The graph starts from 2011 when General Motors got its papers approved for a public stock offering. Since then, GM has finally reached and surpassed its opening price of $33.0. Its Toyota rival has seen its price appreciate by a staggering 64.81%, while Ford's price has grown by 29.49%. As GM's price crossed $33.0, it was announced that the company would rejoin Standard and Poor's 500 Index.
Litmus Test
In the car industry, sales are pretty simple to gauge. They entirely depend upon the quality of the product which is being sold. This, of course, is realized over some time. After years of providing cars which were outperformed by its competitors, the American companies are finally "bringing their A game." Toyota is losing its market share in the North American market fast and it is losing its market share to Ford and GM. Ford, in particular, has introduced four models in its new 'super segment' to rival the decade old stronghold of Toyota. The company has added new product lines for Escape, Fusion, Focus and Fiesta to do the job.
For GM, Cadillac's sales are growing faster than they have in almost 40 years. In China, GM sells more vehicles than it does in the U.S and in May, the company reported a 9.4% increase in the sales of Buicks. However, the slowing down of the Chinese economy might end up affecting the company adversely. All of this is bad news for the Japanese car manufacturer. The only good news that Toyota has to offer is the weaker yen, which will make its products more competitively priced.
Bottom Line
In my opinion, Ford has already passed the litmus test as it is gaining market share and introducing strong products in the North American market. Furthermore, streamlining and cutting costs in the international market will help it boost its margins. Buy Ford and go long.
Disclosure: I have no positions in any stocks mentioned, and no plans to initiate any positions within the next 72 hours. I wrote this article myself, and it expresses my own opinions. I am not receiving compensation for it (other than from Seeking Alpha). I have no business relationship with any company whose stock is mentioned in this article.