Gone, at least for now, are the days when economic and corporate fundamentals dictate market performance. Instead, the outlook for financial markets in the months ahead essentially comes down to the verbiage and potential policy actions resulting from single a policy meeting, as the Federal Open Market Committee (FOMC) of the U.S. Federal Reserve convenes their latest gathering on Tuesday and Wednesday of this week. Given its importance, it is worthwhile to explore the various potential outcomes and associated market reactions. For when it comes down to trying to manage a portfolio strategy around what someone might say coming out of a meeting, anything is possible.
Before exploring the possible policy outcomes from the FOMC meeting on Wednesday, it is worthwhile to revisit the significance of the outcome on the various respective asset classes. This exercise is particularly important given the fact that there appears to be a great deal of confusion regarding what is actually driving the returns of each respective asset class. While in some cases the outcome of the Fed's latest policy meeting is of paramount importance, the returns of many other categories are also being attributed to the Fed when something entirely different is primarily driving returns. With this in mind, investment markets can be broken down into three primary groups as it relates to their current response to Fed policy.
The Three Main Market Groups Waiting On The Fed
1. The Dependent: The first group includes the asset classes that are being almost exclusively driven by what the Fed may or may not announce on Wednesday. This includes U.S. stocks (NYSEARCA:SPY), developed international stocks (NYSEARCA:EFA) including Japan (NYSEARCA:DXJ), REITs (NYSEARCA:VNQ), high yield bonds (NYSEARCA:HYG) and preferred stocks (NYSEARCA:PFF). All of these categories have been highly correlated since the Fed added U.S. Treasury purchases to their QE3 stimulus program in January and share the same distinction in that they were floating relentlessly higher until Fed Chairman Ben Bernanke revealed during his Congressional testimony on May 22 that the scaling back of asset purchases was a very real possibility in the coming months.
images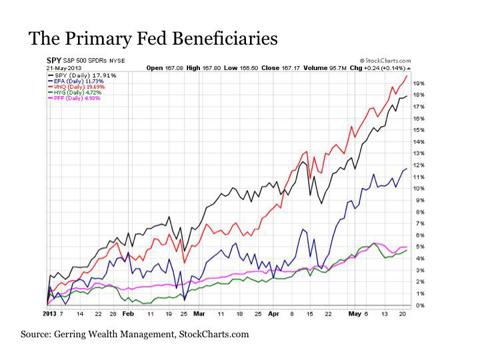 Since that time, all of these categories have been steadily in decline to varying degrees.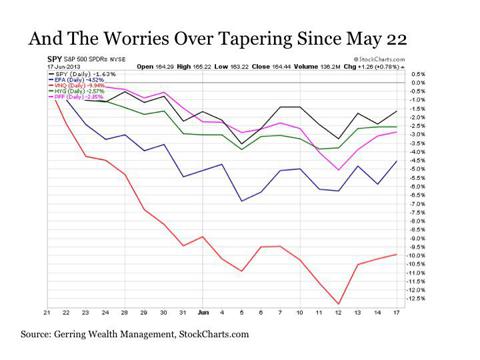 2. The Indifferent: The second group includes the categories that so many think are being driven by Fed policy expectations but are instead being driven by other forces. This includes the various components of the nominal investment grade bond complex (NYSEARCA:AGG) such as U.S. Treasuries (NYSEARCA:IEF), investment grade corporate bonds (NYSEARCA:LQD), fixed-rate MBS bonds (NYSEARCA:MBB). It also includes long-term U.S. Treasuries (NYSEARCA:TLT), U.S. TIPS (NYSEARCA:TIP), National Municipal Bonds (NYSEARCA:MUB) and Build America Bonds (NYSEARCA:BAB). All of these are categories are correlated with each other to varying degrees and have experienced generally lackluster performance since the Fed added U.S. Treasury purchase to QE3 in January. Also notable is the fact that all of these categories have been in correction since early May, which was several weeks before Bernanke's "tapering" testimony on May 22.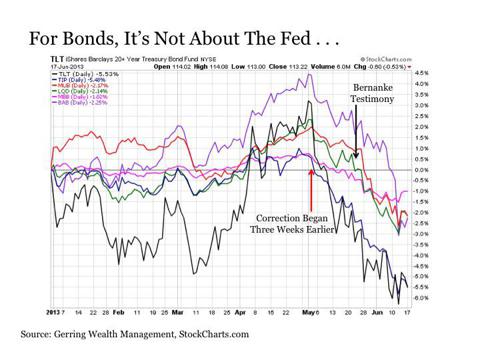 Instead, the decline in all of these categories coincided with the sharp interest rate spike in Japanese government bonds and the associated increase in implied volatility, which of course has little to do directly with whether the Fed decides to taper its asset purchases or not in the coming months.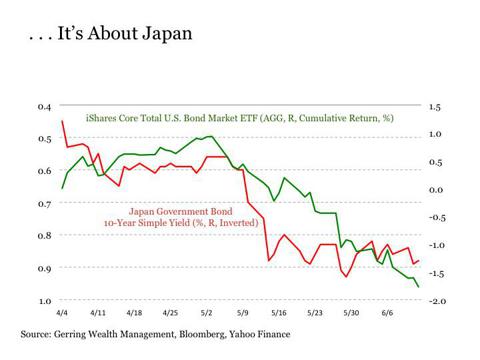 3. The Despondent: The third group includes the categories that many also think would care about Fed policy expectations but have instead suffered mightily since the Fed added U.S. Treasury purchases to QE3 in January. This includes gold (NYSEARCA:GLD), silver (NYSEARCA:SLV), industrial metals (NYSEARCA:DBB) including copper (NYSEARCA:JJC), emerging market stocks (NYSEARCA:EEM) including China (NYSEARCA:FXI).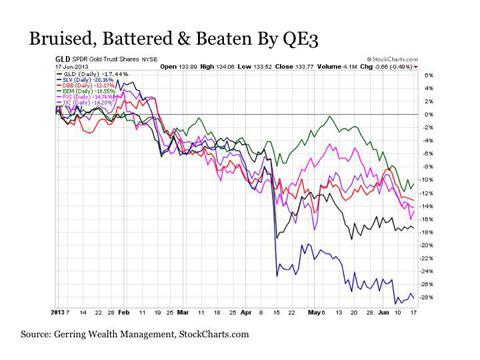 This group also includes a number of cyclical stocks that some might otherwise believe should be benefiting from a program like QE3 including Caterpillar (NYSE:CAT), BHP Billiton (NYSE:BHP), Freeport McMoRan (NYSE:FCX), U.S. Steel (NYSE:X), Alcoa (NYSE:AA) and CH Robinson Worldwide (NASDAQ:CHRW) to name a few.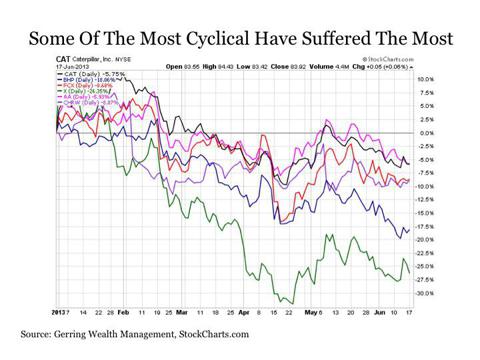 Given that QE3 has provided little to no benefit to these names to this point, it is difficult to contend that the scaling back on this program will hurt them further. To the contrary, if gold is any indication, it may serve to help some of these beaten down names, as gold has traded higher since tapering worries surfaced in earnest starting on May 22 and has outperformed the U.S. stock market by +2.3 percentage points in the process.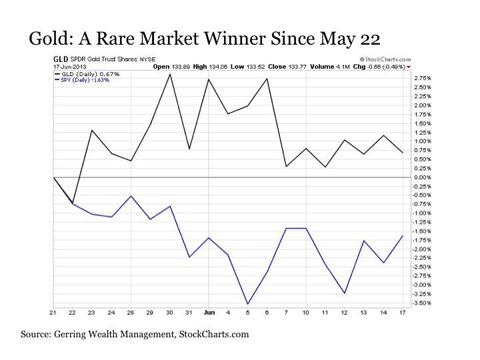 Now that we have established the differences between the three main groups waiting on the Fed, the next step is to consider the potential outcomes emerging from their meeting on Wednesday afternoon. Just to reiterate, we are not as investors waiting on economic data or corporate earnings to guide our investment decisions. Instead, we are left at the mercy of what an individual policy maker might or might not say at a news conference. Spin the wheel and come what may.
The Three Primary Fed Policy Scenarios On Wednesday
1. Get Ready For Tapering Soon: The first possible outcome emerging from Wednesday's FOMC meeting is that Chairman Bernanke officially announces the Fed's intent to begin scaling back on asset purchases in the coming months. Such actions will be conditional on how economic and market conditions unfold going forward. And Mr. Bernanke is unlikely to specify the timing or degree of the scaling back of asset purchases other than to reiterate that it absolutely and unequivocally does not mean in any way whatsoever that the Fed will even think about starting to raise interest rates anytime in the foreseeable future. Instead, the press conference following the meeting will provide the Fed with the opportunity to formally introduce the tapering idea to markets and to set the stage for carefully managing the communications process in the coming months around whether this scaling back will begin in September, October or December and by how much they plan on reducing U.S. Treasury purchases.
I would assign the highest probability to this outcome at 70%. This is due to the fact that the Fed has expended a great deal of energy over the last several weeks trying to introduce the idea of tapering into the minds of investors that has included unusually explicit comments on the topic not only by the Chairman and other FOMC members but also the two previous Fed Chairman in Paul Volcker and Alan Greenspan as well as through various media contacts such as Wall Street Journal columnist and Fed correspondent Jon Hilsenrath. And the decision to taper is prudent at this stage. For when the Fed added U.S. Treasury purchases to QE3 in January to bring the total asset purchases to $85 billion per month, they were the only major global central bank engaged in stimulus. But since the Bank of Japan launched their own massive $75 billion per month stimulus program in April, it has raised the stakes of global money printing to $160 billion across the two central banks. And the behavior of capital markets since April suggests that the current magnitude of global monetary stimulus may now be having a meaningfully destabilizing effect. Thus, the Fed scaling back on asset purchases may help to potentially release some pressure from capital markets and reduce recent volatility.
How are capital markets likely to react? With the way investment markets have been behaving in recent months, anything is possible. But the following represents the most likely outcomes for each category.
The Dependent: Stocks and their correlated brethren are not likely to take the tapering news poorly. Given that the idea of tapering has been the primary reason this group has been selling off in the first place, the official announcement may finally be enough to push this lofty group into a more meaningful correction. Such a pullback would not likely represent a sharp pullback directly into a bear market, however, as the Fed will still be purchasing assets as part of QE3 for the foreseeable future even if these purchases are reduced. But if nothing else, it may mark the end of the stock market giddiness that has defined the first five months of 2013, as a sideways churning market with a modest downward slope could easily take its place as the realities of a sluggish economy, weak corporate earnings growth and valuation multiples that are much higher than they were a year ago start to set in.
The Indifferent: The knee jerk response among bonds is also likely to be rattling at least at first. This will be particularly true if the news sparks any meaningful volatility in the Japanese government bond market. But after a few trading days, this segment of the market is bound to stabilize if not begin edging higher. This is due to the fact that the capital potentially exiting higher risk assets will need to find a safe haven to call home, and U.S. Treasuries and their high quality investment grade counterparts remain a preferred destination in this regard. In short, the phasing out of QE3 should HELP bonds, not hurt them (unless of course the Fed has lost control of the Treasury market, which appears highly unlikely at this point).
To reinforce this point about the capital flight to Treasuries, the following is the performance of long-term U.S. Treasuries versus stocks following the end of QE1 on March 31, 2010. While stocks dropped by more than 10% along the way, long-term U.S. Treasuries gained by over +20%.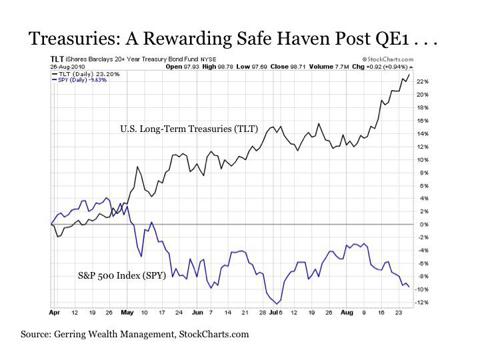 As another example, following the end of QE2 on June 30, 2011, stocks dropped by over 15% while long-term U.S. Treasuries gained by over +30%.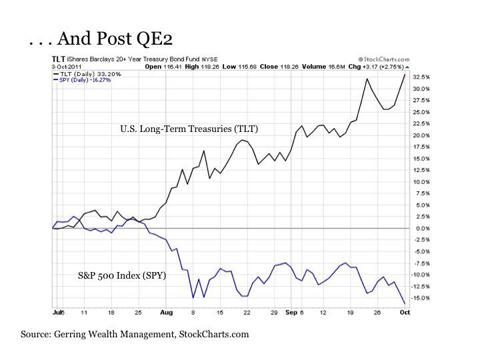 Perhaps it will be different this time given some of the recent sources of market volatility that have emerged during the current cycle, but on net the tapering of QE has the strong potential of providing a boost to this group over time.
The Despondent: The initial response from this cyclical and commodities dominated group is also likely to be negative. The enduring response is likely to result in a defined split in this group over time, however.
Those that are bound to continue moving to the downside are the economically cyclical names tied to the industrial commodities complex and emerging markets, as the weakness here is tied more closely to signs of slowing growth in China that would likely be exacerbated further by the removal of Fed stimulus. To this point, what might reverse this downside trend would be the announcement of a stimulus program from the People's Bank of China going forward.
Those that are likely to advance to the upside is the precious metals complex including gold and silver , as the growing sense of fear that is likely to seep into capital markets with the Fed working to exit its QE3 stimulus program has the potential to benefit these store of value safe havens.
Reinforcing the point that gold and silver are not reliant on balance sheet expanding monetary stimulus to rise, both metals were up solidly while stocks declined in the months following the end of QE1 on March 31, 2010.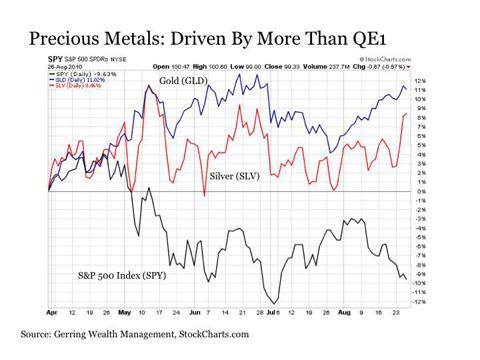 As another example, the performance of both gold and silver was even better following the end of QE2 on June 30, 2011, at least until late September 2011 when the Fed officially announced Operation Twist.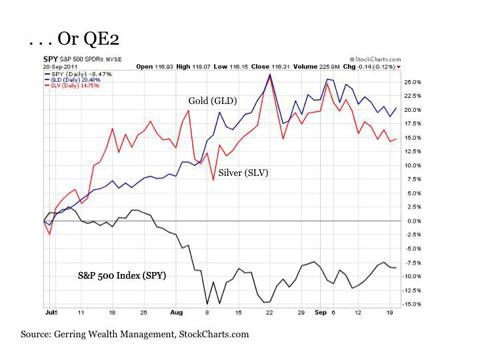 Thus, while the immediate reaction to Fed tapering has the potential to take all asset classes down together, many of the recently out of favor asset classes including investment grade bonds and precious metals have the potential to benefit as the recent leaders in stocks begin to lag.
2. No Tapering Any Time Soon - Full Speed Ahead: The second possible outcome on Wednesday has the Fed making no mention of scaling back on asset purchases. Instead, QE3 will continue ahead indefinitely and any discussion about tapering will come at a later date. I assign a much lower but still reasonable probability to this outcome at 25%. For although the Fed has extended a great deal of effort trying to communicate the need to scale back on asset purchases at some point, it may ultimately decide that the economy or the markets are simply not ready and that announcing any intention to taper in the coming months may cause more harm to capital markets than its worth.
Under this scenario, all three categories are likely to catch an immediate euphoric bid higher. But once this initial reaction subsides, each of these three categories are likely to return to their previous patterns with the Dependent keeping the lead and the Indifferent still left to work their way through the recent volatility sparked by the Japanese government bond market. The only group that may stand to benefit in a differentiated way from before is the Despondent, as liquidity preference may finally turn its attention to these beaten down and oversold groups. This would be particularly true if China followed with a stimulus program of its own.
3. Immediate Tapering: The third possible outcome on Wednesday has the Fed announcing that they intend to begin scaling back their asset purchases right away. I assign the lowest probability to this outcome at 5%. This is due to the fact that the Fed seems to have no interest in shocking investment markets in any way. And the decision to begin tapering immediately would completely roil investors and send volatility spiking. The only way the Fed might even begin to consider this outcome is if they felt that shocking the stock market would induce capital to quickly flow back into the safety of Treasuries and lower interest rates on related items such as mortgage rates. But such is a risky approach that could easily lead to a destabilizing effect on capital markets in general. For if the Fed opted for this approach, the Dependent would likely get sold off both sharply and sustainably while the Indifferent would likely rally after an initial spike lower. As for the Despondent under this scenario, all bets would effectively be off, although gold may catch a bid on the flight to safety.
It will be interesting to see how everything plays out on Wednesday afternoon. But despite all of the uncertainty, the one thing that is certain is that this upcoming Fed meeting is arguably the most important for financial markets in some time. Thus, it will be critically important to monitor how events unfold on Wednesday afternoon and in the days that follow.
Disclosure: I am long BAB, TLT. I wrote this article myself, and it expresses my own opinions. I am not receiving compensation for it (other than from Seeking Alpha). I have no business relationship with any company whose stock is mentioned in this article.
This post is for information purposes only. There are risks involved with investing including loss of principal. Gerring Wealth Management (GWM) makes no explicit or implicit guarantee with respect to performance or the outcome of any investment or projections made by GWM. There is no guarantee that the goals of the strategies discussed by GWM will be met.