The NSA may be tracking your phone calls and emails, but if you want to know where the money is in data mining, look to the private sector. The multi-billion dollar industry is booming, and in the US little is being done to reign it in.
The Federal Trade Commission launched an investigation last year, but this will only serve to obtain a better understanding of the industry, and later provide recommendations for any potential regulation or self-regulation. Privacy bills in Congress have yet to gain much support, with the most recent offering from West Virginia Senator Jay Rockefeller unable to even make it out of committee two years ago.
Data mining is the domain of more than just big name data brokers like Acxiom, Experian and Equifax - companies focusing on gathering and utilizing data number in the thousands. So with little regulation and ever increasing room to grow as the world's population spends more time online, data mining holds promise for investors.
To find strong investment opportunities within this area, we began by screening for 5-year projected earnings-per-share growth above 20% among companies involved with data mining. This serves as a signal that investors see strong long-term growth potential.
There were few companies left in our results, so we decided to compare three in terms of revenues and margins. We looked at whether each company had increasing or decreasing revenues over the most recent quarter, as well as whether their margins had increased or decreased over the same time.
The List
For an interactive version of this chart, click on the image below. Average analyst ratings sourced from Zacks Investment Research.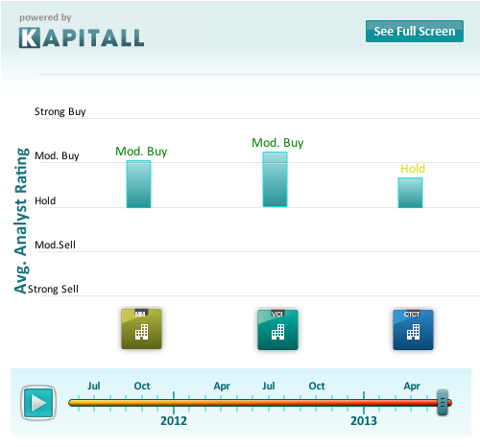 Do you see growth potential among these companies? Use the list below as a starting point for your own analysis.
1. Millennial Media Inc. (NYSE:MM): Provides mobile advertising solutions for advertisers and developers in the United States and internationally. Its MYDAS data platform leverages unrefined user data and aggregates it into actionable audience profiles based on key behavior, location, and content trends.
Market cap at $649.84M, most recent closing price at $8.16
EPS growth over the next 5 years: 45.00%
Revenues during the most recent quarter: increased by 50.14%
Gross margins during the most recent quarter: increased from 39.51% to 41.59%
Last month MM officially launched in Japan, bringing its mobile advertising and data platform to another foreign market. MM now has overseas offices in London, Singapore, Tokyo, Paris, Hamburg and Jakarta, and there is a clear push by the company into rapidly growing Asian markets.
And MM is also looking to the Latin American market, according to Chief Executive Paul Palmieri. The company is interested in merges and acquisitions in countries including Mexico, Argentina and Brazil, where the use of smartphones is rapidly increasing.
2. Constant Contact, Inc. (NASDAQ:CTCT): Provides on-demand email marketing, social media marketing, event marketing, and online survey solutions primarily in the United States.
Market cap at $498.42M, most recent closing price at $16.33
EPS growth over the next 5 years: 26.70%
Revenues during the most recent quarter: increased by 13.78%
Gross margins during the most recent quarter: increased from 70.64% to 70.82%
CTCT includes the SinglePlatform division, which recently announced a partnership with online and mobile food ordering service GrubHub. SinglePlatform will be the menu provider for GrubHub's website AllMenus.com, as well as integrate their online ordering platform into SinglePlatform menus. GrubHub's services are available in over 500 US cities, featuring more than 20,000 restaurants.
CTCT recently surveyed over 700 small businesses and nonprofits regarding email subscriber lists, and nearly 60% responded that they are constantly trying to increase their subscriber lists. The survey validates the company's focus on contact lists, and demonstrates the benefit that capturing email addresses has for small businesses trying to engage with customers.
3. Valassis Communications Inc. (NYSE:VCI): Operates as a media and marketing services company primarily in the United States, with segments including direct mail, in-store, newspaper and online advertising, and marketing analytics.
Market cap at $1.04B, most recent closing price at $26.46
EPS growth over the next 5 years: 25.00%
Revenues during the most recent quarter: decreased by 6.96%.
Gross margins during the most recent quarter: increased from 25.01% to 25.23%.
The company's subsidiary Brand.net recently announced a partnership with DoubleVerify, which provides technology in online media transparency, accountability and performance. The alliance will aim to create more effective and efficient targeting solutions for online brands, by incorporating DoubleVerify's ad viewability tool into Brand.net's decisioning algorithm.
And Brand.net has also teamed with PepsiCo's Quaker Foods to explore further engagement with mothers as consumers, focusing on the concept of 'Social, Local, Mobile' (SoLoMo). The average US mom spends about 6 hours per day on a smartphone, and roughly 1 of every 3 minutes a mother is online is spent on Facebook. Brand.net is exploring new ways to connect and engage with moms online.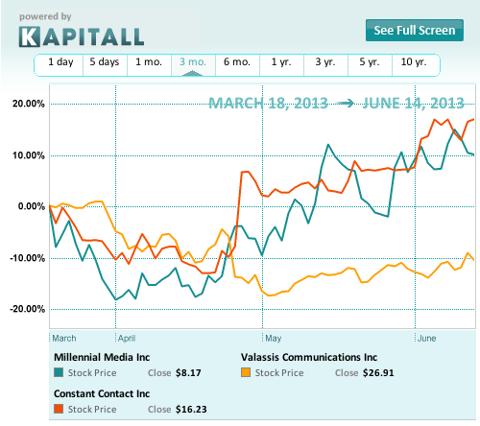 *Accounting data sourced from Google Finance, profitability data sourced from Fidelity, all other data sourced from Finviz.
Disclosure: I have no positions in any stocks mentioned, and no plans to initiate any positions within the next 72 hours.
Business relationship disclosure: Business relationship disclosure: Kapitall is a team of analysts. This article was written by Emily Smykal, one of our writers. We did not receive compensation for this article (other than from Seeking Alpha), and we have no business relationship with any company whose stock is mentioned in this article.