By: Brendan Gilmartin, VP Research & Content
Overview
FedEx (NYSE:FDX) is scheduled to report 4Q 2013 earnings before the bell on Wednesday, June 19. The results are typically disseminated at 7:30 a.m. EST and will follow with a conference call at 8:30 a.m. Results from FedEx are widely seen as a proxy for economic growth and tend to heavily influence the broader market gauges, including the equity index futures. Furthermore, the guidance for the balance of the full year could impact both the underlying shares and the broader market.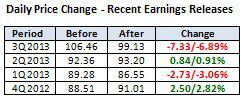 Outliers & Strategy
Key measures:
Earnings Per Share: FedEx announced in March that earnings for the 4Q period are expected to be in the range of $1.90 to $2.10 per share. The Street estimate is toward the low end of that range at $1.96. (Source: Yahoo! Finance).
Last month, FedEx disclosed that the impact of retiring aging aircraft, engines and parts resulted in an impairment charge of $100 million for the 4Q period. Since last March, the consensus earnings estimate has decreased from $2.12 to $1.96, a decline of 7.5%.
Adjusted/Earnings Per Share Guidance (1Q 2014): Note that FedEx tends to offer fairly conservative guidance. The current estimate is $1.59 for 1Q 2014.
Adjusted/Earnings Per Share Guidance (FY 2014): Keep a close eye on earnings guidance for 2014. The current estimate is $7.36. A range above or below this threshold will likely have direct consequences for the share price.
Recent News
06/14: Goldman Sachs lowered its 4Q 2013 earnings estimate on FedEx from $2.17 to $1.95, according to a post on StreetInsider.com and cut the price target from $115 to $114. The firm noted that global airfreight has been mixed.
06/13: FedEx released plans to accelerate the retirement of 86 aircraft and 308 related engines in an effort to modernize its fleet. The impact will result in an impairment charge of $100 million recorded in May 2013.
06/10: FedEx Freight said it will increase shipping rates by an average of 4.5%, effective July 1, 2013.
06/04: Bank of America raised its price target on FedEx from $115 to $120, according to a post on Benzinga.com, thanks to recent fleet upgrades and decommissioning of aging aircraft in order to bolster profits.
04/24: FedEx announced a 7-Year $10.5 bln contract with the United States Postal Service to provide airport-to-airport transportation of USPS Express Mail and Priority Mail.
Technical Review
FedEx shares have been meandering in a fairly narrow range over the past several weeks, despite the broader market volatility. Should results fail to meet the Street's tempered expectations, look for initial support near the 50-Day SMA at $96.00, with further downside risk to $94.00. Conversely, there is initial resistance at the $100-level, followed by 4102 in the event that earnings surprise to the upside. (Chart courtesy of StockCharts.com)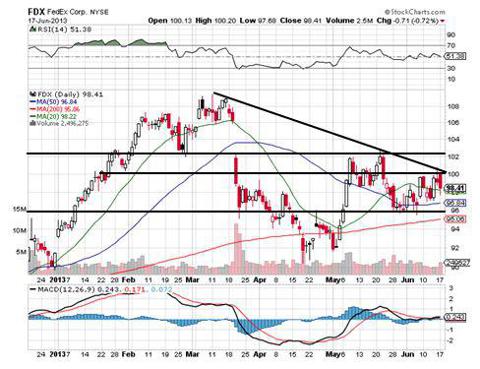 Summary
FedEx shares have meandered in a narrow range, despite evidence of an improving economic backdrop in North American and signs global markets are strengthening. At 13.4x forward earnings, FedEx is also trading at a discount to rival United Parcel Service (NYSE:UPS) at 15.2x, while recent price hikes are seen bolstering margins heading into 2014. FedEx is also seen benefiting from restructuring efforts announced last October, upgrades to its fleet, and a recent multi-billion agreement with the United States Postal Service. As usual, much of the focus will center on the outlook for the 4Q period and balance of fiscal 2013.
DISCLAIMER: By using this report, you acknowledge that Selerity, Inc. is in no way liable for losses or gains arising out of commentary, analysis, and or data in this report. Your investment decisions and recommendations are made entirely at your discretion. Selerity does not own securities in companies that they write about, is not an investment adviser, and the content contained herein is not an endorsement to buy or sell any securities. No content published as part of this report constitutes a recommendation that any particular investment, security, portfolio of securities, transaction or investment strategy is suitable for any specific person.
Disclosure: I have no positions in any stocks mentioned, and no plans to initiate any positions within the next 72 hours. I wrote this article myself, and it expresses my own opinions. I am not receiving compensation for it (other than from Seeking Alpha). I have no business relationship with any company whose stock is mentioned in this article.