We continue to find the natural gas and coal trades interesting as investors move in and out of the two on a whim and very short notice. It seems that the buyers who push stock prices up are momentum traders as they spook easily and appear to have moved in to names to time a market move higher. That is the only way we can explain why the coal names have been so volatile and seem unable to build support before making a move higher. It also would explain the skittishness over news events which seem to have little meaning when looking at the big picture.
Chart of the Day:
Natural gas is bouncing off of 3-month lows and found support at the $3.75 level. The market will be watching the $4 level now and to see whether the current downtrend can be broken. If one were to ask us, we would say this is a risk-on trade and the fact that it is catching a bid again indicates bullishness.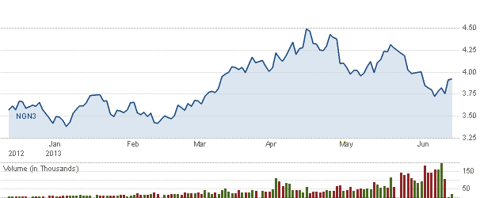 Chart courtesy of CNBC.com
Commodity prices this morning are as follows:
Gold: $1376.60/ounce, down by $6.50/ounce
Silver: $21.71/ounce, down by $0.048/ounce
Oil: $97.56/barrel, down by $0.21/barrel
RBOB Gas: $2.8552/gallon, down by $0.0009/gallon
Natural Gas: $3.893/MMbtu, up by $0.018/MMbtu
Coal
We wanted to start this morning off talking about the coal names which we mentioned on Friday in connection with the analyst's comments regarding the met coal prices and how they were below cash costs and thus must be near a bottom as far as pricing was concerned. We agree with the thesis and think that it is spot on, as we have seen the same issue in the uranium oxide market and numerous times the long-term price there has had to rise in order to cover the producers' mining cost. At times those contracts are done not at market prices but at producer prices in order for users to diversify their sources for materials. The same should be true for the coal sector, but only time will tell.
Walter Energy has seen better days, even as recent as last week, but the stock is now at levels not seen since 2008.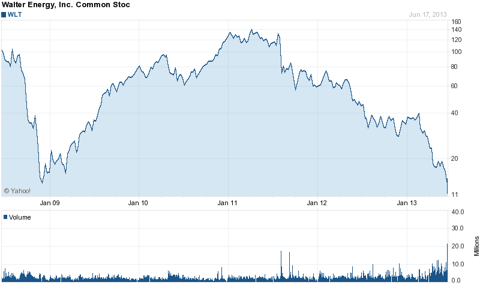 Chart courtesy of Yahoo Finance.
The losses do keep piling up for Walter Energy (NYSE:WLT), Alpha Natural Resources (ANR) and Arch Coal (NYSE:ACI) with the whole group trading at or near 52-week lows. The latest leg down has been caused by Walter Energy and the fact that they opened 'Pandora's Box' by trying to renegotiate a lower rate on debt they had in order to provide further liquidity. One can certainly file this under yet another coal company's management falling short of investors' expectations and not delivering for them. Forbes reported Friday that the company was not going to be able to pull the deal off, according to unnamed sources and the news created a firestorm with investors selling off shares and causing two halts while analysts have come out and stated that the move has been overdone. Maybe so, but right now investors are in flight mode and not fight mode so prices head lower until stronger hands are all that is left. Watch these names during today's session to see if they bounce off of these levels or continue lower.
Natural Gas
Natural gas had a bump yesterday and natural gas stocks performed strongly. Range Resources (NYSE:RRC) saw its shares rise $4.00 (5.45%) to close at $77.37/share on volume of 2.1 million shares. The company, along with Cabot Oil & Gas (NYSE:COG), has been a strong performer in the sector and benefited from a strong balance sheet and keeping expenses in line with cash flow. Range did this by selling acreage to joint venture partners when prices were high and enabling it to share development costs while also collecting cold hard cash upfront. Not everyone was lucky enough or had the foresight to do this and that is why we see the names in unproven areas now struggling under the heavy burdens of developing vast amounts of acreage in their portfolios.
Many of these names used to trade in tandem and be at least somewhat correlated but recently Cabot has had a life of its own, and rightfully so. Drastically outperforming peers.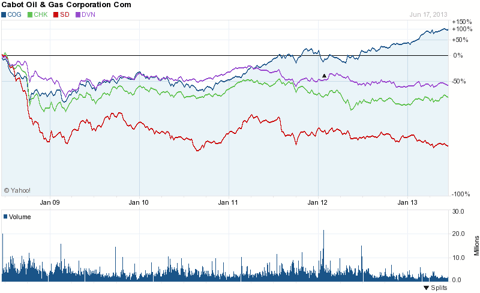 Chart courtesy of Yahoo Finance.
Cabot is a natural gas name unlike many others in that they have world-class shale acreage in the Marcellus Shale which enables them to operate in the black when prices are so low that the majority of industry players are forced to operate at a loss. It is a story which we have covered in the past and one which must continued to be focused upon as natural gas prices remain stuck at current levels. They are not high enough for everyone to be profitable, nor low enough for low cost producers like Cabot to stop drilling so we are in an area where Cabot and a few other companies are the beneficiaries of the market and will continue to be the outperformers. Once prices reach levels where more names are profitable these outperformers will lag as investors rotate into the less profitable names where greater gains can be had with rising natural gas prices.
Disclosure: I have no positions in any stocks mentioned, and no plans to initiate any positions within the next 72 hours. I wrote this article myself, and it expresses my own opinions. I am not receiving compensation for it (other than from Seeking Alpha). I have no business relationship with any company whose stock is mentioned in this article.