We published our research on Coca-Cola (NYSE:KO) last year in which we concluded that it was a fairly valued blue chip company. At the same time, we saw that it was at least performing better than its soft-drink peer PepsiCo (NYSE:PEP), particularly because Coca-Cola had a stronger management team. This led to Coca-Cola's share price significantly outperforming PepsiCo's since Indra Nooyi became PEP's CEO in October 2006. We were even pleased that two of our reports were recognized for the high quality content and insightful analysis about the company. We understand that Coca-Cola and Pepsi are fairly valued and seldom present investors with a buying opportunity for the following reasons:
Both firms have a solid track record of financial performance and generate gargantuan free cash flows in excess of capital expenditure requirements
Both companies are leading consumer staples products as opposed to consumer cyclical items like automobiles and houses
Both soft drink makers have a solid track record in creating and harvesting value for shareholders via dividends and share repurchases
We wouldn't recommend investors short Coca-Cola or Pepsi.
If they are concerned that the price of these firms would decline due to a market correction, they can always short the SPDR S&P 500 ETF (NYSEARCA:SPY)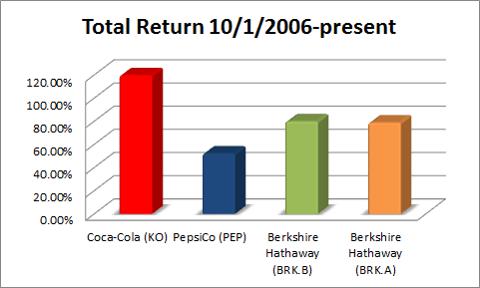 Source: Morningstar Direct
Whenever we enter into a position, we try to buy it when the share price represents a discount to fair value of 18% or more. We believe that Coca-Cola's fair value price per share is $42.65 based on our estimates for its future revenues, EPS and dividends and that we'd prefer to wait until Coca-Cola's share price reaches $35/share. We also try to buy it when it is ~20% off its 52 week high and $35/share would represent a 19.4% discount from its 52 week high. We are also implicitly targeting a price to earnings ratio of less than 15X based on its estimated forward earnings for FY 2014. We acknowledge that KO had a higher PE ratio in the 1990s however the following factors justified the PE ratios of 20X-44X EPS then but not now:
Coca-Cola was led from 1980-1997 by the legendary visionary Roberto C. Goizueta
Warren Buffett didn't become a stockholder until 1988 and very few people knew who Warren Buffett was or why he bought Coca-Cola.
Warren Buffett's Berkshire Hathaway (NYSE:BRK.A) (NYSE:BRK.B) didn't begin selling Class A shares until 1990 and Class B shares until 1996
Coca-Cola's dividend payout ratio was 40% or less during the 1990s but over 50% now
Coca-Cola's had more room to grow in emerging markets
Coca-Cola was selling off stakes in its bottler operations in the 1990s but bought Coca-Cola Enterprises's (NYSE:CCE) North American bottling division in 2010
We began formally covering KO and PEP in June 2012 and our thesis that both companies were fairly valued was confirmed as both firms have been profitable but underperformed the S&P 500.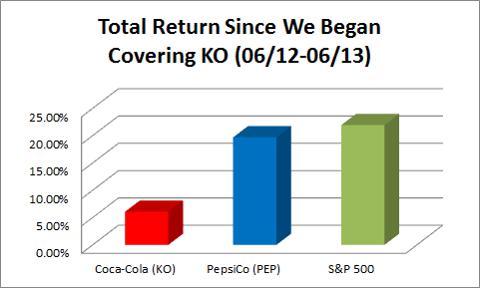 Source: Morningstar Direct
We're not surprised that Coca-Cola's shares underperformed the S&P 500 as it was fairly valued then and now. However, we were surprised that Coca-Cola's share price underperformed PepsiCo's share price as Coca-Cola's operating and financial performance was stronger than PepsiCo's. We weren't surprised that PepsiCo underperformed the S&P 500 however we were surprised it generated a total return of nearly 20% since we began covering it. PepsiCo's operating and financial performance has been flat since Indra Nooyi became CEO and we think that the following positive catalysts are already baked into PEP's share price.
Donald Yacktman's eponymous firm built a 23M share position ($1.9B) over the last 12 months
Nelson Peltz's Trian Fund Management has built a 12M share position (~$1B) in the last two quarters
Investor speculation based on a potential deal involving PepsiCo and Mondelēz International (NASDAQ:MDLZ) or PepsiCo spinning off Frito-Lay and other food operations
Investor speculation on PepsiCo replacing Indra Nooyi as Chief Executive Officer, which will eliminate PepsiCo's biggest weakness.
Coca-Cola had stable unit volume growth and steady adjusted operating growth on a constant currency basis however currency headwinds chewed up KO's revenue and profit growth. KO's adjusted EPS grew by 2.5% in Q1 2013 ($0.456) versus Q1 2012 ($0.444). The company grew its adjusted operating income by 1.8% and a 1.5% reduction in its shares outstanding. Currency neutral revenue increased by 1% but currency headwinds had a negative 2% impact on KO's revenues. Adjusted currency neutral cost of goods sold decreased by 1% and adjusted currency neutral SG&A was flat. This resulted in a 5% increase in year-over-year adjusted currency neutral operating income. Coca-Cola's EPS of $0.456 slightly exceeded the consensus estimate of $0.45 by the analyst community.
Recent performance highlights for the company include the following:
All global markets enjoyed positive constant currency neutral operating income growth except Europe (-1%) and North America (-3%)
Key drivers of volume growth were the BRICs: India (8%), Russia (8%), China (1%) and Brazil (3%) as well as Thailand (18%). These countries helped offset a tepid 0% volume growth in Europe.
Volume growth from non-carbonated beverages (4%) outperformed sodas and other traditional soft drinks (3%)
Highlights from the fast-growing non-carbonated beverages product line include the following:
Tea Volume enjoyed double digit growth due to growth in key brands such as Gold Peak and Honest Tea in North America, Ayataka green tea in Japan and Fuze Tea, which was expanded across multiple markets worldwide during the quarter.
Juices and juice drinks grew by 9% in the quarter due to solid marketing execution in creating a strong brand identity across its global portfolio of juice brands
Energy drinks grew by 9% and packaged water grew by 1%
Coca-Cola continues to return cash to shareholders. In FY 2012, the company spent $3.1B to repurchase 57M shares (net of share issuance by employee equity compensation programs). In FY 2013, Coca-Cola increased its dividend by 9.8% and spent $1.1B in net repurchases in Q1 2013. Coca-Cola's cash flows cycle is seasonal in that it typically employs up to $2B in the first fiscal quarter of a calendar year in the form of working capital and recovers it in the fourth quarter of a calendar year. Coca-Cola generated $10.65B in operating cash flows during FY 2012 and spent $2.17B on capital expenditures and acquisitions net of asset sales for $8.48B in free cash flows. This enabled Coca-Cola to return $7.67B to its shareholders in the form of dividends and net share repurchases. Coca-Cola is targeting $3B-$3.5B in net share repurchases in FY 2013 and we especially like that management quotes share repurchases on a net of share issuance basis.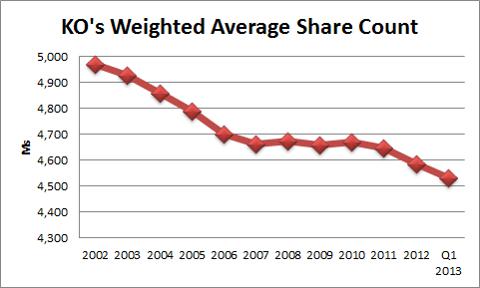 Source: Morningstar Direct
Although the company has $35.1B in outstanding indebtedness, that is partially offset by $18.4B in liquid marketable cash and securities and $11.1B in equity method investments and investments in bottling companies. We maintain that we would prefer see the company pay a $4/share special dividend based on its gross cash and securities holdings or make larger annual increases than merely 10%. The $4/share special dividend would represent 10% of KO's market cap and would unlock value for KO's shareholders. We can see that the company generates strong enough cash levels to service its current debt load and we'd prefer the company reward its shareholders with a richer dividend instead of repurchasing stock at such a rich price. At least KO and PEP's dividend yield is higher than the S&P 500's and both firms have the ability to create "homemade dividends" through stock repurchase programs.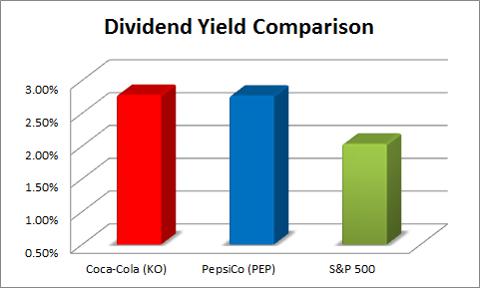 Source: Morningstar Direct
In conclusion, we believe that both companies are fairly valued. We like that both companies are backed by well-known shareholders (Berkshire Hathaway backs Coca-Cola and Nelson Peltz prefers PepsiCo and Don Yacktman has 23M shares in each firm). Other than that, we believe the companies are fairly valued relative to the consensus long-term growth rates both companies are expected to achieve. Coca-Cola has a forward PE of 17.1 and a consensus LTG of 8.8%. Pepsi's forward PE of 18.6 is actually higher than Coca-Cola's forward PE of 17.1 and its consensus LTG of 8.5% is lower than Coca-Cola's 8.8%. We believe that investors should realize that they are paying a rich price in order to access the dividend streams of Coca-Cola and Pepsi and as such, we maintain that these shares will perform in line with the major market indexes. However, if investors insist on one of these soft-drink makers for their portfolio, we believe that Coca-Cola offers a better risk/return scenario versus Pepsi since its PE/G ratio is 1.94 and that is still better than the 2.18 PE/G ratio of Pepsi.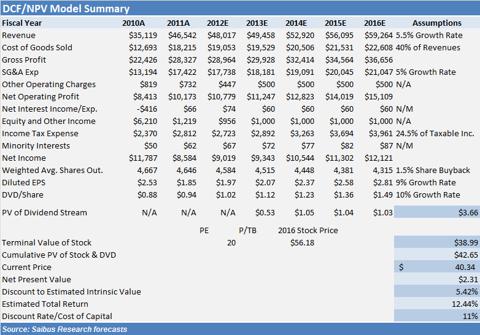 Disclosure: I am long BRK.B. I wrote this article myself, and it expresses my own opinions. I am not receiving compensation for it (other than from Seeking Alpha). I have no business relationship with any company whose stock is mentioned in this article.
Additional disclosure: This article was written by an analyst at Saibus Research. Saibus Research has not received compensation directly or indirectly for expressing the recommendation in this article. We have no business relationship with any company whose stock is mentioned in this article. Under no circumstances must this report be considered an offer to buy, sell, subscribe for or trade securities or other instruments.