Over the long run, stock prices are a function of earnings. However, in the short run, they are dictated by market forces, notably supply and demand. One of the easiest ways to capitalize on the short run market forces is to find situations where larger institutional investors look to what previously was mostly owned by smaller investors. The best way to do this is to buy a stock right before it uplists from the OTC or Pink Sheets to major exchanges such as the NASDAQ (NASDAQ:NDAQ) or the New York Stock Exchange (NYSE:NYX).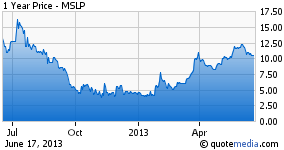 One such company that should be uplisted soon is MusclePharm (OTCQB:MSLP). If you want a detailed analysis of the business, please refer to my previous article on the company titled "MusclePharm Will 'Bulk Up' Your Returns". This article will mostly focus on the upcoming uplisting of this stock, and how investors can benefit from this special situation.
In a recent conference call, Brad Pyatt, the company's CEO, stated that they have applied for listings on both the NASDAQ and New York Stock Exchange. Furthermore, according to Mr. Pyatt, they have been in discussion with both exchanges, which are currently working through the details and should have an announcement in the coming months. I believe that MusclePharm is currently significantly undervalued considering its growth potential, and once the stock begins trading on a major exchange, it will see significant upside.
In this article, I will prove that MusclePharm will have no problem getting listed on a major exchange. I will use the NASDAQ market as an example, where it is actually more difficult to be listed on than the New York Stock Exchange.
NASDAQ Markets Overview
The NASDAQ has three different U.S. markets:
NASDAQ Global Select Market (large-caps)
NASDAQ Global Market (mid-caps)
NASDAQ Capital Market (small-caps)
Each of the three markets is designed to accommodate companies of a different size, from largest to smallest in the order presented. Each market has its own distinct set of initial listing requirements, and its own set of continued listing requirements. The initial listing requirements are more stringent than the continued listing requirements; I suspect this reflects NASDAQ's desire to vet out companies with a marginal track record, while being more lenient once the company receives the NASDAQ listing. MusclePharm will fall in the "small-cap" category or the NASDAQ Capital Market.
In order for MusclePharm to qualify for listing on the NASDAQ Capital Market: First, it must have at least 1 million shares available for public trading (also called "float"). Second, its stock price must close at $3 or above for at least five consecutive business days prior to approval. Third, the company must have a diversified shareholder base, meaning at least 300 "round lot" shareholders (people with at least 100 shares apiece). Fourth, the stock must have at least three "market makers" - brokerages or investment banks that are always able to buy and sell the stock for the current listed share price. As of this writing, MusclePharm passed all of these requirements. However, in addition to this, the company must meet all of the criteria under at least one of the three standards below:
Equity Standard
Stockholders' equity of at least $5 million
Market value of publicly held shares of at least $15 million
Two years of operating history
Market Value of Listed Securities Standard
Stockholders' equity of at least $4 million
Market value of publicly held shares of at least $15 million
Market value of listed securities of at least $50 million
Net Income Standard
Stockholders' equity of at least $4 million
Market value of publicly held shares of at least $5 million
Net income from continuing operations of $750 thousand (latest fiscal year or in two of the last three fiscal years)
As of the most recent quarter, MusclePharm met all of the criteria under the "Equity Standard," which means that we need to go no further since a company only has to meet all of the criteria under one of these standards.
Stockholders' equity of at least $5 million: MusclePharm had Stockholders' equity of $7.2 million as of the most recent quarter.
Market value of publicly held shares of at least $15 million: The market value of publicly held shares was $75 million as of this writing.
Two years of operating history: MusclePharm was formed in 2008 and became public in 2010. In other words, it has over five years of operating history and over three as a public company.
Companies wanting to be listed on the NASDAQ, regardless of which market, are also required to meet high standards of corporate governance. For example, the company's board of directors is required to have a majority of independent directors. These independent directors must determine the compensation of the chief executive officer and other executive officers. The company also must adopt a code of conduct applicable to all directors, officers and employees. These are just some of the requirements that a company must meet. Some of the other corporate governance requirements include things like making annual and interim reports available to shareholders (either by mail or electronically), being required to hold annual meetings at least one year after the end of the fiscal year, and the company is required to solicit proxies for all shareholder meetings. So far MusclePharm satisfies all of these requirements.
There is a very high probability that MusclePharm will get uplisted to the NASDAQ this summer. The listing application process usually takes four to six weeks. I would not be surprised if we got an answer sometime in July or early August. Once MusclePharm gets uplisted, the share price will rise dramatically because of an inflow of new investor demand. The reason this occurs is actually quite simple - large institutional investors simply do not invest in an OTC stock. Due to this lack of institutional following, many research analysts are reluctant to initiate coverage on OTC stocks, which in itself contributes to a lack of investment by institutional funds. For those willing to play this corner of the market, this is one case where the individual investor has a huge advantage over the institutions.
Significant Upside Potential
I believe that investors can more than double their money within months after the uplisting. This is not only because MusclePharm is getting uplisted, it is also because this is a popular and fast growing brand that has the potential to be a "Wall Street favorite."
MusclePharm is one of the most popular workout supplement brands on the market. Its products are sold in more than 10,000 U.S. retail outlets, including General Nutrition Centers (NYSE:GNC), Vitamin Shoppe (NYSE:VSI), and Vitamin World. As many as eight of its products consistently rank among Bodybuilding.com's top 50 best sellers, out of over 14,000 items. MusclePharm is the official nutritional sponsor of the Ultimate Fighting Championship, the world's largest mixed martial arts organization, and is endorsed by numerous UFC fighters, NFL players and other athletes.
The company's rapid sales growth is one reason some investors are starting to pay attention. MusclePharm has achieved triple-digit annual sales growth over the past four years. The company generated $67 million in net sales last year and expects to top $100 million in 2013. Management has also stated that 2013 will be the first year the company becomes profitable, which will also favorably impact the stock price. It is also nice to see that the company is essentially debt-free and, for the first time in its history, reported a working capital surplus.
Considering that nutritional supplements are one of the world's fastest growing industries, MusclePharm's potential is enormous. I believe that Mr. Market will take notice of this potential and drive the stock price higher. However, he cannot do that until the stock moves up to a major exchange, allowing the large institutions to buy. Investors who want to benefit from this rare special situation need to buy shares before the uplisting occurs.
Disclosure: I am long OTCQB:MSLP. I wrote this article myself, and it expresses my own opinions. I am not receiving compensation for it (other than from Seeking Alpha). I have no business relationship with any company whose stock is mentioned in this article.