Advanced Micro Devices (NASDAQ:AMD) just printed a fresh roadmap detailing its server strategy. I am going to make a very bizarre call now that the rest of my article will seemingly contradict, but it is imperative that the recommendation be fully qualified with my view of how this is all ultimately going to play out based on my knowledge of the technology, the industry, and the psychology behind all of this.
Buy AMD, as it is likely that -- just as with the game console hype and the hype surrounding the Jaguar processors -- the Street will continue to buy into AMD's new plans and promises. I do not believe that AMD's new server roadmap is particularly inspiring; indeed, it seems that in the high end the company has all but dropped out of the race and I see no reason for these problems to be magically waived away in the micro-server space. But the hype surrounding the firm's latest Seattle CPU based on ARM Holdings' (NASDAQ:ARMH) Cortex A57 cores is likely to drive substantial upside, as it did with the story that Applied Micro (NASDAQ:AMCC) and, indeed, ARM itself successfully sold to investors.
Bye-Bye, High End
Here is the latest AMD server roadmap, published mere minutes ago in tandem with a late-night press release:
Click to enlarge image.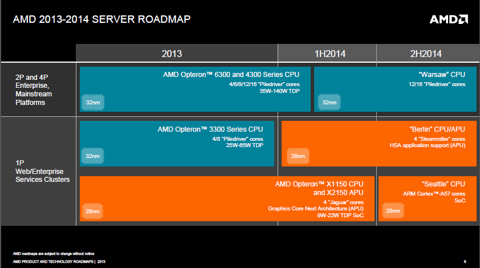 You will notice that right off the bat, AMD is recycling its 32nm Piledriver CPU cores in its highest end two-way/four-way server parts, which suggests that AMD has no intentions of remaining competitive at the high end with Intel (NASDAQ:INTC), which will be rolling out its 22nm Ivy Bridge EP part in Q3 2013 (12 core/24 thread, two- to four-way) and Ivy Bridge EX (15 core/30 thread, four- to 8-plus-way) in Q4 2013. This should be followed by the launch of the Grantley platform sometime between Q3 2014 and Q1 2015 with Haswell EP (14 core/28 thread, two- to four-way) and then Haswell EX (core count unknown, four- to 8-plus-way) at a later point.
AMD's current 16 core Piledriver-based Opterons already trail eight core/16 thread Sandy Bridge EP Xeons, so the performance and performance/watt gap should widen considerably with the 12 core/24 thread Ivy Bridge EP in the same power envelope. However, given AMD's reduced R&D budget and its need to more strategically fight its battles against Intel, this makes sense.
The problem, unfortunately, comes with its micro-server parts.
28nm Cortex A57? Good Luck, Guys
Quite a few of the AMD bulls (and perhaps ARM bulls, to boot) expected AMD to announce a 20nm Cortex A57 based part for the second half of 2014, particularly as ARM has been dancing around touting early test-chip tape outs of its Cortex A57 core. Well, turns out that I was again right in calling TSMC's (NYSE:TSM) bluff that 20nm -- let alone 16nm -- would be available in high volume during 2014. AMD's very first, world-beating, market-share winning ARM design is built on a planar 28nm process.
AMD's Andrew Feldman claims that this part will likely be very competitive with Intel's 22nm Avoton micro-server part. This is a bold claim, but there are a number of problems with it:
Avoton has been sampling since Q1 2013 and should be available in shipping systems by Q4 2013 (likely sooner), so AMD will have a significant time-to-market disadvantage against Avoton.
Avoton is built on Intel's 22nm tri-gate process, which means that not only will Intel have a density and power consumption advantage (either same performance in smaller/lower power part implying higher margins), but it will very likely have a performance advantage as Intel will have more frequency headroom as well as likely a faster core on a per-clock basis. AMD is hamstrung by a 28nm planar process, which constrains power and die size.
AMD will be competing not with Avoton but its successor, built on the 14nm manufacturing process and based on the Airmont processor core. At the 14nm node, Intel will have a significant density advantage as well as a performance/watt advantage from the smaller transistors alone, let alone any architectural improvements to the core or the accompanying SoC.
AMD appears to believe that by yelling "ARM" that it can suddenly waive away the same issues that plagued its competitive position in the PC market against Intel. While I remain convinced that Intel will have a clear technological lead on AMD and the other ARM vendors, another problem is that there are other ARM vendors -- all using the same core and the same process technology -- competing for this relatively small piece of the pie.
Why the Stock Is Still Likely a Buy
While I would very much welcome a reasoned rebuttal to the arguments presented above, it is hard to escape the fact that while AMD has no real clear technological advantage and seems to only be playing on its reputation as an "established" server player to differentiate itself, the Street is going to lap up everything AMD has to say. Right now, there's a lot of hype surrounding AMD's stock, and this serves as yet another catalyst to drive shares higher. All of a sudden, many believe that AMD's server strategy -- which competes in a much more crowded space for a much smaller piece of the pie -- will suddenly cause the stock to double. This is, of course, on top of the hype around AMD's Kabini and Temash potentially gaining huge market share in PCs/hybrids against Intel, and of course how AMD will magically gain market share against Nvidia (NASDAQ:NVDA) in discrete graphics because AMD won a few low margin game console spots.
Fundamentally, AMD should be sold or perhaps even shorted, but it's not going to be clear for quite a while that these pie-in-the-sky dreams face significant challenges and that the company may not be well-equipped to handle them -- especially in the face of fierce, well-capitalized competition. Nobody cares that AMD is claiming to be able to pursue more projects with less money, or that AMD is giving away expensive PC games to gain graphics market share, or that AMD sells gigantic PC chip dies for a fraction of what its competitor does.
No, right now AMD is a small-cap stock with a great story behind it, and as a result any and all dips will be bought aggressively -- quite possibly for the next year or so. You would be foolish to try to fight this trend, and I think there's more room to run. But make no mistake: AMD the company and AMD the stock are two very different things, and while I wouldn't want to own AMD the company, I still think AMD the stock has upside.
Disclosure: I am long INTC, AMD, NVDA. I am short ARMH. I wrote this article myself, and it expresses my own opinions. I am not receiving compensation for it (other than from Seeking Alpha). I have no business relationship with any company whose stock is mentioned in this article.