I recently traveled to China for seven days of meetings (May 31, 2013 - June 6, 2013). I met with several of NQ Mobile's (NQ) ex-employees, several members of NQ management (in multi-hour one-on-one meetings), Feiliu management, NationSky management, Yidatong (a payment service provider NQ uses), SinoMR and Qihoo (NYSE:QIHU). The meetings with NQ's ex-employees were arranged directly by me (without the knowledge, permission or the assistance of NQ). I found these ex-employees via LinkedIn and contacted them directly. I find valuable information often comes from recent ex-employees of a company, especially if they are disgruntled. I went into all of these meetings looking for the truth, whether it was positive or negative. I asked direct questions, pushed back on incomplete responses, and gave my unfiltered feedback. When necessary, I used an interpreter to ensure there were no misunderstandings. Here's what I found….
NQ Ex-Employee Interviews
Three of the ex-employees I interviewed were members of NQ's business development team. Business development employees often have a good perspective on the health of a business as they are outside/partner facing and are well positioned to observe implementation and performance of their deals. All three business development people left NQ during mid to late 2012. I found it curious that three different individuals would leave the business development team in the same calendar year. It turns out, only one person left voluntarily and the other two did not have deep enough skill sets to meet the needs of NQ's rapid growth and more sophisticated partnership deals. These two people were "transitioned." I asked all three about their level of confidence surrounding all aspects of NQ's consumer security business in China. The shorts would have you believe that NQ's consumer security revenue is overstated because "no one pays for anything in China." All three ex-employees (including the two ex-employees that are still peeved about their separation from NQ) said they have no reason to question NQ's reported China customer metrics and revenue. Summary of their comments… "NQ security software is pre-installed on the following handset manufacturers in China; Samsung (OTC:SSNLF), Sony (NYSE:SNE), Motorola (NASDAQ:GOOG), ZTE (OTC:ZTCOY), Huawei, Lenovo, etc. Many of these handsets are sold through carriers that focus on the Tier 3 and lower cities in China. Big carriers that focus on Tier 1 and 2 cities almost always strip-out pre-installed software that is not from an official carrier partner. The "smaller" wireless carriers that focus on the Tier 3 and lower cities do not usually strip-out the pre-installed software. This is one contributor to the fact that over 80% of NQ's paid China mobile security customers are located in Tier 3 and lower cities. So…yes... the reported customer and financial numbers look right and make logical sense."
Feiliu/FL Mobile - NQ's Booming Mobile Game Division
Feiliu has been renamed FL Mobile. FL Mobile is NQ's mobile game business unit. Mobile gaming is exploding in China! FL Mobile is likely to report revenue in 2Q13 up 80% - 90%+ over 1Q13. FL Mobile owns a very popular mobile app store and exclusively operates some of China's most popular mobile games.
Let's first make sure we are 100% clear on FL Mobile revenue terminology, as there was some confusion coming out of NQ's 1Q13 conference call. If you recall, on the 1Q13 conference call NQ confused investors on the topic of how FL Mobile would report revenue (GROSS vs. NET) and how the reported revenue tied back to its previous FL Mobile 2013 revenue guidance. Let's use a simple example. Assume $100 of total mobile game revenue generated by one of FL's games. Right off the top, $30 goes to Apple (NASDAQ:AAPL) (if on iOS). The remaining $70 in GROSS revenue is split between the app store/operator (FL Mobile) and the game developer (could be either FL Mobile or a 3rd party game developer). The minimum split is 50/50. If revenue exceeds certain pre-determined levels, the split increases in favor of the app store/operator, up to a maximum of 80/20. Hence, if FL Mobile generated $100 in total revenue promoting a 3rd party game on iOS, FL Mobile would receive a minimum of $35 in NET revenue (assuming a 50/50 split between FL Mobile and the 3rd party game developer). Please focus on the difference between NET and GROSS revenue. This is where the confusion came from. When NQ gave guidance on the 4Q12 conference call (2 quarters ago), NQ guided to $25M - $28M in GROSS revenue for FL Mobile for 2013 (before the split to 3rd party developers). $25m - $28M in GROSS = $17M - $22M in NET revenue. When NQ reported 1Q13, NQ said FL would now generate $25M-$28M in NET revenue!! $25M - $28M in NET revenue is equal to $32M - $38M in GROSS FL Mobile revenue. (Note: the math does not work out to a straight doubling from NET to GROSS since FL Mobile also develops its own games, so there is no revenue share on internally developed and operated games.) So…when NQ reported the 1Q13 numbers in May 2013, the new FL Mobile guidance of $25M - $28M in NET revenue was a HUGE raise of $7M - $10M in GROSS revenue terms (see table below)!! NQ did a poor job explaining this on the call. Nevertheless, it is a large positive that the market missed.
The body language from NQ's FL Mobile team was extremely bullish. FL Mobile will launch 6 new games in 2Q13 with 1 of those 6 being FL Mobile developed. FL Mobile owns its own game engine (does not have to pay to license one). In 2H13, FL Mobile is already slated to launch 10 additional games with 2 of those 10 being FL Mobile developed games. The beta testing results on the upcoming games are quite positive. Further, FL Mobile is licensing some hit mobile games from other Asian countries and these games have tested strongly. FL Mobile currently has 160 employees with approximately 100 employees in game development and 45 in game operations. FL Mobile is confident in the 2013 guidance. Mobile gaming is one of the hottest investment sectors currently, yet NQ is receiving zero value for its FL Mobile business.
NationSky
NationSky has over 1250 large and medium enterprise customers, covering over 50% of the Fortune 500 companies in China. NationSky's mobile device management (MDM) business (NQSky) is ramping very quickly. For those not familiar with MDM, Mobile Device Management software secures, monitors, manages and supports mobile devices deployed across mobile operators, service providers and enterprises. MDM functionality typically includes over-the-air distribution of applications, data and configuration settings for all types of mobile devices, including mobile phones, smartphones, tablet computers, ruggedized mobile computers, mobile printers, mobile POS devices, etc. This applies to both company-owned and employee-owned (BYOD) devices across the enterprise or mobile devices owned by consumers. NationSky combines NQSky with its Enterprise mobile security platform "Enterprise Shield." NQ Enterprise Shield provides enterprise customers and their employees with the privacy and security features they need to protect their businesses by securing sensitive device data from mobile threats and insecure mobile environments. The offering of an integrated solution of NQSky and Enterprise Shield has seen early success. NQSky already has 20 enterprise customers and anticipates adding 40 - 80 additional enterprise customers before the end of 2013.
China Consumer Security - Prepaid Card Business
Shorts have claimed to talk with people in China and that "they cannot find a NQ prepaid card" being sold in a store, so therefore NQ's prepaid business must be fraudulent. I took a hard look at this issue and found many misconceptions/misunderstandings about how prepaid cards are used in China and where/how they are sold in China. In the U.S., many prepaid phone and gift cards are sold near the check-out counter hanging on "J hooks" at retailers. A "J hook" is a retail display that literally has items hanging on hooks. Here's a typical J hook display in the U.S.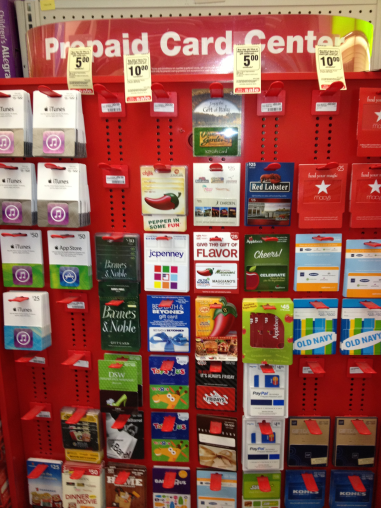 This is NOT how prepaid cards are sold or used in China. The shorts argue that they could not find retailers selling NQ prepaid cards in displays like the one above, so therefore something must be fishy.
How The Prepaid Business in China Works
China's offline (retail) go-to market is driven by extremely fragmented channels - especially in the cities that make up the majority of NQ's users (Tier 3 and lower cities). There are nearly 500,000 retail mobile shops and storefronts in China. 500,000 is not a misprint. These retail mobile locations are typically very small locations and have tiny footprints…many are less than 150 square feet. They are not what we are used to seeing in the U.S. Most mobile storefronts in China (especially in Tier 3 and lower cities) just have 1 - 3 cases of mobile phones under a glass counter or on a display for consumers to view. Here are some pictures of some wireless retailers in China with NQ signage.
China does not present the consumer with an immersive interactive retail experience in the Tier 3 and lower cities (quite the opposite of a premium retail wireless store in the U.S.). There are no fancy interactive displays, brightly lit stores, music, promos, demo stations, testing areas, etc.
In China, distributors play a key role in managing and supplying these nearly 500,000 mobile retail shops. These distributors play the role of gate keepers, so both handset manufacturers and app developers gain access to the majority of these mobile retail shops through the distributors that control these fragmented relationships. There are hundreds of individual distributors that control the retail wireless market in China.
The mobile retail shops make money by pre-loading apps and charging their customers various fees for usage of the apps. The app developer provides the distributor with retail codes or prepaid cards for the distribution to its retail stores. The wholesale price paid by the distributor to the app developer is fixed, but the distributor and/or retail location decides how the product is priced and sold at retail. The two dominant business models in this market are:
Retail Bundle - app software/product are sold as part of the phone's retail sales price along with other apps and accessories
Software Bundle - app software/product are sold as part of a "Value-Added Software Bundle" with other apps
The sale of a mobile device at retail in China is a very consultative sale where the phone is literally unpackaged and everything from set-up to application installations is walked through step-by-step with the customer. The various software "bundles" are often pre-loaded on these devices. The customers often do not know all of the applications that are included in the various software bundles until they actually use the phone and interact with the apps. Some retailers will walk the customers through the apps and others let the consumer self-discover. Either way, NQ does not invoice a distributor until a consumer actually opens the application, registers the product within the app on their purchased smartphone and purchases the premium level of NQ service.
How Many Total Retail Locations for NQ's China Consumer Business?
The distributors ultimately control the retail/storefront relationships. Distributors are extremely secretive so the actual size of this retail network is impossible to be precise about. But, NQ maintains relationships with distributors that have coverage of retail/storefronts of approximately 5,000.
Where in China is NQ Prepaid Currently Sold?
Understanding how the retail business works in China -- and understanding the critical role of the distributors is important when understanding where these customers are and how they are acquired. The distributors have the decision making power regarding what hardware and apps are sold in their stores… not the app, software or even handset makers. The majority of NQ's China prepaid consumer security customers come via these distributors from Tier 3 and lower cities. Tier 3 cities in China are not small or unimportant. Actually, China has 160 cities with populations of 1 million or more. Definitions are not completely uniform, but Tier 1 cities comprise the Big 4 (Beijing, Shanghai, Guangzhou and Shenzhen) followed by the 23 Tier 2 provincial capitals. All the remaining cities are Tier 3 and lower. The population represented by China's Tier 3 and lower cities exceeds the entire population of the U.S.
Apple and Samsung have the majority of handset market share in Tier 1 and 2 cities, while other brands like Huawei, ZTE, Lenovo, Coolpad, or any other number of cheaper "whitebox" manufacturers are more popular in Tier 3 and lower cities. Hence, if one were to conduct a handset market share survey and primarily focused on Tier 1 and 2 cities, the results would be wildly inaccurate, as the results would incorrectly lead to the conclusion that Apple and Samsung have dominant market share across all of China. In reality, Samsung had just 18.5% market share across China in 1Q13 and Apple was in 6th place with just 9.0% market share in 1Q13. The same flaw and erroneous conclusions exist with any market share analysis or survey of China consumer security products that mostly focuses on the Tier 1 and 2 cities. They would be missing the largest portion of China's overall market AND the vast majority of NQ's China customer base. Over 80% of NQ's China consumer security customers are located in Tier 3 and lower cities. Market research reports that sample customers from mostly Tier 1 and 2 cities, will erroneously conclude that NQ has a small market share of consumer security customers in China. Shorts like to tout these erroneous China market share reports to malign NQ Mobile.
How Does the Consumer Actually Sign Up For The Service Using A Prepaid Card?
The distributor gives his retailer an activation code that the customer will enter once they go into the application on their smartphone. This either happens as part of the retail bundle or as a software bundle (value-added software bundle that a customer can purchase in addition to the device). The distributor and retailer decide which sales model they prefer. As stated previously, NQ only invoices the distributor and recognizes a sale/user when a customer goes into the app and registers on their purchased smartphone and enters the activation code for premium service.
What Percentage of NQ's Revenue Comes From this Prepaid Market?
This described prepaid consumer security business comprises 30% of total China Security revenue, which equates to just under $3.0M USD in the 1Q13 report (or less than 10% of overall revenues).
Hopefully, the above information addresses any misunderstandings about NQ's prepaid business in China. Though NQ's China prepaid business is less than 10% of revenue, addressing the falsehoods spread by the shorts is important. I plan to follow-up with Part 2 of my China Notes to cover Yidatong (a payment service provider to NQ) and SinoMR (leading market research firm in China on the mobile security market).
Quick Thoughts on Valuation and Looking Forward
On the last conference call, co-CEO Omar Khan stated numerous times that there is a massive disconnect between NQ's financial performance and the current value the market is placing on the company. Mr. Khan stated that the creation of shareholder value is now the top priority for NQ Mobile's management team and Board. While NQ Mobile has done a fantastic job delivering financial results by executing on a solid corporate strategy (8 quarters in a row of beating and raising), the stock price remains severely depressed. We will likely hear exciting news on this topic in the near future.
NQ currently trades at just 2.7x EV/EBITDA 2014E and is growing over 100% year-over-year with operating margins well over 25% (see valuation table at the top of this article). This is literally ridiculous. Terminally flawed businesses that have bankruptcy risk within 24 months trade at better multiples than 3x EV/EBITDA. NQ Mobile owns an extremely successful mobile gaming company (growing 80-90%+ quarter-over-quarter in 2Q13), owns the majority of the enterprise mobile security and MDM company NationSky and is rapidly expanding its core consumer mobile security business throughout the U.S. (via 1000s of wireless retailers), Latin America (via America Movil) and Japan (stay tuned). Companies with annual growth rates over 100% with attractive operating margins (over 25%), currently trade at 15x - 50x 2014E EV/EBITDA. Applying a low-end 15x 2014E EV/EBITDA multiple results in a $26.75 stock price for NQ…or over 233% upside from $8.02.
Disclosure: I am long NQ. I wrote this article myself, and it expresses my own opinions. I am not receiving compensation for it (other than from Seeking Alpha). I have no business relationship with any company whose stock is mentioned in this article.