The market has rotated out of dividend-paying stocks on fears the Fed will back off its accommodative stance. The downturn was been particularly harsh on the packaged goods and beverage sector. Recently, buyers have come back into the consumer staples. However, the sell-off might return: When the fed winds down its bond buying -- and, ultimately, raises interest rates -- dividend-paying stocks could become once again particularly pressured.
While funds may indeed dump their dividend-paying staples as 10-year Treasury yields climb, it is easy to forget that these stocks are already paying historically high yields. Investors have become used to staples stocks paying unusually high yields during the last four years. High yields are a recent phenomenon. Before the Great Recession hit, investors were satisfied with much lower yields on their dividend payers -- and that was despite far higher Treasury interest rates. In fact, for much of the last 25 years, 10-year Treasuries had rates 200 to 500 basis points higher than those of Procter & Gamble (NYSE:PG), Kimberly-Clark (NYSE:KMB), Colgate-Palmolive (NYSE:CL), Clorox (NYSE:CLX), and Coca-Cola (NYSE:KO).
Procter & Gamble paid a yield below 2.5% from 2000 to 2008, way below the 10-year Treasury.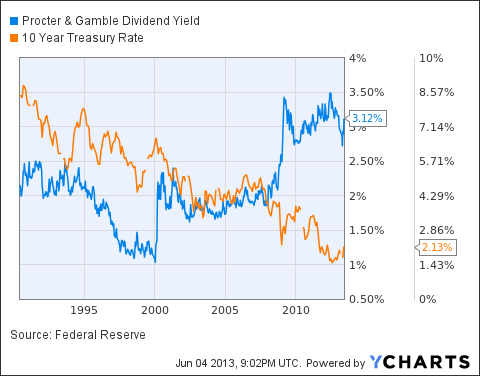 Kimberly-Clark's dividend yield was less generous for much of 1990 to 2005.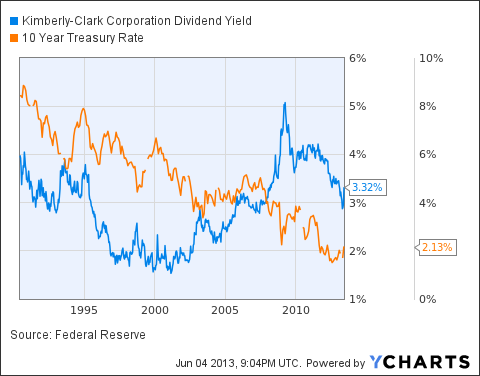 Colgate-Palmolive actually paid out a 1% dividend in 2000, while the 10-year offered over a 6% return.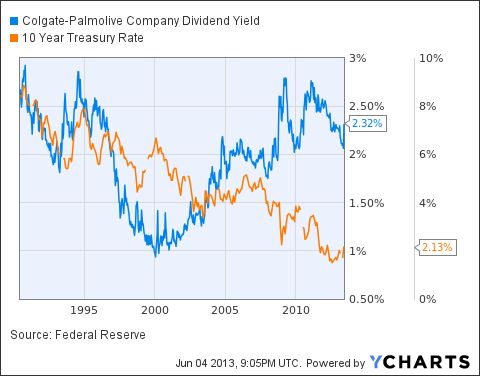 Investors were fine with Clorox's lower yields from 1995 to 2008.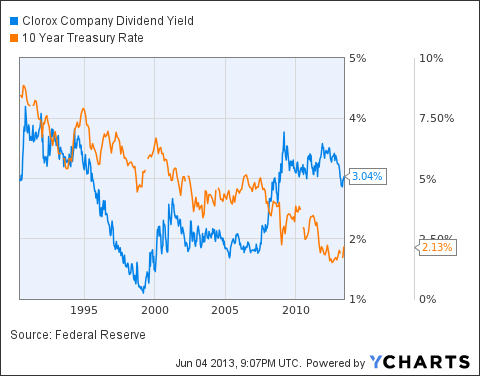 Coca-Cola's dividend yields were less generous as well.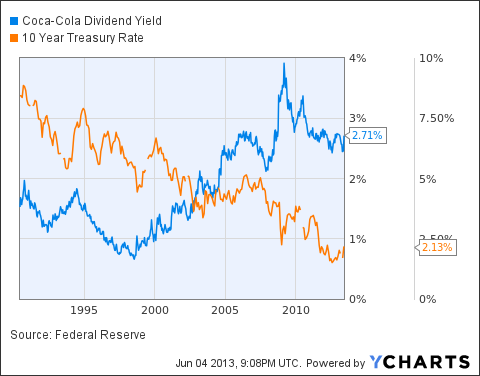 Are dividend-paying staples stocks paying too little to justify holding them? Not according to historical yields. Not long ago, investors gobbled them up despite sub-2% yields -- even when Treasuries offered much higher yields.
There's no getting around this fact: Dividend lovers have been spoiled since 2009. And there's more to the history lesson as well. Dividend-paying stocks might not drop much on rising rates. While shares might initially drop, the staples group might surprise you: These stocks may look attractive even as bond yields rise. History has a way of repeating itself.
And one last thought: If the staples stocks do drop, take it as a gift from above -- you might not see dividend yields that high for a very long time.
Disclosure: I am long PG, KMB. I wrote this article myself, and it expresses my own opinions. I am not receiving compensation for it (other than from Seeking Alpha). I have no business relationship with any company whose stock is mentioned in this article.
Disclaimer: The opinions in this document are for informational and educational purposes only and should not be construed as a recommendation to buy or sell the stocks mentioned. Past performance of the companies discussed may not continue and the companies may not achieve the earnings growth as predicted. The information in this document is believed to be accurate, but under no circumstances should a person act upon the information contained within. We do not recommend that anyone act upon any investment information without first consulting an investment advisor as to the suitability of such investments for his specific situation.