If you believe in the housing recovery then you know very well there are multiple ways to play that theme whether it's through homebuilders such as Toll Brothers (NYSE:TOL), appliances such as Whirlpool (NYSE:WHR), property insurance through Travelers (NYSE:TRV), do-it-yourself tools through Stanley (NYSE:SWK), or the way I like to play it is through the elephant in the room, Home Depot (NYSE:HD). Home Depot has been a strong stock in the past year, up 46.79% against the S&P 500, which has been up 22.05% in the same timeframe. I like the stock just on the general theme of the housing recovery, but more recently because it has been increasing its dividend for the past four years. I'll delve into the fundamentals, financials, and technicals of the stock to see if it's worth picking up some more right here.
Fundamentals
Home Depot currently trades at a trailing 12-month P/E ratio of 24.09, which is fairly priced, but I mainly like to purchase a stock based on where the company is going in the future as opposed to what it has done in the past. On that note, the 1-year forward-looking P/E ratio of 17.89 is also currently fairly valued for the future in terms of the right here, right now. Next year's estimated earnings are $4.26/share. The PEG ratio (1.67), which measures the ratio of the price you're currently paying for the trailing 12-month earnings on the stock while dividing it by the earnings growth of the company for a specified amount of time (I like looking at a 5-year horizon), tells me that Home Depot is once again fairly priced based on a 5-year EPS growth rate of 14.43%.
Financials
On a financial basis the things I look for are the dividend payouts, return on assets, equity and investment. Home Depot boasts a dividend of 2.05% with a payout ratio of 42.6% while sporting return on assets, equity and investment values of 11.2%, 27.2% and 17.8% respectively; which are all very respectable values. If maybe you feel the market will retrace a little more and would like a safety play then maybe the 2.05% yield of this company is good enough for you to take shelter in for the time being. Home Depot has a long history of paying dividends but not really increasing them greatly during that time until recently. During the past four years the quarterly dividend has increased 69.5%, and most recently it has increased 34.5% (from $0.29 to $0.39)!
Technicals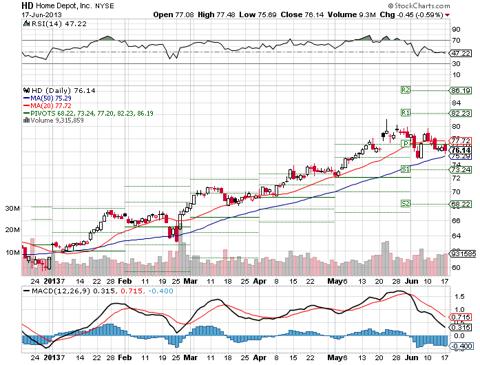 Initially looking at the relative strength index [RSI] chart we see that the stock is at middle ground territory with a value of 47.22. The RSI tells us whether or not a stock is overbought or oversold, but in this scenario it doesn't tell us much of anything. Looking at the moving average convergence-divergence chart next we can see there is a bit of downward momentum taking place in the stock but that the divergence has flattened out. I'd like to see the divergence bars begin to decrease before I begin to start a position. On the stock price chart itself, the stock is trading between its 20- and 50-day moving averages with what I see as support at $73.24 and resistance at $82.23. I calculate at a risk of -3.81% and a reward of 8%.
Conclusion
Fundamentally the stock is fairly valued for right now and a year into the future, but the company offers great growth potential and excellent financials to be able to increase the dividend for years to come. I'm going to open a very small position based on the risk/reward ratio that I calculated, but I want to see what happens with the price when it reacts against the 20- and 50-day moving averages before I begin to purchase a big block of the stock because I actually think it can get cheaper on fundamentals.
Disclosure: I am long HD. I wrote this article myself, and it expresses my own opinions. I am not receiving compensation for it (other than from Seeking Alpha). I have no business relationship with any company whose stock is mentioned in this article.
Disclaimer: These are only my personal opinions and you should do your own homework. Only you are responsible for what you trade and happy investing.