There are a few places that I go to when I'm looking for investment ideas. Here is my short list:
The portfolios of experienced investors who have proven to be successful over long periods of time. I'm talking about fund managers and capital allocators who have beaten the market by wide margins for 10 years plus.
Companies that are targets of activist investors who are likely to act as catalysts to propel share prices higher.
Companies with significant levels of insider ownership and insider buying.
The most beaten-down sectors of the market where stock prices are apt to have become disconnected with underlying business values. If the carnage is bad enough, investors may have been forced to sell (margin calls) or have simply given up and are willing to sell at any cost.
Going to these places provides me with a shortened list of investment ideas from which I can pick those that I think are the best.
The Junior Gold Miner Space - Doesn't Get More Beaten Down Than This
I'm Canadian, so I follow the Canadian markets much more closely than a U.S. investor would. That means I'm following a large number of companies that operate in the resource sector. The past year has been incredibly frustrating for those of us invested in smaller Canadian resource companies. It has been doubly frustrating as the American and most global stock markets have been marching steadily higher.
How frustrating has it been? Check out the TSX/S&P Venture index performance over the past couple of years (see below). This index consists of smaller Canadian companies, many of which operate in the resource business.
Click to enlarge images.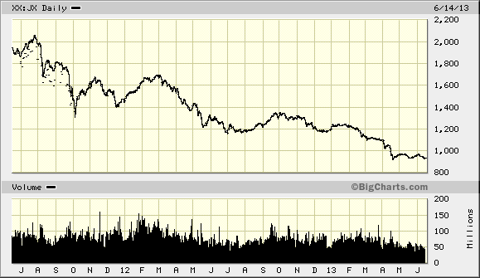 I called the past couple of years frustrating, but that really doesn't do it justice, does it? From over 2,000 in July 2011 this index of stocks has dropped to 933 today. That isn't frustrating -- that's a disaster. It is hard to believe that this index has done this poorly while most markets in the world are having terrific bull runs over the same period.
If you think an entire index losing half its value over a couple of years is bad, then I've really got something for you. Instead of just looking at the TSX Venture index, let's focus on junior gold mining stocks. The chart below is the Market Vectors Junior Gold Miners ETF (NYSEARCA:GDXJ). I'm not sure I've even got the words to describe how badly this ETF focused on small and medium-sized gold miners has done.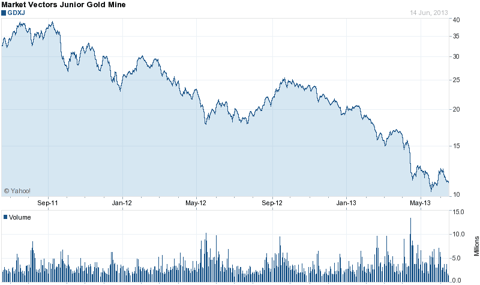 The net asset value of this ETF has gone from $40 two years ago to $11.29 today. A triple in price still wouldn't get the ETF back to where it was a couple of years ago. The gold miner space is a beaten-down sector that could be ripe with opportunities because I would reckon that many shares are now being sold with no thought being given to intrinsic business value. What makes me think that these companies have been sold off too much is the fact that while the price of gold is down, it isn't down nearly enough to justify the GDXJ losing 70% of its value.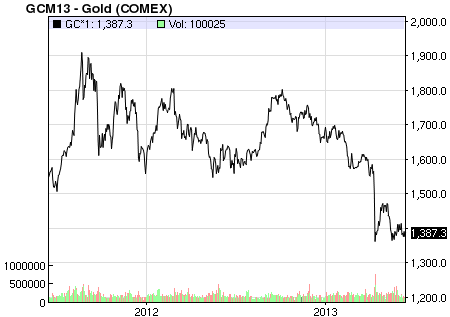 It would not surprise me if, over the next couple of years, the price of gold goes up modestly the stock prices of many of these junior gold miners will triple or more.
Some Very Smart Investors Are Buying Junior Gold Miners
Like many investors, I am contrarian by nature. I'm much more comfortable buying shares that are out of favor than I am buying what is popular. But I'm also suspicious of my own brainpower. I feel much better if successful investors are also seeing value where I am before I commit my own dollars. This is a way to have my ideas vetted by someone smarter than me.
There are several pretty savvy people who think junior gold miners are undervalued today. Three in particular stand out:
Jim Grant: Grant is the long time author of Grant's Interest Rate observer and is well known for being a successful contrarian. Grant recently said: "I think gold mining shares which are universally despised represent a call on the surviving monetary asset and is one area of absolute compelling value."
Marc Faber: Faber has successfully navigated the financial market for decades and is the author of the Doom, Boom and Gloom Report. I came across a recent interview with Faber where he said: "If the gold price goes up 20%, many mining stocks could double."
George Soros: Soros needs no introduction. The man is a billionaire purely because of his investing acumen. His fund recently made a leveraged bet on junior gold mining stocks by purchasing $25 million of call options on the GDXJ.
Additionally, we have other astute investors like David Einhorn and Jim Rogers who are bullish on gold itself thanks to the unprecedented level of money printing that is going on across the globe. Having these investors all seeing value in gold miners doesn't guarantee that now is the time to invest in them, but for me it certainly lowers the risk that I'm wrong for thinking that it is. These junior miners have been as a group priced for death. That is why I think a triple in many of these stocks is a distinct possibility.
Which Junior Gold Miner to Invest In
So we have an incredibly beaten-down sector of stocks in which some very astute investors seem to think represents a compelling investing opportunity. What specific vehicle or company should an investor buy shares in?
The first thing that I would say is that with the beaten-down nature of this sector there is no need to try and be a hero and buy companies that expose you to political risk. I want a company that operates in a jurisdiction where I know what the rules of doing business are.
The second thing that I want is a company that is a low cost producer. If a junior gold miner can't make money at gold prices of $1,300 per ounce, then I'm not interested. I think it is quite likely given the race to currency devaluation many countries are involved in that gold will go higher, but if it doesn't I still want a company that can make money.
The third thing that I want is a company where management is a proven entity. The mining business is a difficult one and I want a management group that has shown that it can get the job done.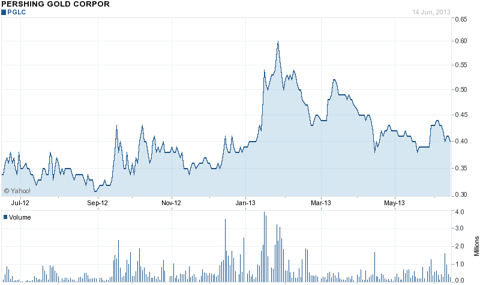 I've been watching Pershing Gold for the better part of a year. The recent sell-off in gold mining stocks has provided a better entry point than I expected would be available again. I think Pershing Gold (NASDAQ:PGLC) has many of the attributes I'm looking for.
Location
Pershing Gold is located in Nevada. It would be hard to find a location with less political risk. Nevada has the second largest gold reserves in the world behind only Witwatersrand, South Africa. Over 152 million ounces of gold have been mined since 1835 at a value in excess of $250 billion at current pricing. Nevada continues to welcome gold exploration and mining, recently being ranked as the second-most "Mining Friendly Jurisdiction in the World" (The Fraser Institute, March 3, 2011, fraserinstitute.org).
Management
For a company of its size, Pershing has a very experienced and successful man in charge. In accepting the job of CEO at Pershing Gold, David Alfers gave up a very high ranking position (chief of U.S. operations) at the multibillion-dollar Franco-Nevada Corporation (NYSE:FNV). Alfers has 30 years of experience in the mining industry in Nevada, and his move from a comfortable high paying job at a big company to this development stage entity indicates his level of belief in the project.
Before joining Franco-Nevada Corp., Alfers was president and CEO of NewWest Gold Corporation, where he developed a large portfolio of promising Nevada gold properties including Long Canyon, Sandman, and Northumberland. In 2007, Alfers orchestrated NewWest's sale to Fronteer Gold for CDN$186.9 million. This shows he can take a small company like Pershing and deliver a pay day for shareholders.
No Exploration Risk
Pershing Gold is a gold company that is in the developmental stage. I like the company business model, which does not involve taking exploration risks. Instead of taking exploration risk, Pershing's model is to buy assets on the cheap that have been left unexploited by prior owners for reasons such as:
Lack of sufficient landholdings
Poor management
Bankruptcy caused by an overleveraged balance sheet
Pershing then works with these acquired assets to grow the resource in place and bring them to production.
Attractive Production Cost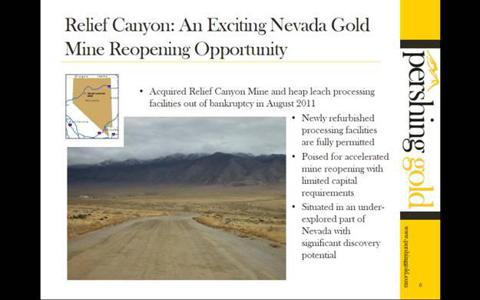 Because Pershing purchased (out of bankruptcy) a mine that had produced previously the company has avoided a lot of capital cost that most new producers would require. That means that Pershing will be able bring production on at a lower cost than other more marginal producers. Thomson Reuters GMFS believes that the all in cash cost for gold producers in 2012 was $1,211 per ounce. Pershing meanwhile estimates that its production cost could be in the $800 to $900 per ounce range.
Insider Buying
Director Barry Honig invested well over $1 million of his own money buying Pershing shares (see here and here), which is very interesting given the imminent NI 43-101. Anytime an insider makes an acquisition, I'm intrigued; when it is the kind of dollar amount involved in Honig's purchases, I really sit up and pay attention.
Smart Money Owns Shares
Smart Shareholder No. 1 -- Philip Frost
Call me crazy, but I like to follow the smart money. I also like it when the company I own has some very deep pockets behind it in case something goes wrong and some financial assistance is required. Pershing Gold has that with one Philip Frost who owns 19% of the company. Frost made his fortune by selling drug manufacturer Ivax to Teva Pharmaceuticals for $7.6 billion in 2005. Having Frost's deep pockets behind the company should greatly increase the chances that access to capital is always going to be available. His big financial interest in the company also lends credibility to the project.
Smart Shareholder No. 2 -- Coeur D'Alene (NYSE:CDE)
Coeur purchased almost 11 million shares of Pershing in a June private placement. Not only does Coeur bring deep pockets like Philip Frost, but its expertise in the mining sector is a further sign that the Relief Canyon mine is more than just another high-risk development.
Thoughts on Valuation
Pershing is still pre-production, so valuation work is quite a bit more difficult than for a producing/cash flowing company. There are two metrics that we can use to ballpark how the market might value Pershing once production is up and running. The first is that Pershing is projecting initial production of 50,000 ounces of gold per year starting in 2014 (see below). Assuming gold prices stay in the $1,300 to $1,400 range Pershing would be generating revenue of almost $70 million. Given Pershing's expected $800 to $900 per ounce cost to produce Pershing could be cash flowing up to $30 million in just its first year of production.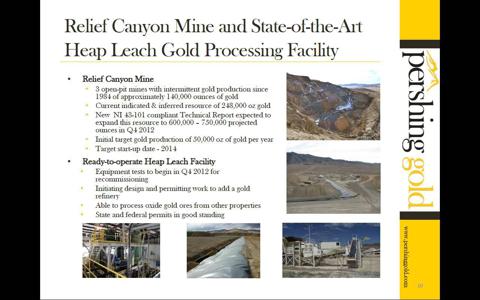 On Pershing's current enterprise value that would be a fairly reasonable 4 multiple. However, within a couple of years, that cash flow figure could double. That would mean at the current share price Pershing is trading at under 2x future cash flow. The second data point is Pershing's 564,000 ounces of gold. On the current enterprise value of $110 million Pershing is trading at $195 per ounce. How attractive you think that is depends on your view on future gold prices and how optimistic you are about Pershing increasing its resource figure. Given that Pershing expects that the Relief Canyon mine can be expanded in every direction, it seems likely that the resource estimate could increase over time.
Risks
While there is a lot I like about Pershing, there are of course risks involved. The first main risk, in my opinion, is that this company is still working toward first production and therefore isn't currently generating cash flow. The creates potential for cost overruns and need for additional capital. Pershing might be able to turn to its larger shareholders should more capital be required, but if it can't, today is not a great time to have to go to the capital markets for a junior gold miner.
The second big risk is the price of gold. That is out of Pershing's control and if the price of gold goes into a long term tailspin it is going to be a problem for Pershing and all gold producers. I think Pershing has a chance to be one of those junior gold miners that could triple in share price over the next few years. Keep in mind that the commodity sector is a risky one, so only small position sizes are appropriate.
Disclosure: I have no positions in any stocks mentioned, and no plans to initiate any positions within the next 72 hours. I wrote this article myself, and it expresses my own opinions. I am not receiving compensation for it (other than from Seeking Alpha). I have no business relationship with any company whose stock is mentioned in this article.