Even though the next year or two Coinstar's (NASDAQ:CSTR) subsidiary Redbox is projected to grow its kiosk business, the changing way people consume media has forced the company to incorporate the additional strategy of offering streaming video offerings to its existing and future customers.
It has partnered with Verizon to create Redbox Instant, which is marketed as a service which offers movie fans an option to consume their favorite flicks on disk or digital.
Along with the ability to stream movies, - which costs $8 a month - are four credits which allow the user to go to Redbox kiosks and pick out four of their favorite movies. Subscribers can also acquire or rent new releases on-demand via the Redbox Instant store.
Redbox announced it will launch its Redbox Instant service on the Roku set-top device some time in the summer. Currently over 5 million Roku devices have been sold in the U.S.
It is also available on Xbox 360, Android and iOS devices, Samsung Smart TV and Internet Connected Blu-ray devices, LG Smart TV's, and Google TV.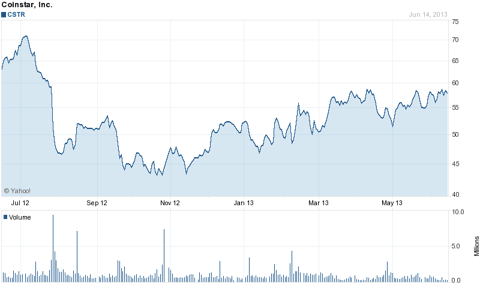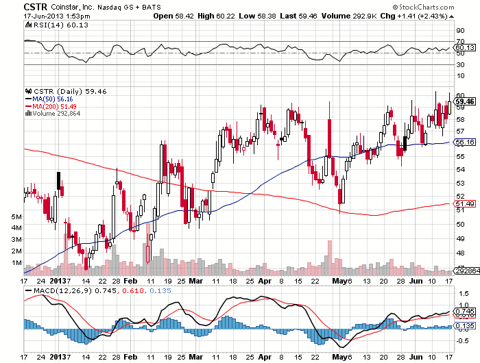 Latest Earnings Report
According to its latest quarterly report, Coinstar generated $575 million in revenue, with approximately $508 million of that from Redbox. Core adjusted EBITDA was at $104.2 million and $0.93 of core diluted earnings per share, according to Galen C. Smith - CFO at the company. He said lower R&D credits in 2012 resulted in a $0.02 benefit, which was offset by an incremental interest expense of $0.04 coming from new senior notes.
Guidance for the second quarter is for consolidated revenue in a range of $555 million to $580 million. Projections for core adjusted EBITDA are from $103 million to $113 million, with core diluted earnings per share of $0.90 to $1.05. Core diluted EPS in the second quarter will be affected by $5.4 million in incremental interest expense, $1.8 million of operating losses, and amortization of intangibles concerning NCR kiosks.
Guidance for the year was raised to as high as $5.55 per share, 4 cents above its prior estimate.
Income Statement

Cash Flow Statement

Balance Sheet

Strengthening its DVD Customer Base
To solidify its customer base, the company has added features to the business to keep its best customers returning. One is a credit card initiative, which has grown to over 40 million participants. Using the cards as a metric, volume using the high-frequency cards in the first quarter jumped to its highest levels ever in the history of the company.
Another growth area is in Blu-ray, where rentals jumped 65 percent year-over-year, accounting for over 14 percent of revenue.
The Redbox kiosk business is benefiting from the further decline in the number of brick-and-mortar rental locations in North America. Coinstar says it continues to generate about $5.5 billion annually, and is projected to grow to $6 billion over the next two years.
Back in January 2013 DISH Network announced it was going to close another 300 blockbuster outlets. That means Redbox will end up with growth in those markets, even if the overall DVD rental industry is declining. My assumption is this is why Coinstar sees Redbox DVD sales continuing to grow for at least two years. With approximately 500 Blockbuster stores left in America, the closing of more of them is sure to happen, and over time many of those markets will gravitate toward Redbox. I think a lot of bears aren't taking that into consideration with the performance of Redbox.
In its latest earnings report, Chief Financial Officer Galen C. Smith said physical rental volume had improved from double-digit declines to low single digit declines.
Another reason I see DVD sales remaining a smaller but viable business is the weakness of the streaming model as far as viewing experience goes. Quite a number of my friends don't like the seemingly endless buffering that happens while watching the movie, so go back to the physical DVD experience. That's not to say DVD rentals aren't declining, just that there is a point where the decline will slow down, and we'll get a better picture of the base Redbox DVD rentals will work from. After all is said and done, there will remain a good number of consumers preferring DVD rentals or who have no other option available to them. That's where the high-frequency program should help.
Canada is another factor in play, as the company is working on significantly penetrating that market, albeit at a slower pace in the U.S., and with less projected revenue per kiosk. Expectations are to install from 1,500 to 2,000 kiosks in Canada in 2013.
Redbox accounts for 47.8 percent of DVD rental market share.
Launch of Redbox Instant
Into this environment Coinstar launched its streaming business. There is one reason for this: shareholders expect and demand a streaming response to the changing movie and game consumption habits of people.
Even though the physical DVD business isn't as weak as investors think, it's going to gradually lose business to streaming, and the company must offer an entry in that segment of the market to continue to be considered relevant.
It enters a crowded market, where Netflix, Hulu and Amazon's Prime Instant are battling it out, among other smaller players. Fortunately, it has a powerful partner in Verizon, which should help it to grow market share. Redbox has a 35 percent stake in the joint venture while Verizon has 65 percent. That limits its risk if the venture fails, but also its growth if it succeeds.
The key strategy Coinstar is using against its major competitor Netflix is to acquire content on a per-subscriber basis.
"We believe the strategy of acquiring the content on a per-subscriber basis vs. a fixed fee payment is a key variable in Redbox Instant being able to acquire this quality content," said Piper Jaffray's Michael Olson.
How it differs is it is less expensive to acquire content on the front-end using a per-subscriber strategy. Netflix must pay a much higher price to acquire large amounts of content in aggregate. That means more risk for Netflix when it buys content.
The downside for Coinstar is as its subscriber base grows it'll have to pay more for content because it's a variable price model, where the cost of content rises in conjunction with subscribers. So when Redbox adds content in any large degree, it will need to raise prices or cut the streaming margins.
It's an excellent way to enter the market and should help them grow the new business without adversely having a negative effect on the bottom line. Once it grows share the company will have to decide on whether or not to change the per-subscriber model.
Another deal that will help Redbox Instant grow is that which it made with Verizon, Coinstar and Roku, where the content offered by Redbox Instant will be available for download on the platform, which has surpassed 5 million users.
Long-Term Commitment to Redbox Questionable
There's a question as to the long-term commitment Redbox will have to the segment, as it's rolling out other new products which go along with the idea of being an "automated retail" business rather than primarily one that sells entertainment.
So while the firm is taking the necessary steps to stay competitive in renting and selling movies and games, it is also moving away from being thought of solely as a provider of entertainment. The low margins associated with streaming video, along with it being a commodity business where it is difficult to differentiate from other players, suggests this could be a spin-off business for the company in the future as it shrinks its dependence on Redbox and moves to more profitable growth markets, such as Rubi. The need to stream videos, which goes beyond its core business and competency, is why I see that as a possibility; although one that probably won't be considered for a couple of years.
Redbox is still the big revenue driver of the company, and streaming will be a continual focus at the company as DVD rentals continue to fall in the overall industry. For the next couple of years DVD sales for Redbox itself will continue to grow, providing the time the company needs to grow its video-streaming share along with its other unrelated projects.
Rubi
In its last earnings call, Coinstar put forth the idea that it is an "automated retail" company, as questions swirled around the future of Redbox in a disrupted space. That suggests while the company will continue to work on slowing the decline in DVD sales at Redbox, it will at the same time work on building out new products which will hopefully change the perception of what the company is.
One of those ventures is Rubi, which is an entry into the automated coffee machine, where Coinstar is partnering with Starbucks to sell its "Seattle's Best Coffee" line.
CEO J. Scott Di Valerio said, "The primary focus in 2013 will be on the Rubi business," adding, "This business continues to be a major area of focus, given its growth potential...." That's interesting to me in that the majority of those watching the company are almost completely focused on Redbox Instant as the future of the company - whether for failure or success.
Coinstar evidently sees the automated coffee market as a growth one, even though after numerous tries no individual company has been able to take the lead or made a significant business in that market. The company seemingly believes its expertise in the automated retail market and partnership with Starbucks may be the exception. If it is successful, it could be an extraordinary revenue source for the company.
It's unclear as to how many coffee machines could be placed by Coinstar, but it would have to be in the tens of thousands. Even so, it is an unproven, sustainable profit driver, yet one that Coinstar must try in order to get an alternative and significant revenue stream outside of Redbox.
Conclusion
Coinstar has become a schizophrenic company because of the disruption of its Redbox unit. Now in order to remain competitive, it must go far outside its core competence and stated business model to remain a viable company for at least several more years.
While the company states it is an automated retail company, the investing world largely focuses on the streaming of movies and possibly other content as the key to the success of Coinstar.
So when CEO Scott Di Valerio reaffirms the company is an automated retailer, it mostly falls on deaf ears because of the interesting story of competing in the streaming video market against major competitor Netflix. That remains true even after he clearly stated the major focus on the company for 2013 is Rubi.
There can be no doubt Di Valerio and the management team want to be positioned as an automated retailer in the minds of shareholders and investors, as the streaming video business is a weak business model, one that can easily be disrupted by the entry of a new player with some deep pockets. Amazon is an example of that already. More could come. Add to that the fact existing streamers see the need to differentiate by providing their own content, and it goes even further from the core business and competence of Coinstar. That's why it partnered with Verizon to lower its risk in the streaming market.
For that reason I believe that sometime in the future the Redbox division - if it includes Redbox Instant - will either be sold or spun off. How Coinstar can maintain its identity and core purpose while growing out a streaming content business is very unclear.
I don't believe it will happen in the near future, as the projected growth of Redbox DVD sales for the next couple of years looks to be legitimate, based on the company picking up new customers in markets Blockbuster no longer competes in. What streaming will do is provide the company with some time while it transitions to new markets in the automated retail sector.
What is concerning would be if Rubi were to utterly fail with no new product in the pipeline, or one that is unproven as well. It looks like within the next three years Coinstar will need to have a least one more big seller under its belt, and preferably two, to make up for the inevitable decline in DVD sales. The company can only get so much from failing Blockbuster before slowing DVD sales start to hit the bottom line in a big way.
It looks like Coinstar will do far better than expected over the next couple of years, but if Rubi doesn't take, the company will be in some real trouble. If Rubi exceeds expectations, the share price of Coinstar could soar, even as it shrinks its dependence on Redbox as its chief revenue source.
The streaming of entertainment makes for interesting headlines, but Coinstar definitely wants to lower its reliance on that and reinforce its commitment to automated retailing. It's there where its long-term future lies.
A good sign for the firm in the near term is short interest in Coinstar has dropped by just under 13 percent, with NASDAQ data as of May 31, 2013, showing declines of 1,562,675 shares in total short interest to 10,679,803 shares since May 15, 2013.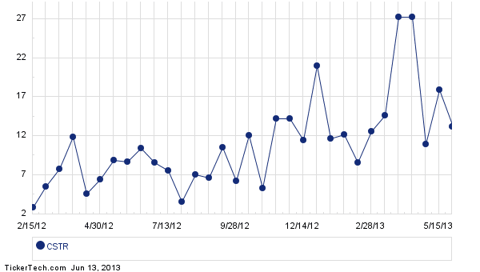 There was also a drop in days to cover by over 26 percent, down from almost 18 days to just over 13 days. Usually that means either a long bet closed in response to Coinstar being shorted as a hedge, or the outlook for the share price of the stock has improved. It appears it's the latter in this case.
In the medium-term, Redbox will remain its most important revenue source, and could surprise over the next couple of years.
After digesting the data and guidance, it looks like the bearish outlook for Coinstar based on the disruption associated with its DVD rentals is diminishing as the potential damage is further out than expected. With that in mind, Coinstar could make some nice moves over the next couple of years because of low expectations. On the other hand, a debacle with Rubi would undermine the unexpected strength in Redbox and punish the stock. Take both into account when considering Coinstar as an investment option.
Disclosure: I have no positions in any stocks mentioned, and no plans to initiate any positions within the next 72 hours. I wrote this article myself, and it expresses my own opinions. I am not receiving compensation for it (other than from Seeking Alpha). I have no business relationship with any company whose stock is mentioned in this article.