Apple (NASDAQ:AAPL) has definitely lost a lot of its luster since its stock price peaked last September, but that hasn't slowed down analyst coverage. Below is a chart showing the number of analysts covering Apple on a historical basis since 2000. As shown, back in 2000, just a handful of analysts were covering the stock, but now that number has ballooned to 68! Yes, 68 analysts now provide buy/sell/hold ratings on Apple!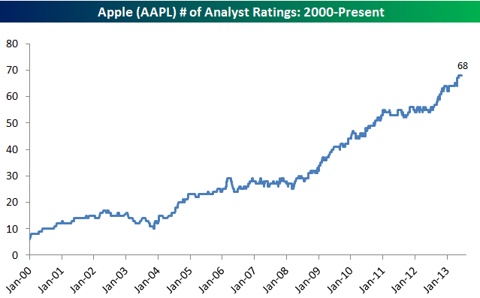 Data provided by Bloomberg.com.
Even more interesting is a historical chart showing the percentage of analyst ratings on Apple that are "buy" ratings. While Apple's stock price didn't peak until last September, analysts were at peak bullishness back in late 2010 when 94% of analysts covering the stock had "buy" ratings on it.
At the moment, just 75% of the 68 analysts covering Apple have it rated as a "buy." While 75% "buy" ratings is good for most stocks, it's low for Apple in the iPod/iPhone/iPad age. The question now is how bearish do analysts need to get for the stock to become a contrarian play on the long side?