Venaxis (APPY) is a very interesting diagnostic substances company. The diagnostics are not necessarily the most glamorous part of the industry, and yet Venaxis has put itself in a position where it could provide significant return on investment for long-term oriented shareholders. Currently, the company has only one product in development, APPY 1. As APPY 1 advances through the clinical process, and as Venaxis switches its focus from product development to product commercialization, shareholders have the potential to benefit from significant long-term upside in Venaxis shares.
APPY 1
APPY 1 is Venaxis's diagnostic substance for the diagnosis of appendicitis. Currently, testing for appendicitis requires a multitude of tests in a hospital setting, which increase costs associated with the visit as well as take up the time of doctors and the hospital support staff. There is a need for an effective diagnostic substance that would provide easier and accurate feedback as to whether or not the doctors should treat the patient for appendicitis.
APPY 1 is Venaxis's solution to this problem. APPY 1 is a blood diagnostic test that helps doctors to determine whether or not the patient is at a low risk for appendicitis. There is no other test that is currently on the market for this indication, and this test has the potential to give doctors accurate information and save patients' money. Currently, appendicitis testing relies upon procedures, all of which are expensive. Often this procedure is a CT scan in order to find out whether or not the patient is undergoing an appendicitis attack. However, given recent concerns about CT scans in children causing cancer later in life, hospitals have a need to find an effective alternative to using CT scans to diagnose patients with appendicitis. APPY 1 would fit into the picture as something that is given to patients suspected of having appendicitis.
Now, in a diagnostic substance like this, the most important aspect would be the negative predictive value. This value can be thought of in the following way: when someone does not have appendicitis, does the test tell the doctor that they do not have appendicitis. Currently, Venaxis plans on marketing its test as a 'rule out' test. This meaning that it would be used to filter out patients who do not have appendicitis, not find those that do. With that in mind, the amount of times that the test correctly predicts the patients that do not have appendicitis is very important if it is going to be an effective diagnostic substance that will garner FDA approval.
To date, the clinical testing for the second generation test has been rather positive. The following is from a press release (keep in mind that Venaxis's former name was AspenBio) announcing the results of the pilot study:
"Enrollment and delivery of the total patient samples for the 2011 pilot study was completed in December 2011, and included pediatric and adolescent patients ages 2-20 with symptoms suspicious for acute appendicitis who were enrolled at 11 hospital sites across the country. Final data analysis using the multi-marker panel on the total 503 patient samples collected in the 2011 pilot study was recently finalized and demonstrated results for the AppyScore test at a negative predictive value of 97%, sensitivity of 96%, and specificity of 43%."
The negative predictive value of 97% is extremely important as it correctly ruled out 97% of the patients who were indeed not having an appendicitis attack. Now, remember that in this case the three percent that were wrongly found positive would have undergone additional testing for appendicitis, and would have eventually been ruled out. Thus, the test does not cause any harm to patients where a false positive is found.
The results above are from the second generation test developed by Venaxis. The first generation had largely mixed results and was a test that took longer. With the second generation test, doctors can usually get the results in 20 minutes, whereas the first generation test required doctors to wait an hour before being able to get results. In clinical trials so far, the second generation test has been substantially better in terms of negative predictive value as well.
A substantial upcoming catalyst for shareholders are the pivotal (Phase III) trial results expected to come out in Q4 2013. These results should help to be the basis for a submission to the FDA for APPY 1. Furthermore, these results if positive should drive substantial share price growth due to the fact that investors will become more confident that APPY 1 can ultimately be approved by the FDA.
APPY 1 has already been approved for sale in Europe through the CE Mark Program. This program will allow for Venaxis to market its product in the European Union as well as in Switzerland. The CE mark program helps to verify that the process of manufacturing the product is in conformance with EU law, as well as that the device is safe for use. In this case, Venaxis was able to get the device on the market rather quickly.
Venaxis should be able to generate some revenue from Europe in the short to mid term time range, as it has been signing commercial development agreements with partners in European countries. Also, significantly, these partners have submitted initial stocking purchase orders for APPY 1, which should also help to provide some money to Venaxis.
APPY 1 also has substantial market potential.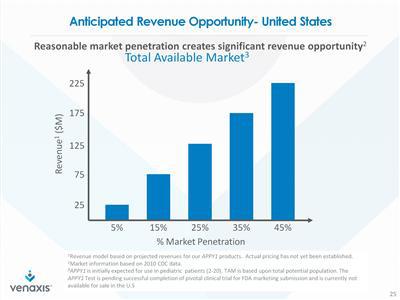 As you are able to see from the graph above, the anticipated revenue based on market penetration is quite significant. Even if we take a lower market penetration like 15%, then Venaxis appears to be substantially undervalued for the long term. If Venaxis is able to meet the higher ends of its market penetration, then the upside in the long-term value of the shares should substantially increase. Venaxis's ability to execute should depend upon a number of factors including the size and strength of its sales force, whether or not doctors truly see APPY 1 as a need in terms of helping to rule out appendicitis as one of the possibilities, as well as when it gets the important adult indication approved. This stock is set up for substantial long-term upside, and with the possibility of the company exceeding revenue estimates, this possible upside only increases.
However, the company will have to run more testing in order to be approved in adults suspected of appendicitis. The current Phase III trial covers just adolescents. Once the product is approved for use in adolescents, Venaxis can of course run the trials necessary in order to receive approval for an adult population. Therefore, the commercialization strategy for Venaxis appears to be very interesting, as it will likely be able to leverage the same relationships used to sell APPY 1 in adolescents to sell APPY 1 in adults. With a sales force already in place, the sales representatives should have easy access to doctors who already use APPY 1 in pediatric patients. Venaxis might take on a few additional sales reps at this point, but it is likely that for the most part the sales reps will be able to sell the diagnostic substance for both pediatric and adult patients without a problem. The possibility of an indication in adults will help to present even more upside potential in Venaxis shares.
Animal Health
Although Venaxis has chosen to focus its resources solely on APPY 1, it could realize some revenue and thus some growth prospects as a result of the sale of its Animal Health division. Venaxis obtained the animal health division of the company through a licensing agreement in 2004 in which Venaxis obtained the rights to certain patents instrumental in the creation of the animal health division.
During the heyday of the animal health division, Venaxis sublicensed the animal health part of its business to Novartis (NYSE:NVS). However, Venaxis subsequently terminated the agreement in November of 2011. The rights to the animal health division are now licensed to an international animal health company. According to the press release announcing the sublicensing of the animal health portion of the company, the press release mentions that:
"Under the license agreement AspenBio will receive license fees of approximately $1.0 million and milestone payments totaling $2.0 million tied to specified development and regulatory achievements and royalties on licensed product sales. An additional $2.0 million in milestone payments is potentially payable under the agreement associated with expanded development and commercialization efforts by the licensee. "
Any revenue generated from the animal health division through royalties would represent additional upside in Venaxis shares. Significantly, this revenue would come at no cost to Venaxis (except for the money that it currently pays to Washington University in St. Louis per the licensing agreement) as Venaxis no longer has to pay for any of the development of the product candidates. Any generation of royalty revenue would be an unexpected upside for long-term shareholders.
Financial Position
It is very important to consider a company's financial position when looking at the possibility of a long-term investment. For the first three months ended 2013, the net loss was $2.8 million. While a net loss is ultimately concerning for investors, given the fact that Venaxis has not yet received approval in the United States, the net loss should not concern long-term oriented investors.
In terms of a cash position, as of March 31, 2013 Venaxis had $9.268 million. Top that with the recent financing agreement, where the company raised $11.1 million and Venaxis should have more than enough cash to last for I would estimate given the current burn rate at least two years. The risk for long-term oriented shareholders would be dilution as the company continues to go through the various stages of clinical development and prepares for a commercial launch in the United States. In 2012, net cash used in operations was $5.489 million. With this in mind, it does appear as though Venaxis is on track to lose more money than it did in 2012, so I would expect for the net cash used in operations to be more than the $5.489 million. However, the money raised in the recent financing as well as cash before the financing, should be more than enough to last for quite a while for the company to progress APPY 1.
As the company advances APPY 1 through FDA approval, the net decrease in cash should grow as Venaxis begins to hire a sales force and with other necessary expenditures. The ability of the company to effectively utilize its cash without substantially diluting shareholders will be one way to effectively create long-term value. While there is a risk of dilution, given the recent financing deal it appears to have minimized. While over the long term more dilution may take place, many important catalysts such as APPY 1 Phase III data, NDA filing, and FDA approval should happen first. This means that I would expect that if any dilution should come, that it will come at a much higher share price than where the share price currently resides. The company appears to currently be on solid financial footing, solid enough to warrant a long-term oriented investment.
Conclusion
Venaxis essentially has all of its hopes tied up to APPY 1. While this is a risky strategy, Venaxis is poised to create substantial value for long-term oriented shareholders should the device be successful in clinical testing. With an upcoming Q4 Phase III test results announcement, it also appears as though the stock will be well set up to run up in the short term. By the revenue estimates, we can clearly see that Venaxis is undervalued for the long term based on the revenue projections, and that does not even factor in Venaxis developing another product for its pipeline. Venaxis appears to be a small cap stock with asymmetric upside opportunity over the long term.
Disclosure: I have no positions in any stocks mentioned, and no plans to initiate any positions within the next 72 hours. I wrote this article myself, and it expresses my own opinions. I am not receiving compensation for it (other than from Seeking Alpha). I have no business relationship with any company whose stock is mentioned in this article.
Additional disclosure: The stock mentioned is a micro-cap stock currently trading at a market cap of $25.34 million. Please be aware of the risk associated with these stocks.