There is the common saying that "time is money" and there is truth behind this. This saying in conjunction with the fact many societies are getting lazier and lazier is one of the reasons why convenience has become a valuable asset in society. Convenience plays a factor in the way through which consumers in many societies make food consumption choices. Over time we have migrated from hunting and gathering food, towards being able to get food without even having to leave the comfort of our cars and now homes. Despite recent challenges, particularly within the western world, the fast food industry contains several potential attractive investments for dividend investors. Many of these companies operate cash cows that churn out ever growing dividends to shareholders year after year. I group this industry category with the broader Consumer Retail sector. My expectation is that between 15%-20% of the divided income tracked in my portfolio will come from the Consumer Retail sector, with a significant chunk coming from the quick service restaurant (NYSE:QSR) segment.
Below are a few of the players in the industry worth looking at:
McDonald's (NYSE:MCD)
YUM Brands (NYSE:YUM)
Burger King (BKW)
Wendy's (NYSE:WEN)
Jack in the Box (NASDAQ:JACK)
Dividend investors must ask themselves three main questions:
What is the ability of these companies to grow their dividends?
What is the willingness of these companies to grow their dividends?
What is the attractiveness of the company's current dividend?
Given BKW recently went public again, it has been excluded in the analysis of the performance metrics outlined below.
Ability
Historical Revenue Growth
In order for a company to sustain its dividend over a long horizon, it must demonstrate the ability to grow its topline. While cost cutting measures can led to short-term dividend growth, topline growth is vital to being able to sustain a dividend. As the chart below shows, McDonald's and YUM Brands have significantly outperformed their competitors over the past 5 years. This is likely due to the fact that they have broader reach in faster growing international markets.
Indexed Revenue (2009-12)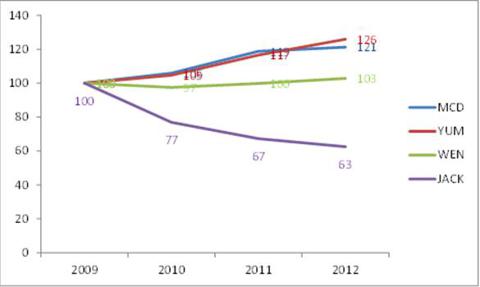 Dividend to FCFE
The next measure to look at is the ratio of cash flow available to equity shareholders that is paid out in dividends. A ratio that is too high is an indicator that future dividend growth may be limited unless the company can grow its topline or issue debt in the short term to cover dividend payments. The chart below shows that MCD and YUM once again emerge as clear winners in this area.
Dividend to FCFE (2009-12)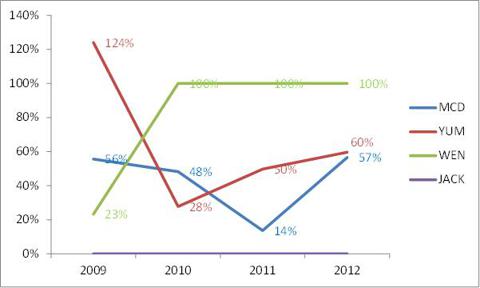 Both entities have the ability to cover dividend payouts today and in the future with cash flow flowing to equity holders. However, with negative FCFE WEN's dividend growth may be challenged in the future.
CFO to FCFE
A company can issue debt to generate FCFE in the short term. However, this is not sustainable over a long time horizon. In order to truly sustain and grow a dividend, a company must generate cash flow from its operations. To ensure the company is not increasing debt to cover its dividend, another ratio that can be looked at is the Cash Flow from Operations (NASDAQ:CFO) to FCFE ratio. The chart below shows the ratios are healthy for both MCD and YUM.
Cash Flow from Operations to FCFE Ratio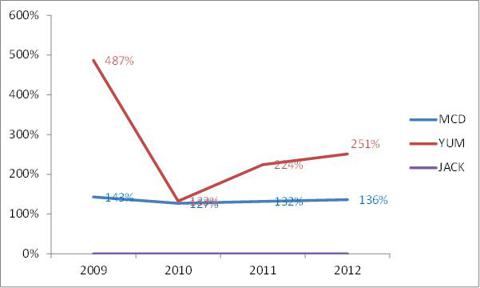 Willingness
Historical Dividend Growth
An indicator of a company's willingness to increase its dividend can be inferred from what is has done in the past. While the past is not always indicative of the future, it is a good starting point to obtain insight into the manner in which a company treats shareholders. MCD and YUM are the only two companies in the set with dividend histories robust enough to assess.
Indexed Dividend Growth(2009-12)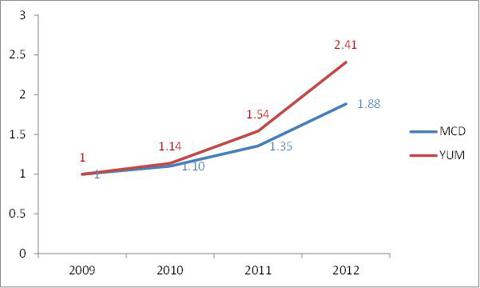 YUM's growth has outpaced MCD's in recent years. However, MCD's growth is not too shabby either with it almost doubling the dividend payout in less than 5 years. Additionally, MCD has stated in its earnings calls that returning capital to shareholders is the number 2 priority for it after reinvesting in the business.
Current Attractiveness
Current Yield
Many investors, especially those in retirement, must pay attention to the yield on their investment today. Those with a longer horizon would be wise to investigate this as well, although they can sacrifice current yield for future growth. Yields for the companies as of June 17, 2013, are outlined below:
| | |
| --- | --- |
| MCD | 3.12% |
| YUM | 1.87% |
| WEN | 2.69% |
| JACK | 0.00% |
MCD emerges are the winner in this category again. JACK is the clear laggard paying no dividend.
Concluding Remarks
Investors have almost as much choice to feed their portfolio as they do their bellies. However, just like food, some investments are tastier then others. A summary ranking the attractiveness of fast food restaurants is show below:
| | | | | | |
| --- | --- | --- | --- | --- | --- |
| Ticker | Rev Growth | Dividend Ratios | Historical Growth | Current Yield | Total |
| MCD | 5 | 5 | 4 | 5 | 19 |
| YUM | 5 | 5 | 5 | 3 | 18 |
| WEN | 2 | 2 | 2 | 4 | 10 |
| JACK | 1 | 1 | 1 | 1 | 4 |
In short, dividend investors would be wise to grab a slice of pizza or Big Mac while they take a closer look at YUM and MCD. Both of these companies have intangibles such as having larger market caps and broader exposure to faster growing international markets. Dividend investors may want to pass on making friends with Jack or Wendy.
Disclosure: I am long MCD. I wrote this article myself, and it expresses my own opinions. I am not receiving compensation for it (other than from Seeking Alpha). I have no business relationship with any company whose stock is mentioned in this article.