Marketo's (NASDAQ:MKTO) IPO on May 17th was quite a success. The company, which provides cloud marketing solutions, recently priced 6.06 million shares at $13 per share, and opened on May 17th at $20 per share. Surprisingly, the next day the stock price touched a high $26.77, an amazing valuation ($0.957 billion) for a stock that generated revenue of $19.7 million in the first quarter of 2013, up from $12.2 million in the year-ago period, yet not enough to avoid net losses.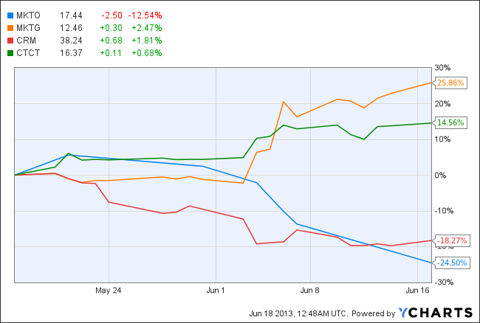 Was this IPO too successful to be "sustainable" in the long run?
It is too early to make any final conclusions but judging from the stock performance since then, it is evident that the market overvalued Marketo: stock's down 23% since the IPO, making Marketo the worst performing cloud marketing stock.
What comes next?
To have a better idea of the future of Marketo, let us start by describing and analyzing its past. Founded in 2006 by former Epiphany executives Phil Fernandez (former president and COO, current CEO of Marketo), David Morandi and Jon Miller, the company started its business with a beta version offering 2 services for as little as $50 per month, optimizing Pay-Per-Click campaigns and making landing pages. Nothing very sophisticated (although the 2006 Pay-Per-Click product used a portfolio-based bid optimization algorithm to maximize business results for a target budget by evaluating various "what if" scenarios and performing A/B testing, a standard feature nowadays). Since then, the company has continued innovating its products (the current platform is much more complete and rich in functions) while keeping a low pricing policy. As a result, Marketo was able to increase both its customer base and product portfolio significantly in the past 5 years. Now, Marketo has over 2300 customers across a wide range of industries, from business services to healthcare and telecommunications. Furthermore, except for a single customer in 2011, no single customer represents more than 1% of subscription and support revenue in the past 3 years.
From the product portfolio side, Marketo now provides marketing automation, social marketing, sales insight and revenue analytics. All of its solutions are quite easy to use (just check the demo online) and cheap, if compared to other providers. Therefore, Marketo is now a provider of cheap top-quality cloud software (fast algorithms, made with a "business sense" in mid and easy to use).
Revenue is increasing but not enough to break the buck
How is this showing up in revenue? Quite well, but it could be better. According to the S-1/A registration statement, Marketo generated revenue of $14.0 million, $32.4 million and $58.4 million in 2010, 2011 and 2012, respectively. We are talking about y/y increases of 131% and 80%, respectively.
But this is not enough to cause economies of scale and bring profit to the table. Marketo had net losses of $11.8 million, $22.6 million, $34.4 million, $6.7 million and $9.5 million in 2010, 2011, 2012 and for the three months ended March 31, 2012 and 2013, respectively. This represents an accumulated deficit of $91.7 million so far.
Since Marketo is losing money, can it be a good investment?
Yes, it can. First of all, the current price level indicates that Marketo is not overvalued. The stock is currently trading at $17.66 per share. This is equivalent to a $631 million market cap, a 10.8x multiple on 2012's revenue. If Marketo grows its revenue 60% y/y (which is a realistic assumption, considering the past growth rate and also taking into consideration that Marketo already made about $19.7 million in total revenue for the first quarter of 2013), it could generate $93 million this year. Then, we can say that stock is trading at a 6.76x multiple on 2013's potential revenue.
This multiple is not high, if you consider that Salesforce.com (NYSE:CRM) paid an 8x multiple on sales for ExactTarget (NYSE:ET). Under the same multiple, Marketo's market capitalization would represent $750M, close to $21 per share. This represents a 20% potential upside.
How about the current $91.7 million deficit?
Well, this is the main risk. It is a fact that Marketo has a history of losses. In order to overcome this issue in the short run, Marketo will need to generate increased revenue levels in future periods, which looks feasible. However, being consistently profitable is a different issue. Marketo would need to generate sustainable revenue levels, which is a challenge in cloud marketing, considering how fierce competition is at the moment.
That being said, Marketo is clearly investing for future growth by providing one of the cheapest marketing platforms. It is also expanding its budget to marketing, sales operations and software development. One concrete example of how Marketo, whose revenue is mainly derived from the business-to-business market, is expanding its business is the recent initial success in selling into the business-to-consumer (B2C) market.
Furthermore, demand for cloud marketing solutions in the future looks promising. The CMO Council report mentions that global marketing and communications spending exceeds $1.5 trillion annually. Now, according to research firm IDC's 2012 CMO Tech Marketing Barometer Study, technology CMOs estimate that 8.7% of their total marketing program budget will be spent on marketing IT. This makes the market for cloud marketing huge in size. If Marketo continues delivering top quality software, eventually it will establish a brand and enjoy the benefits of owing a decent market share of this tremendous market.
The fact: Marketo believes that its platform addresses several established segments of marketing-related software that, in aggregate, have been estimated by Gartner to be approximately $32 billion in 2013 and $41 billion by 2016.
The bottom line
Marketo may be losing money now, but the current revenue growth rate and the overall demand for cloud marketing and marketing automation solutions look promising enough to consider buying some shares. At $17.4 per share, the stock is not overvalued and could actually be undervalued, if we consider a 8x multiple on sales, which is the multiple that Salesforce paid to acquire ExactTarget. Finally, high are the chances that Marketo will be bought by either Oracle (which recently acquired Spree and Eloqua), Adobe (which acquired Omniture Software in 2009) or even Salesforce (which has already bought 3 cloud marketing companies and just announced its largest acquisition a month ago).
Main risks
Fierce competition
Salesforce.com relationship: As of March 31, 2013, approximately 76% of Marketo customers integrated their solution with certain capabilities of salesforce.com using publicly available application programming interfaces (APIs).
References
Final Remarks
Rating: Buy
Investment Horizon: 3 - 6 months
Price target: $21
Uncertainty: Very high
Disclosure: I have no positions in any stocks mentioned, and no plans to initiate any positions within the next 72 hours. I wrote this article myself, and it expresses my own opinions. I am not receiving compensation for it (other than from Seeking Alpha). I have no business relationship with any company whose stock is mentioned in this article.