Exxon Mobil Corporation (NYSE:XOM) was formed in 1999 by the merger of Exxon and Mobil. It's the largest publicly traded company in the world in terms of market cap. Over the years, this huge company has rewarded its shareholders with extensive share repurchases and dividends. In this article, I will be taking a look at the way XOM has returned value to investors in the most recent years, and determine whether or not it would be a good idea to invest in it at current prices. XOM is currently trading around $91.48, which is very close to its 52-week high of $93.67.
Click to enlarge images.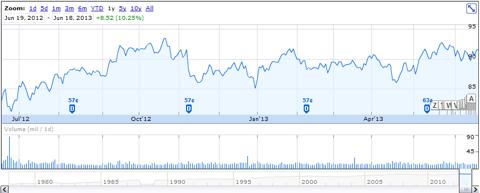 Source: Google Finance.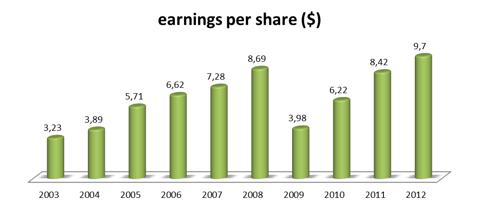 Earnings per share for XOM are now higher than ever. In 2012, they reached $9.70, which is more than 11% higher than the previous high of $8.69 (in 2008). Between 2003 and 2012, EPS has increased by over 13% per year on average.
Net income in the same period grew by 8.5% on average, which is still great. The large difference between the net income growth and the EPS growth shows us just how effective the share repurchases made by Exxon Mobil really are.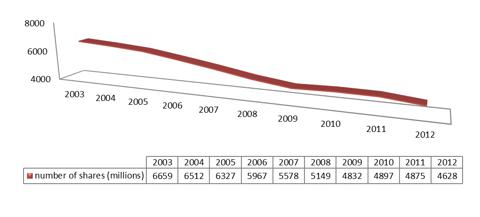 Many billions of dollars have been spend over the past 10 years to buy back shares, thus increasing the value of each share dramatically. In 2012, the total number of shares was 4.6 billion, over 2 billion less than in 2003. This has returned an amazing amount of money to investors by boosting the stock price.
XOM's dividends are at $0.63 per quarter, which means investors buying at current prices will get a rewarding 2.8% yield. Over the years, XOM has shown its dedication to increasing the dividend, as can be seen in the graph below.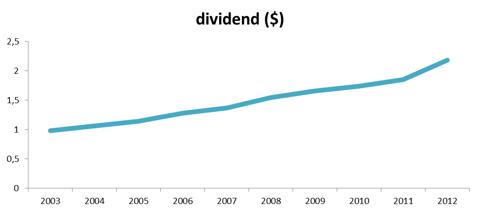 When compared to its competitors, XOM's dividend yield appears quite low. It's well below the 3.3% investors will get for holding shares of Chevron (NYSE:CVX) and even further from ConocoPhillips' (NYSE:COP) 4.2%. However, both of these competitors have betas that are much higher than XOM's 0.48 (1.19 for COP and 0.76 for CVX).
The dividend has more than doubled between 2003 and 2012, going from $0.93 to $2.18 per year. However, the payout ratio has actually gone down, as EPS has grown faster than the dividends. This means XOM can use a larger portion of its income for re-investments and share buybacks.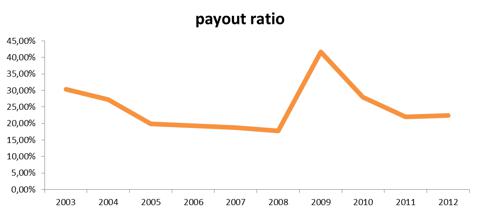 At 22.5%, the payout ratio in 2012 was a lot lower than in 2003 (30.3%). For 2013, analysts expect XOM's earnings per share to come in at $8.07, which is quite a bit lower than in 2012. However, even with the increased dividend, XOM's payout ratio will still only reach 30.4%. The forward P/E ratio for 2013 is at 11.3.
XOM's P/E ratio is historically low, at 9.3 compared to both its five- and 10-year averages (11.4 and 11.7, respectively). The current P/E is very close to Chevron's 9.2 and quite a bit lower than COP's 11.6.
Conclusion
Much like its competitors, Exxon Mobil's profits are highly dependent on the price of oil. However, I believe that the low payout ratio makes the dividend safe and sustainable even if earnings decline. The large share repurchases XOM makes boost the earnings per share, making them a great way of returning money to shareholders. At a P/E ratio that is much lower than historical averages, XOM seems like a great stock.
However, the expected earnings per share of only $8.07 for 2013 is cause for some concern. The forward P/E is close to the historical averages. I believe XOM to be fairly valued at this time, so I won't be buying it right now. However, if the share price goes down to somewhere around its 52-week low ($79.78), investors should be able to get a strong dividend payer with a decent margin of safety.
Disclosure: I have no positions in any stocks mentioned, and no plans to initiate any positions within the next 72 hours. I wrote this article myself, and it expresses my own opinions. I am not receiving compensation for it (other than from Seeking Alpha). I have no business relationship with any company whose stock is mentioned in this article.