Better-than-expected earnings from Goldman Sachs (NYSE:GS) last week helped to bolster SPDR's KBW Capital Markets ETF (NYSEARCA:KCE) by 4.13% for the week ending July 20 and encouraged investors to examine financial ETFs once more. KCE held the No. 6 position in our Sector Momentum Tracker ETF ranking on July 20, up from the No. 23 spot on May 19. Both KCE and rival iShares Dow Jones U.S. Broker-Dealers (NYSEARCA:IAI) have risen in recent weeks, as trading revenue helps to drive profits for broker-dealers.
KCE tracks the KBW Capital Markets Index, a float-adjusted, modified-market, capitalization-weighted index that measures the performance of publicly traded companies in the U.S. capital market industry. KCE's index includes broker-dealers, asset managers, trust and custody banks, and a stock exchange. Morningstar classifies KCE's portfolio as 9.46% giant cap, 49.58% large cap, 26.67% medium cap and 14.29% small cap.
KCE's top component, Goldman Sachs, impressed analysts and encouraged investors when it reported EPS of $4.93.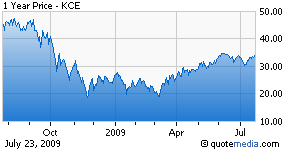 Estimates had pegged GS's earnings at $3.54. While the repayment of TARP funds has eased some investors' minds, others see the recent government support as a free license to Goldman's traders to layer on more risk. The loss of Lehman Bros. and Bear Stearns has helped Goldman traders to become even more dominant where wider spreads exist. Bloomberg recently reported that GS increased its equity bets 58% in the second quarter, as value-at-risk (or VaR, the measure of how much money a firm could lose in a day's trading) increased to $245 million from $240 million in the first quarter.
Morgan Stanley (NYSE:MS), which ranks second to GS for VaR and holds the third-largest position in KCE's portfolio, recently noted that it would be scaling back trading risk. MS acquired the Smith Barney brokerage unit from Citigroup Inc. (NYSE:C) in May. Bloomberg notes that this acquisition is intended "to focus on selling financial advice to clients." MS is expected to report earnings before the bell on July 22. While MS's trading revenue may not beat that of rival GS for the second quarter, the words of analyst Meredith Whitney may still ring true for this trading giant in the short term. After GS's earnings, Whitney predicted that bank stocks would jump 15% in the near term because of the large number of mortgage loan modifications in June.
The brokerage universe has condensed and evolved rapidly over the last few years, and KCE components like GS have been moving more and more shares through high-frequency trading. High-frequency trading firms make up just 2% of the 20,000 trading firms operating in the U.S. markets today, according to a recent story in Advanced Trading. These firms, however, make up 73% of all U.S. equity trading volume. Analysts believe that these firms have begun to profoundly impact market movement, so firms with the largest and fastest platforms should continue to see success.
Proposed regulations, however, sent the price of KCE's No. 3 component, CME Group (NASDAQ:CME), lower in mid-July trading sessions. The Chicago Mercantile Exchange has been pressured by potential regulations that would set position limits in the commodities market and aim to reduce the effect of commodity speculators. According to Morningstar, 21% of CME Group's fourth-quarter-2008 revenue was related to energy products. Limits on commodities trading would also impact dealers like GS, so KCE shareholders should remain aware of upcoming changes to regulation.
IAI tracks a similar basket of large-cap brokers as does KCE. As of July 21, IAI currently holds the No. 8 spot in our Sector Momentum Tracker ETF rankings. KCE has a slightly higher percentage of assets allocated to its top 10 holdings but a smaller percentage of the fund devoted to top holding GS. IAI's 0.48% management fee is slightly larger than KCE's 0.35% fee. IAI's trading volume is 485,500—smaller than KCE's 876,730.
Goldman's earnings growth will help to attract investors to financial ETFs once again. While the banking sector is still murky, high-volume brokerage units could continue to help boost profits. The once-mammoth New York Stock Exchange (NYSE:NYX) has lost a large percentage of its dominant market share to more electronically based shops. The profits follow the volume for brokerage and exchanges—investors can use KCE to stay in the crowd.