Canada's housing market is finally showing signs of cooling down, after a long property boom beginning in 1999, which had only a short and minor contraction in 2008/9. Since March 1999, house prices in Canada have risen by 133%; whilst in the U.S., house prices have only risen by 48% in the same period. Canadian house prices continue to rise, and in May were 2.0% higher than a year earlier, down from 5.8% from the previous year. However, more worryingly, the volume of home sales has fallen by 9.0% in the year to May.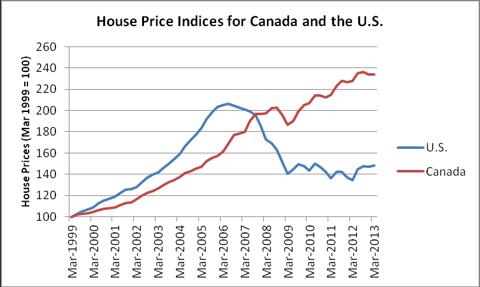 A report released last week from the Organization for Economic Cooperation and Development (OECD), an international economic organisation of broadly rich countries, ranked Canada as having the third most overvalued housing market. However, Angel Gurria, secretary-general of the OECD, and Jim Flaherty, Canada's finance minister, disagree with the view that there is a bubble brewing in the housing market. Angel Gurria explains the housing boom is largely justified as a result of Canada's relative economic stability, rising incomes and jobs. This view suggests the housing market would only endure a soft landing.
However, the majority of economists disagree. Canadian household debt has continued to rise, unabated by the 2008/9 recession, to a record level of 95% of GDP. The Economist's house-price indicators show Canada is overvalued by 32% by the long term ratio to disposable income, and by 73% when measured against long term rents. This suggests that the housing market is vulnerable to a sharp downward correction. Whether Canada's housing market is in a bubble is a matter still open for debate; however it is within the consensus that the housing market is significantly overvalued, and subject to some form of cooling down.
A steep downward contraction in house prices would undoubtedly have a severe negative impact on Canadian banks' credit quality, and therefore affect their profitability and capital strength. Despite the gloomy housing market conditions, it would be improbable, but not impossible, for Canada to experience a banking crisis, as the U.S. and the U.K. had endured in 2008 following the burst of their housing bubbles. Canada is quite different in many respects. For demonstration, Canada has experienced no banking crises throughout its history. Canadian banking regulations are more stringent than those in the U.S. prior to the subprime mortgage crisis. The maximum term for an insured mortgage has been reduced to 25 years; and those seeking a mortgage with less than a 20 per cent down payment are required to purchase mortgage insurance.
Canada's big five banks, Royal Bank of Canada (NYSE:RY), Toronto-Dominion Bank (NYSE:TD), Scotiabank (NYSE:BNS), Bank of Montreal (NYSE:BMO) and Canadian Imperial Bank of Commerce (NYSE:CM) have been considered to be some of the strongest banks in the world since the financial crisis in 2008. This is because of their high Tier 1 capital ratios, cost efficiencies, low credit losses through prudent lending and their high deposits to funding ratio. However, Canadian banks have slipped down a few places in this year's Bloomberg Markets "The World's Strongest Banks" ranking, as credit rating agencies downgraded some of the country's largest banks and placed others on negative outlook as the Canadian economy slows to an estimated 1.7% for 2013, and the risk of a housing bubble increases.
Comparison of Selected Financial Data

RBC

TD

BNS

BMO

CIBC

Common Equity Tier 1 Capital Ratio

9.1%

8.8%

8.6%

9.7%

9.7%

Efficiency ratio

51.6%

60.5%

53.6%

65.1%

58.0%

ROE

18.5%

14.8%

16.4%

14.2%

22.3%

Dividend Yield

4.1%

3.7%

4.2%

4.7%

4.8%

P/E

11.3

11.7

10.7

10.1

9.6

P/B

2.12

1.65

1.83

1.51

2.06
The big five banks, along with the National Bank of Canada, have been announced by the financial regulator as "domestic systemically important banks" (D-SIB), and are therefore subject to a 1 per cent surcharge to their risk weighted capital by 2016. However, these banks are already sufficiently well capitalized, and those which are not yet above the ratio required by 2016 have sufficient time to raise capital through retained earnings, without the need to go to the capital markets.
Canadian banks may appear to have a strong capital position, with the big five banks having a high Tier 1 common equity capital ratio of between 8.6% and 9.7%; but they are quite highly leveraged versus their U.S. counterparts. The Royal Bank of Canada has a tangible common equity to tangible assets ratio (TCE ratio) of 3.60%; whereas Wells Fargo (NYSE:WFC), a U.S. bank which has a Tier 1 common equity capital ratio of 8.39% (estimated under Basel III rules), has a TCE ratio of 7.86%. The other big five Canadian banks have a similarly low TCE ratio. The tangible common equity ratio ignores intangible assets such as goodwill and deferred tax assets, which are assumed to have little value during bad times. It also treats all asset classes as carrying the same risk. Thus it does not forgive higher leverage of assets declared as lower risk, unlike the Tier 1 capital ratios. The disparity between Canadian banks' strong Tier 1 common equity capital ratios and their TCE ratios highlight the fact that a very large proportion of Canadian banks' assets are denominated in lower risk asset classes, such as mortgages insured by the Canada Mortgage and Housing Corporation (CMHC). The problem with the low risk weighting attached to these assets is that when the solvency of CMHC is in doubt, the banks would find it difficult to seek funding despite however 'low risk' these government backed mortgage assets have been labeled.
The CMHC is a Crown corporation backed by government, which amongst other things, insures mortgages. The other two mortgage insurers, Genworth Financial and Canada Guaranty, provide private-sector mortgage insurance which is 90% backed by the government. Pessimists argue that the CMHC, a public mortgage insurer, acts in much the same way as Freddie Mac and Fannie Mae. CMHC, like Freddie Mac and Fannie Mae, purchases mortgage backed securities funded by selling bonds implicitly backed by the government. The size of CMHC's activities have also grown rapidly over time, and today, 50% of mortgages are insured from 20% in 1990. CMHC insured mortgages have soared to near its $600 billion limit. The potential liability to the taxpayers, should CMHC fail to carry sufficient capital, is enormous.
However, Freddie Mac and Fannie Mae were private entities that enjoyed lax regulations and weak capital requirements which allowed them to take excessive risk for short term gain. Although CMHC is not obliged to adhere to the rules of the Office of the Superintendent of Financial Institutions (OTCPK:OFSI), the country's banking regulator, it claims to hold twice the minimum capital required. CMHC claims that unlike the U.S., the subprime debt market did not take hold in Canada, and Canada does not have a policy goal of promoting home ownership. However, it does share in the goal for promoting home affordability; and although that may be an admirable goal, it incentivizes home ownership.
Comparison of Net Interest Margins [NIM] on Average Interest Earning Assets

RBC

TD

BNS

BMO

CIBC

2013Q2

2.21%

2.21%

2.31%

1.79%

2.14%

2013Q1

2.28%

2.15%

2.30%

1.85%

2.12%

2012Q2

2.28%

2.25%

2.37%

1.89%

2.11%
Comparison of Provision for Credit Losses [PCL] as a percentage of Average Loans and Acceptances

RBC

TD

BNS

BMO

CIBC

2013Q2

0.29%

0.39%

0.35%

0.22%

0.47%

2013Q1

0.35%

0.35%

0.32%

0.28%

0.42%

2012Q2

0.39%

0.37%

0.31%

0.32%

0.53%
But even if the Canadian banking system can weather the aftermath of a housing boom, the banks cannot avoid the detrimental effects of a softening in the property market. Already, the big five Canadian banks are reporting slowing growth in consumer loans and mortgages; and falling net interest margins. Management have now turned their attention to cutting costs to maintain cost efficiency. On a brighter note, the big five banks have not seen any significant increase in the provisions for credit losses, and the PCL to average loans ratio have continued to decline for the big five banks, with the exception of Toronto-Dominion Bank. This is surprising given the slowing demand for consumer loans, and perhaps evidence of prudent lending. However, house prices in Canada are generally still rising, albeit at a more modest rate. It would be unlikely for the PCL ratio to improve further, as it is already historically very low. When interest rates inevitably rise, there would be much greater chance for the PCL ratio to rise quickly, as interest costs begin to hurt indebted households. With the PCL ratio rising, whilst the net interest margins are falling, bank profitability can quite quickly be eroded, especially given that Canadian banks are quite highly leveraged.
Another important worry amongst economists is that if the property bubble bursts, contagion would spread to the rest of the economy. When house prices fall, households perceive themselves as being poorer, and consequently consume less. Economists call this the wealth effect. A recent comparison could be made with the Netherlands, where house prices have fallen by 18% from their peak in 2008. The Netherlands is similar to Canada in that they are both competitive economies, have relatively high savings ratio, and fiscally prudent; and their experience is a cause for concern, as even strong economies can become vulnerable to housing shocks. Dutch consumer spending has fallen to 2006 levels, affecting a wide host of industries which are ancillary to housing, including furnishing and appliance sales, and consumer financing. Given that housing and consumer confidence has been the main drivers of economic growth in Canada since the recession, the recovery could be scuppered by the softening in the housing market before the recovery reaches 'take-off'. In fact, the main reason why the central bank has kept interest rates low at 1%, despite an overheated housing market, is because Canada's recovery since the recession, albeit stronger than many developed economies, remains fragile.
However, Canada is very different from the Netherlands in many respects. Interest on residential mortgages is tax deductible in the Netherlands to reduce an individual's income tax liabilities. Together with the availability of interest only mortgages, and banks offering mortgages of 100% or even above 100% of the property value, the Dutch government had directly created perverse incentives to carry excessive mortgage debt, and had done little to curb excessive borrowing by households through tighter lending conditions. As a result, household debt in the Netherlands is 285% of disposable income. Fortunately in Canada, mortgage interest is not tax deductible, and the regulator has been tightening lending conditions since 2008, and household debt is at a more conservative 151%, but that is still higher than in the U.S., U.K., and even Spain.
All things taken into account, the big five Canadian banks cannot avoid the housing market troubles, and even a soft landing for the housing market would dent their capital strength and profitability. Even without a banking crisis, investors are rightfully cautious with investing in the banking sector. With the housing market so overvalued and household debt high, the risks of a painful deleveraging and a crash in house prices are unappealing. So despite the undemanding p/e valuations and superior cost efficiencies the big five banks possess, investors will not eagerly reward bank stocks until the uncertainties with the housing market and the rest of the economy dissipate. It appears that the superior performance of Canadian banks cannot last for much longer.
Disclosure: I have no positions in any stocks mentioned, and no plans to initiate any positions within the next 72 hours. I wrote this article myself, and it expresses my own opinions. I am not receiving compensation for it (other than from Seeking Alpha). I have no business relationship with any company whose stock is mentioned in this article.