Starbucks (NASDAQ:SBUX) has done a tremendous job expanding and growing in China, nourishing a demand for coffee which was non-existent there 14 years ago. Many go to Starbucks not just for its premium coffee but also for the prestige, which makes the customer feel cool and trendy. In return, Starbucks charges a premium for that experience which only the more affluent class can enjoy on a regular basis.
Expansion Overseas
Starbucks did a great job to capitalize on Chinese consumer using its international brand and well placed location to leverage and attract customers. Looking forward, it has to do more than just attract customers. It has to develop and retain a consistent customer base. Cafes in China are more profitable per outlet than in the U.S. even though sales per outlet lag its U.S. counterparts considerably. The greatest challenges for Starbucks to assimilate in China are: 1) affordability and 2) tea-drinking behavior.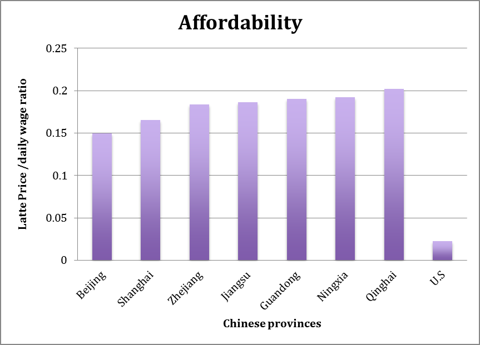 Source: Starbucks website
A cup of green tea latte costs 33rmb in China equivalent to about $5. From the chart above, it shows how much a cup of latte is in relation to their average daily wages. As you compare across the Chinese cities, it is pretty consistent that a cup of latte is nearly 15-20% of their daily wages. In comparison, in the U.S. it is only about 2.5% of an average worker's wage. Using an assumption that 1% of the Chinese population (1.344 billion) belongs to the upper class, the market size is capped to only about 13 million people that can enjoy Starbucks coffee without breaking their wallet. It is estimated that 25% of Chinese belong to the urban middle class which would equate to about 330 million people, roughly the same size as the U.S. population.
However, with the price so steep, these middle class customers cannot afford to drink latte or coffee on a regular basis as compared to U.S. Lowering the price of the latte to 2.5% of daily wage will not guarantee instant success, but it will offer the potential to attract more of those 330 million customers.
Culture Differences
Unlike U.S. or the western countries, coffee is not as strong a tradition in the Asian culture. Simply trying to change the taste of consumers is an enormous task. According to a Financial Times article, the Beijing Coffee Industry Association stated that China's average coffee consumption was three cups a person a year against a global average of 240 cups. Using a conservative approach that the whole middle class drinks coffee, the market size of coffee in China is capped to 1 billion cups of coffee per year.
While Starbucks entered the market in 1998, it hung on to the concept of coffee and was real stubborn into changing its product line to fit the local taste. KFC on the other hand is one of the few successful U.S. chains that was able to succeed in that dynamic environment. Its ability to succeed is vastly contributed to the senior management's recognition to think outside the box and to change and adapt its menu to fit the local consumers.
Starbucks' biggest obstacle in China is its competitor CoCo Fresh Tea & Juice. CoCo is a success story itself. It was born in 1997 making its entrance into Mainland China market in 2007. Within 5 years, it became the biggest tea café chain, specializing in variety of tea and juices. The success can be contributed to its appeal to China consumers and serving their demands. In a way, they are very similar to the image of Starbucks in U.S., offering high-quality beverage for a decent price.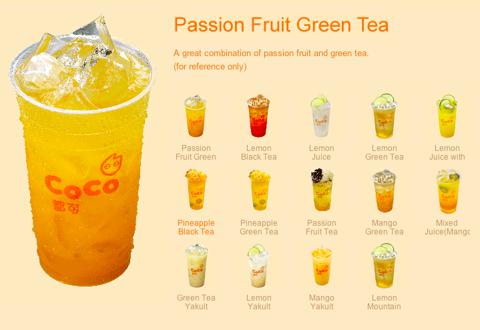 Source: CoCo Fresh Tea & Juice
From the CoCo menu above, you can see why it is the biggest rave in China. It offers more than 20 variety of tea each at a very affordable price. A cup of tea ranges from 8-12 rmb, which is roughly about 5% of the average Chinese wage. Now compare that to a cup of tea in Starbucks and you will know why CoCo is doing so well. Even though it entered into the Chinese market 8 years later than Starbucks, it grew at an exponential rate far outpacing Starbucks, simply because it created a business model that understands its customer.
Opportunity
With that being said, Starbucks is making adjustments. Senior management recognized the importance of growth in emerging markets and more specifically China, which would be the second biggest market that Starbucks serves. It is also looking to expand thousands of locations in China. There are more than 3,000 stores in China, and it is one of the fastest growing countries for the company. Acquiring Teavana created instant synergy to Starbucks. It can serve the different variety of tea beverage at its location. Starbucks' fate depends on how well can it incorporate its recent acquisition of Teavana into its product line. Using Teavana's extensive market knowledge of tea, it can roll out variety of tea beverages into its menu and make a run as a "beverage cafe" in Asia. Starbucks has a tough road ahead, but it has the financial resources and locations to be the biggest café chain in China.
Disclosure: I have no positions in any stocks mentioned, and no plans to initiate any positions within the next 72 hours. I wrote this article myself, and it expresses my own opinions. I am not receiving compensation for it (other than from Seeking Alpha). I have no business relationship with any company whose stock is mentioned in this article.
Additional disclosure: This article was written by an analyst at Saibus Research. Saibus Research has not received compensation directly or indirectly for expressing the recommendation in this article. We have no business relationship with any company whose stock is mentioned in this article. Under no circumstances must this report be considered an offer to buy, sell, subscribe for or trade securities or other instruments.