Ford Motor (NYSE:F) has made significant strides and progress under the stewardship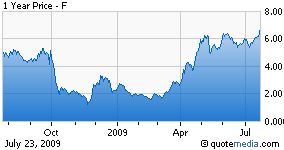 of Alan Mulally. While his domestic competitors ducked into "prepackaged" bankruptcies wiping out shareholder values, Mulally skillfully steered Ford back from the brink. The easy route was this route, however Mulally had another plan. He, like the rest of America, saw the bloated costs and declining market share the domestics were experiencing. Unlike his competitors, Mulally decided something needed to be done. Changes needed to be made, costs needed to be reigned in, and the Unions had to become a partner in saving this company and returning it to prosperity for the good of all parties involved.
Thus far, he gets an A+ for clearly articulating his plan, then having the backbone and negotiating skills to implement the necessary changes. The million dollar question is, "How do I play this?" Ford unlike its competitors, still has a mountain of debt it needs to service. (GM and Chrysler were able to unload much of their debt within the confines of bankruptcy protection.) Ford has continued opportunistically buying back its own debt at deep discounts. To further bring down its expenses, it will need to continue along this line. The concern is the company may once again tap the markets with another share offering raising a few billion dollars to again pay down debt. Good news. Not so good news for existing shareholders as it would be highly dilutive.
I like the Ford Corporate Backed Trust Securities 8%, symbol XVF. These shares IPO'd back in 2003 at $25.00. They trade at a significant discount to par. At current levels they yield close to 14 1/2%. So, while the overall picture improves for the company, these shares should allow for investors to potentially capture significant capital appreciation as it gravitates back towards par, all the while paying out a hefty $2.00 share annually.
Disclosure, I currently own XVF. Do your own due diligence before making any investment decisions.