Forget about the after-hours rise in American Capital Agency's (NASDAQ:AGNC) stock price in response to the Q2 dividend of $1.05 (down from $1.25). AGNC's dividend cut is good news for mREIT investors - not spectacular news, but definitely not bad news, either - and you can easily make the case that the storm has passed. AGNC cut its dividend in early-2012 and maintained it up to yesterday's announcement so barring seismic shifts in the financial markets, it appears it is once again one-and-done on the dividend cuts.
AGNC management led by Gary Kain believes in transparency and stability. While dividend stability takes a backseat to book value preservation, it is reasonable to assume that management cut the dividend to a level they feel they can maintain given the recent range and forecast for interest rates through early-2014. Some analysts had been looking for an armageddon-like cut in the dividend to $0.85 quarterly, representing a worst-case combination of rising rates and falling book value.
Beyond AGNC, the dividend announcements from the agency and hybrid Mortgage REITs have certainly helped buffet the volatility in the stock prices. Besides AGNC, the dividend cuts have been limited to Two Harbors (NYSE:TWO) and American Capital Mortgage (NASDAQ:MTGE) while CYS Investments (NYSE:CYS) raised its dividend. Of greater concern has been the declines in book value as interest rates rose from 1.87% on the 10-year at March 31st, bottomed at 1.66% on May 2nd, and then spiked to 2.25% on June 12th. Worse, MBS yields rose even more: mortgage rates backed up roughly 60 bp in May, which is the biggest one-month increase in the primary mortgage rate since 2003 (refinancing activity dropped 80% after this move in 2003).
This kind of hyper-volatility in interest rates is precisely what mREITs are NOT designed to hedge against and why having a proper allocation to the right mREITs and diversification is the only protection against the volatility experienced in recent months.
Here is the dividend scorecard to-date as well as my estimates for mid-June book values for the major agency and hybrid mREITs: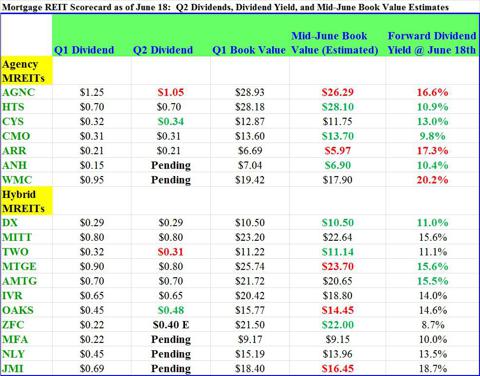 You can see where the danger (bold-red) and opportunity (bold-green) lie. The shorter the duration of the underlying MBS portfolios, the less damage to book value from rising rates. For hybrids, the higher the concentration in non-agency the less exposed to a rate backup, too. Keep in mind that hybrid mREITs still have a majority of their assets in agency MBS so you need to know if the managers are keeping those short or long duration, too. Where a management team supervises both an agency and hybrid mREIT - AGNC/MTGE and ARR/JMI come to mind - it is usually the case that the agency portfolio in the hybrid mimics the duration and leverage of the agency mREIT. Long duration + high leverage = a lethal combination when rates are rising!
Here's why the dividend cut by AGNC is good news for mREIT investors. As the bellwether for the group - but a long-duration, high-leverage agency mREIT most susceptible to rising rates - if AGNC is saying that $4.20 is payable annually going forward, this implies a ROE of about 15-16%, given current book value estimates. OK, it can earn that now - but can it earn that going forward ? Well, according to this chart, yes it can:

While the higher returns are for low-coupon bonds which are those most affected by rising rates (they extend duration the most), note that even high-coupon 5% MBS are up 250 bp in ROE in the last 7 weeks. Returns on the lower coupons are up 350 bp in the same time frame. ROEs are up on new investments, but book value has gone down on older investments. Since rising rates lead to reductions in portfolio assets and deleveraging, the reduced book value on the (lower) older ROE leads to reduced earnings and dividend capacity. AGNC has a bit of a cushion compared to the examples above, since it runs leverage a bit higher in the 8x range.
ROEs on new MBS purchases from prepayments, maturities, or new capital raised are dividend-supportive. But the new, richer yields and ROEs can only be accessed if the MBS bonds are prepaying above expectations (and presumably, with rates rising, they are slowing more than speeding up). Accretive secondaries are off the table, since virtually all mREITs are below the 105% P/B threshold to issue equity (though one can make a case for offerings below 105%, even 100%, if the ROEs were high enough based on higher asset yields and even lower cost of funding). So it is critical that declines in book value are arrested so as not to overwhelm any positive impact from higher reinvestment yields; in other words, interest rates must not rise much further. The rise in rates stopped last Fall's fears of collapsing net interest spreads and surging prepayments but it must level off to benefit the sector.
Short-duration agency mREITs or hybrid mREITs that do not have to delever or sell assets into a rising rate environment are even better-positioned. Their book values will not go down as much (they may even rise) and they benefit from having new funds available for reinvestment or credit-sensitive bonds that recover in price while reflecting an improving U.S. economy.
I continue to recommend a basket approach to investing in mREITs. I have also stressed in recent months to have more hybrids in that basket. Recently, I have put a plug in for short-duration mREITs to balance the extreme volatility that stocks like American Capital Agency, Western Asset Mortgage Capital (NYSE:WMC), and ARMOUR Residential REIT (NYSE:ARR) have shown. If you look back at the chart above, you will see that the book value declines for the short-duration agency mREITs (CMO and HTS) as well as the credit-sensitive hybrids like MFA Financial (NYSE:MFA), Dynex Capital (NYSE:DX), and Two Harbors - all tiny compared to the long-duration, high-leverage agency mREITs.
A glance at the chart below shows you who has the most exposure to rising rates. Red is danger, green is good: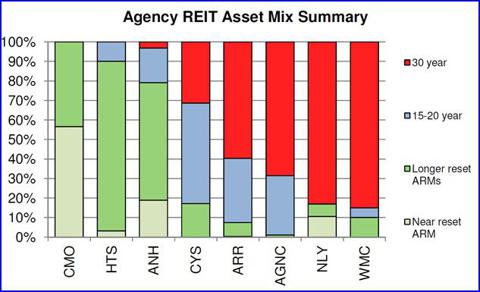 Of course, if you think that rates on the 10-year Treasury will head south again - U.S. economy slows, global upheavals, Euro problems - then you want the agency mREITs that have locked-in longer duration paper. I continue to think that investors in mREITs want the security of dividend yields and for this reason a diversified portfolio across all maturities and types of mREITs is best, rather than making concentrated bets.
Here are the portfolio compositions for the major hybrid mREITs entering the second quarter: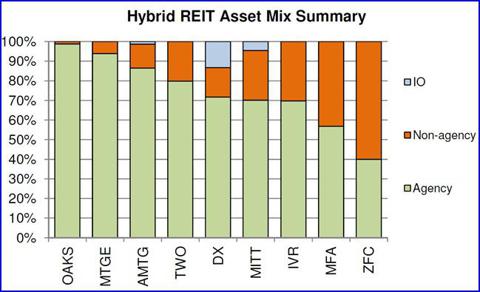 You can clearly see that if you buy a hybrid mREIT with a lot of agency MBS, you follow the agency lead on price declines when rates rise. More so if that hybrid mREIT has long duration MBS and/or employs high leverage on the agency portion of their portfolio. MTGE, MITT, and AMTG are more aggressive with their agency holdings. Javelin Mortgage (JMI, not shown) tends to follow the aggressive path of sister company ARMOUR Residential REIT, much as MTGE follows the lead of older brother AGNC.
For the hybrid mREITs, the key question is the percentage of assets in non-agency. Less than 10% in non-agency is miniscule; 20% is usually the minimum threshold. Note that TWO, DX, IVR, MITT, and MFA - all recommended in previous articles - all are under 80% agency MBS.
How important is the coupon on the MBS paper? Well, you have seen the declines in book value, check out what caused that decline: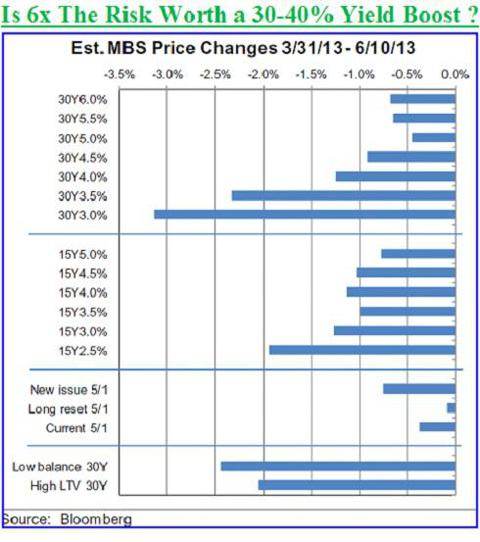 For 30-year paper, the price decline in low-coupon 3% MBS was almost 6x the decline seen in higher-coupon 5% and 6% paper. Because of the inherent shorter duration in 15-year mortgages, the variability between low and high-coupon paper in that segment of the MBS market is closer to 2x, still a big difference but not quite as extreme. You can see the ARM MBS price changes average less than 0.5%. If you make a wager on the long-duration agency mREITs or their hybrid counterparts which yield an extra 300-500 bp, you are taking on much higher price volatility in the underlying assets (hedging aside, of course).
A few things to keep an eye on going forward:
Have rates peaked? Jeff Gundlach of DoubleLine and Bill Gross of PIMCO both believe there is value in 10-year Treasuries at current levels. Gundlach thinks 2.40% is the worst-case level for the 10-year and Leuthold Group says yields would be hard-pressed technically and fundamentally to surpass 2.45%. If these levels or the recent 2.29% intra-day yield are the peak and we are not heading closer to 3.00%, then

mREITs

are money-good at current levels, though volatility will persist.
Watch Operation Taper. For years, we have had an 800-pound gorilla buying MBS assets. First it was Fannie Mae and Freddie Mac, each using 40x leverage. Then it was the Federal Reserve with QE1-3. So MBS assets have had an underlying bid going back over a decade. When the Fed decides to edge away from QE3, it will be the first time in recent history that MBS assets are not artificially inflated relative to Treasuries. So keep an eye on any potential spread widening.
Keep an eye on MBB. The iShares MBS ETF is a good proxy for the underlying assets of the mREITs. If the mREITs are selling off but MBB (and the 10-year Treasury) are holding up in price, that's a positive divergence you don't want to fake you out of your mREIT holdings.
Look for special situations in the m

REITs

. Capstead Mortgage (NYSE:CMO) has over $1 billion in repo maturities the rest of the year that will be refinanced at lower levels. That will fall straight to the bottom line. MFA Financial has over-reserved for its impaired and sub-prime bond assets. If the economy holds up, not only will they make a good cash yield return on the purchase prices, but reversals in credit reserves could boost MFA's book value and dividend going forward.
Beware of The New Kids On The Block. Five Oaks Investment Corp. (OAKS) and ZAIS Financial (NYSE:ZFC) are a couple of new hybrid

mREITs

. One would think that they would be able to deploy their capital at good prices but OAKS mistimed the market by buying low-coupon long-duration agencies while it waits to put more money to work in non-agency MBS. ZFC has done better, but the tiny market cap means it will be inclined to do secondary offerings to achieve critical mass and cut the OPEX ratio down to a more normal level. Beware of any mREIT that is under $1 billion in market cap, as that is usually the level at which operating expenses are spread over enough assets/income so as not to materially impact earnings or dividends.
mREIT investors must watch the 10-year Treasury yield like a hawk, and interest rate volatility, while likely to subside, is not going to fade away. The good news is that the Federal Reserve is not anywhere close to hiking the Fed Funds rate even in a symbolic fashion, with the first rate hikes currently forecast for late-2014/early-2015. So net interest spreads on new and returning capital should remain in the mid-teens and supportive of current dividend yields.
Unless the entire post-2011 'risk-off' trade is going to be repealed and the 10-year Treasury makes a beeline for 3% on the way to the 3.75-4.00% level of early-2011, both types of mREITs should be at or near a floor. At some point, the mathematics of bond investing turn in the mREITs' favor. If the 10-year is at or near a peak, that point is now. The dividend cut by AGNC may well mark a turning point for the long-duration agency favorites like ARR, WMC, and American Capital Agency, let alone the entire mREIT sector.
mREIT investors have had their fill of vegetables the last few months. Now, it's time for some dessert!
Disclosure: I am long CYS, ARR. I wrote this article myself, and it expresses my own opinions. I am not receiving compensation for it (other than from Seeking Alpha). I have no business relationship with any company whose stock is mentioned in this article.
Additional disclosure: Personally managed and online portfolios managed by the author may hold positions in the stocks mentioned within the article.