Commercial aircraft manufacturers' revenue is expected to reach high levels in 2013 due to an upsurge in the production rate, and because of the introduction of next-generation aircraft. The seven-year moving average of production is expected to go beyond 1,000 aircraft this year.
A company like Triumph Group (TGI) that supplies aerospace structures and components to its aircraft manufacturing customers like Boeing (BA), Airbus, and Bombardier will benefit from this rise.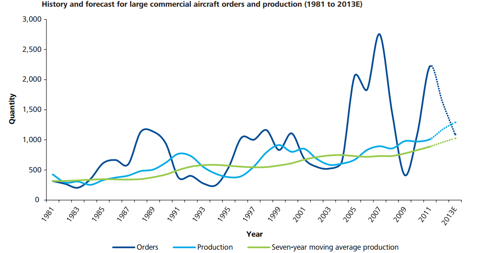 Source: 2013 Global aerospace and defense industry outlook
As shown in the figures above, there is a decrease in the number of orders the manufacturers will receive this year. However, backlogs are expected to grow continuously that will result in an uptick in production.
Understanding Triumph
Triumph is a global leader in manufacturing and servicing of aerospace structures and components. This Pennsylvania based company serves commercial, military, and business customers. It operates in more than 64 locations around the world including the U.S., France, and Thailand. The company has 46 highly specialized subsidiaries that are divided into three business segments:
· Aerostructures: This segment includes manufacturing of aircraft components which include fuselage, flight control exteriors and wings of an aircraft. Triumph has two subsidiaries working under this segment that are Wichita and Vought.
· Aerospace Systems: It is responsible for engineering and manufacturing systems that are used in aerospace hardware for flight application control. It also deals in manufacturing systems for power, control and motion. This segment has a major part of its operations in Newport News and Seattle.
· Aftermarket Services: It provides aircraft maintenance services for engines and structures to customers globally. Triumph's Air Repair service is based in Arizona. It is the world's largest independent unit that repairs and services aircraft components.
Financial Performance
Triumph reported revenue of $986.3 million in the fourth-quarter, ending in March 2013, which was a 4% year-over-year increase. This increase was mainly due to its aerospace systems segment, which reported revenue of $184 million showing growth of 21% year-over-year to in the same quarter. The strong performance of this segment was based on the GPECS acquisition.
In aerostructures segment, it acquired Primus composites business from Precision Castparts. These acquisitions brought more revenue opportunities for Triumph during the quarter. Triumph is now anticipating total revenue of $3.8 billion - $4 billion for the fiscal year 2014.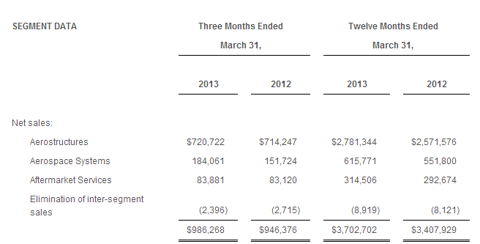 All dollars in thousands
Source: Company Data
Future Outlook
New contract
Recently, Triumph was awarded a $1.7 billion contract from Embraer (ERJ), a Brazilian aircraft manufacturer that also provides aeronautical services. Triumph will supply fuselage sections and various other components for Embraer's second generation E-Jet aircraft family. Fuselage is the main body section of an aircraft that carries passengers and cargo. The other components which Triumph will supply consist of the rudder - an aircraft's part used for stabilization, and is situated at the tail. These new E-Jet aircraft which are technologically advanced will result in lesser fuel burns and lower maintenance cost. These aircraft will also help Embraer to dominate the market of 70 to 120 seat aircraft in 40 countries where it operates.
Triumph estimates a total investment requirement of $130 million for the contract over the next four years on the designing and development of the parts. Out of the $130 million, it is planning to spend $25 million in the fiscal year 2014. The contract is scheduled to begin this year, but the deliveries of the aircraft will begin in 2018. The annual production rate for these new E-Jet aircraft will be in the range of 50-70 aircraft. The company is anticipating revenue of around $170 million every year from 2017 from this contract.
Acquisitions will bring additional revenue
In March 2013, Triumph completed the acquisition of Goodrich Pump & Engine Control Systems, or GPECS -- the pump and engine control system business of United Technologies. GPECS is one of the leaders in supplying aerospace fuel systems for commercial aircraft, military aircraft and business jets. Aerospace fuel system is a device in an aircraft that helps deliver fuel to the engine from the fuel storage. United Technologies earlier acquired GPECS in July 2012 for $16.5 billion. It will now be referred to as Triumph pump and engine control and will be included in its aerospace systems segment. This acquisition will allow it Triumph to enter the aerospace fuel systems market.
From this acquisition, Triumph expects $195 million annual revenue from the fiscal year 2014. This revenue opportunity is due to the rising demand of fuel systems. Moreover, it is forecasting an additional $10 million revenue opportunity. This will be generated from the amortization of contract liabilities. Contract liability is a liability arising from an agreement in which, if losses are incurred, they are to be borne by either party. Contract liabilities have a negative effect on a company's balance sheet, but if they are amortized it will result in profits for the company.
Growing components business
In May 2013, Triumph acquired Primus composites business from Precision Castparts, a metal fabrication company that manufactures cast metal parts used in aircraft. The Primus composite business supplies composite propulsion and structural components that are used in aircraft. The acquisition includes two manufacturing plants based in Farnborough, England and Rayong, Thailand which will be a part of Triumph's aerostructures segment.
Primus's large customer base includes Airbus, Rolls Royce, Aircelle and Bombardier. From this acquisition, Triumph will widen its global footprint and enhance its customer relationship. The acquired business will operate as ''Triumph Structures-Farnborough'' and ''Triumph Structures-Thailand'' and will be included in the aerostructures business segment. The structural composite business currently contributes 75% of sales for the segment, which after the acquisition will increase to 90% due to the new business opportunities.
As this segment is Original equipment manufacturer, or OEM focused, it has a better opportunity to gain market share. OEMs are manufacturers of components that are bought by another company and are retailed under the purchasing company's brand name. Based on future expansion, it is anticipating annual revenue of $55 million from the fiscal year 2014 started in April, 2013.
Mounting order backlog
Order backlog for Triumph was $4.3 billion in the fiscal year 2013, which is a 5% year-over-year rise. This rise was mainly due to its ''Boeing 747'' program that accounts for more than 10% of the total sales for the company. In the Boeing 747 program, the company supplies fuselage panels and sections, doors, and rudders to Boeing for its 747 commercial aircraft.
Total revenue from Boeing's commercial and military aircraft totaled 49.4% of revenue in fiscal year 2013, which was 46.6% in the previous fiscal. 73% of the components supplied to Boeing were for its commercial aircraft and the remaining 27% was for its military aircraft.
Among its top 10 programs including Boeing 747 are Airbus A330, Boeing 777, Boeing 787, Boeing V-22, and Sikorsky UH-60, which contribute 70% of the total backlog. Boeing will increase the production rate for 777, 787 and A330 due to their growing demand in the market.
Triumph's acquisition of Embee and GPECS will further help it to supply additional components to match this demand. This will result into a revenue opportunity of $200 million from 2015. Additionally, Triumph is expecting a 10% rise in fiscal 2014 in supplies for its Boeing V-22 and Sikorsky UH-60 programs due to the increase in their production rate.

Source: Company data
Bottom-line
Triumph is showing encouraging signs of growth in the future by acquisitions, new contracts, and upsurge in order backlog. The company is optimistic about the revenue forecast of $3.8 billion-$4 billion for the fiscal year 2014, based on acquisitions of GPECS and Primus Composites.
Primus composites will widen its global presence, which will help it to gain top-line momentum in the upcoming years. GPECS, an addition to the aerospace system segment, will give access to new aerospace fuel systems market.
Although, the new contract with the Brazilian manufacturer will require some investment initially, but it will secure revenue in the long term. Also, upsurge in the backlogs in the coming years, especially from Boeing, will help the company book higher profits.
Looking at the future prospects of the company, I recommend it to be a buy.
Disclosure: I have no positions in any stocks mentioned, and no plans to initiate any positions within the next 72 hours. I wrote this article myself, and it expresses my own opinions. I am not receiving compensation for it (other than from Seeking Alpha). I have no business relationship with any company whose stock is mentioned in this article.