Cymbalta has generated a total of $24 billion in sales since it was first launched by Eli Lilly (LLY) in 2004. Although Cymbalta's U.S. compound patent expires this month Lilly has managed to obtain a pediatric exemption that extended U.S. exclusivity to December 2013.
Cymbalta generated $5 billion globally in 2012 and maintained its lead as the undisputed leader in the antidepressant therapeutic class. Over 80% of sales were realized in the U.S. where Cymbalta accounted for 42% of the market.
Several manufacturers have already received tentative approvals to market duloxetine, generic Cymbalta, and are expected to launch their products immediately following Cymbalta's loss of exclusivity.
Retail prices for commonly prescribed branded anti-depressants like Cymbalta can reach over $170 per month, a generic equivalent will cost less than $20, and there is no major difference in treatment outcome between the two products.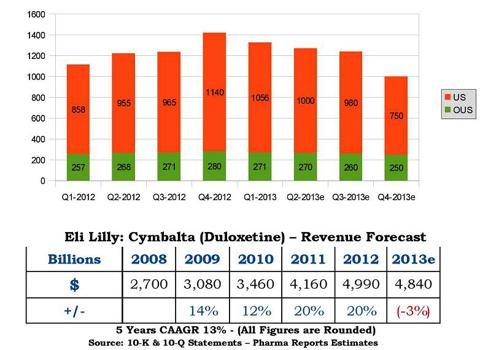 During the first quarter of 2013, Cymbalta generated $1.3 billion in global sales, a decline of -6% from Q4-2012. Lilly has already started to rationalize Cymbalta sales force and promotional budget, which could be one of the main contributing factors for the decline.
Cymbalta faces little competition from the other antidepressant brands in the U.S. However, the market is highly genericized and generics currently control over 40% of the market in terms of revenue and over 85% of the market in terms of prescriptions.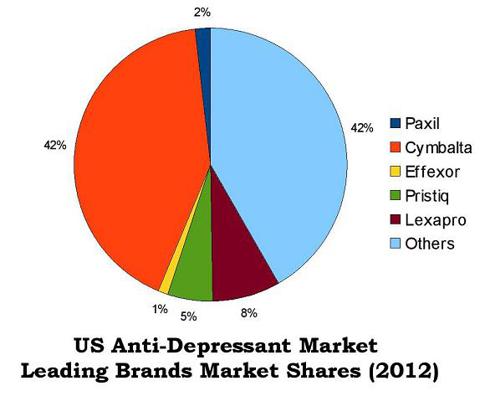 According to a recent U.S. Antidepressant Market report, the top five U.S. antidepressant brands lost $2.2 billion to generic substitution in the past three years, from a peak of $7.6 billion in 2009 to their current level of $5.4 billion.
When Forest's (FRX) Lexapro (escitalopram) lost U.S. market exclusivity in March 2012, its revenue declined by 64% from the 2011 level of $2.1 billion. Generic substitution for Lexapro currently stands at over 95% of U.S. escitalopram prescriptions and the brand is expected to realize less than $100 million in 2013.
While it is difficult to predict the precise impact of generic substitution on Cymbalta, we can expect that the introduction of generics will result in a rapid and severe decline in sales. Luckily, this will only happen in the last month of the year.
For 2013, we expect Cymbalta to realize $4.8 billion in global sales, a decline of a mere -3% from 2012 level. The decline will result from both the ongoing rationalization of Cymbalta's promotional budget and from the introduction of generic duloxetine in the U.S. in December 2013.
Disclosure: I have no positions in any stocks mentioned, and no plans to initiate any positions within the next 72 hours. I wrote this article myself, and it expresses my own opinions. I am not receiving compensation for it (other than from Seeking Alpha). I have no business relationship with any company whose stock is mentioned in this article.