When you cannot make sense of that which is going on around you, it is best to have a seat on the bench and wait until you have figured out that which perplexes you. That has been our rule for some time now and the reason we have been reluctant to buy on dips lately unless it is an absurd move lower in a great stock...sorry no coal names for our portfolio at this time. Much of our lack of conviction results from a breakdown in our indicators, which we cover in today's article.
Today we have added copper to our daily update on morning commodity prices. We have a few other new features we have been working on lately and will be rolling those out over the next few days. More prices will be included and we will be rolling out some data we have been collecting over the past few months.
Chart of the Day:
There still may be a few more dollars to the downside here, but at the $1400/ounce level platinum certainly has some support. If it holds we could see a bounce higher, but that would require an accommodative Fed, Asian growth and continued improvement in Europe...or at least no more tempests in tea pots over there.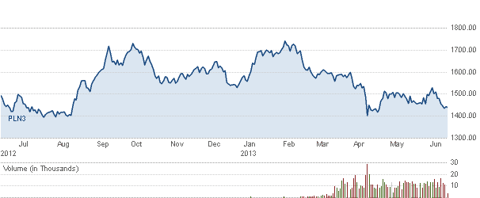 Chart courtesy of CNBC.com
Commodity prices this morning are as follows:
Gold: $1376.60/ounce, down by $6.50/ounce
Silver: $21.71/ounce, down by $0.048/ounce
Oil: $97.56/barrel, down by $0.21/barrel
RBOB Gas: $2.8552/gallon, down by $0.0009/gallon
Natural Gas: $3.893/MMbtu, up by $0.018/MMbtu
Copper: $3.148/pound, down by $0.007/pound
Coal
Investors did rotate back into coal yesterday as value was finally apparent at names like Walter Energy (NYSE:WLT), which saw its shares finish higher by $1.93 (16.50%) to close at $13.63/share on extremely high volume of 25.7 million shares. The volatility here is pretty amazing, especially considering how far the shares have fallen already. Yesterday's break in downward pressure hardly marks an end to the issues faced by investors in the sector but is a welcome sign that investors are not simply walking away from the coal trade to not return. At this time investors in the industry will take whatever good news they can get.
This is not a 52-week chart of Walter Energy, but a three month chart. It would be bad enough if it was a move which had taken place over the past year, but the fact this huge move downwards has occurred in the past 3 months simply demonstrates how bad it is in the coal industry.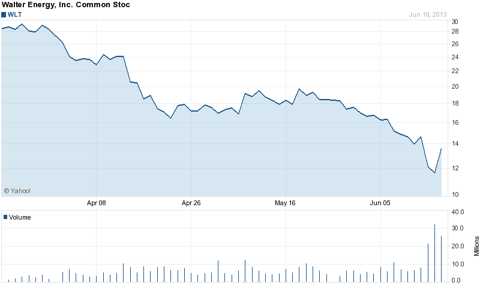 Chart courtesy of Yahoo Finance.
Metals
One name which has been red on our screen and falling pretty hard as of late is Thompson Creek Metals (TC), a company we have discussed numerous times in our daily updates. Gold, copper, moly...not a lot of good news to go around in any of those areas and copper has fallen over the past two sessions. Couple copper's recent weakness with that of gold and it is apparent why Thompson Creek is facing headwinds. We like the junior miners when there is certainty in the direction of the economy and especially when one can definitively state that the underlying commodity is in a bull market, something which one cannot say about any of their new production at this point. We would stay on the sidelines at this point and wait for an opportunity to move into the juniors. That is what our decade of commodities investing tells us.
Oil & Natural Gas
We have been a bit lost over the past few sessions as some of our indicators have broken down and ceased being leading indicators. We are once again talking about Cheniere Energy (NYSEMKT:LNG) which up until a month or so ago was flashing moves the market was going to make before it made them. Yes it is easy to say that when the direction is up, but this goes back over a year and includes times when the market faced corrections - and then too the stock indicated the proper direction.
So we have been prepared for a move lower in many of the oil and natural gas names, yet nothing has materialized at this point which got us curious. We looked at the overall move in Cheniere and those in two of our favorite names, Gulfport Energy (NASDAQ:GPOR) and PDC Energy (NASDAQ:PDCE), which have both had good runs as well. The breakdown has occurred over the past month and the following chart displays this.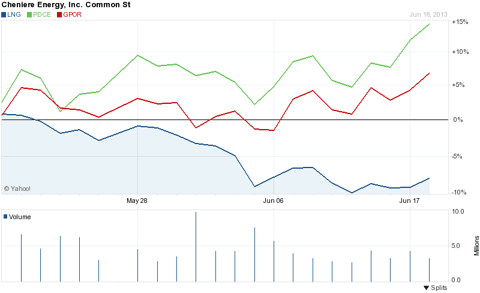 Chart courtesy of Yahoo Finance.
Disclosure: I am long GPOR. I wrote this article myself, and it expresses my own opinions. I am not receiving compensation for it (other than from Seeking Alpha). I have no business relationship with any company whose stock is mentioned in this article.