The Brent/WTI crude oil spread, at current levels, is especially vulnerable to headline risk. While fundamentals support continued spread narrowing, the risk is for a sudden and potentially violent spread widening from Iranian saber-rattling or an actual preemptive move against Iranian nuclear facilities.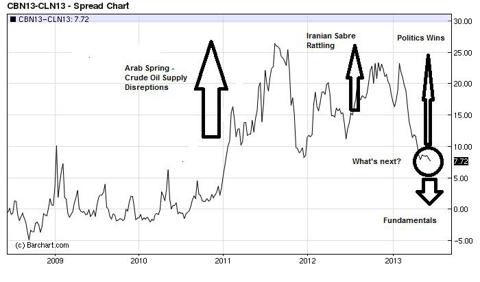 The above chart illustrates favorable supply versus demand dynamics in the crude oil markets and an apparent relaxation of fear of supply disruptions. Is the spread about to return to the historic range +/- $5? Or is the market reflecting an uncomfortable level of complacency concerning the likelihood of supply disruptions from political unrest in the Middle East?
The political crisis in Syria continues to occupy the front page of newspapers with unending stories of atrocities inflicted upon the civilian population. Indeed, the attention focused on Syria takes attention away from Iran, as the regime thumbs its nose at the United Nations, concerned Arab neighbors, Israel, as well as, the rest of the Western World with their continued nuclear material enrichment efforts. Taking Iran off the front page removes a constant reminder to the markets of the seriousness in Israel's and the West's resolve to prevent Iranian nuclear weapons development at all costs. Iran has stated in the past that any overt move against its facilities would lead to the closure of the Straits of Hormuz thus bottling up 20% of OPEC's daily exports.
Meanwhile the market reacts to favorable supply-demand fundamentals which continue to pressure the spread lower. The markets increasingly discount significant increases in North American production; increased pipeline development that relieves pressure on Cushing, OK inventory constraints; and increased crude delivery via railroad to Eastern U.S. refineries. Less reliance on imported oil relieves global pressures on OPEC oil even as OPEC reduces production. All of which this reflected in easing gasoline prices as we enter the peak summer driving season.
Investors/ traders protect yourself- Here.
At these levels investors and traders should recognize that this trend toward a price parity in Brent and WTI is likely transitory and that a correction to wider levels will be quick and violent, led by renewed Iranian sabre-rattling or an overt move against Iranian nuclear facilities.
Disclosure: I have no positions in any stocks mentioned, and no plans to initiate any positions within the next 72 hours. I wrote this article myself, and it expresses my own opinions. I am not receiving compensation for it. I have no business relationship with any company whose stock is mentioned in this article.