My Dividend Investment Project portfolio holds five Business Development Companies that I watch closely. With the first half nearing its end, I'm re-examining each BDC with the intention of adjusting holdings where analysis suggests action.
What's a BDC? To quote Investopedia:
(Business Development Companies are) "created to help grow small companies

in the initial stages of their development. BDCs are very similar to venture capital funds. Many BDCs are set up much like closed-end investment funds and are actually public companies that are listed on the NYSE, AMEX and Nasdaq.
To qualify as a BDC, companies must be registered in compliance with Section 54 of the Investment Company Act of 1940. A major difference between a BDC and a venture capital fund is that BDCs allow smaller, non-accredited investors to invest

in startup companies. Some of the reasons why BDCs have become popular is that they provide permanent capital to their management, allow investments by the general public and use mezzanine financing

opportunities."
Source: Investopedia Dictionary
I have friends in the venture capital business, so I like the idea of being able, via the stock markets, to participate in something similar. At the same time, there are risks involved, and patience is essential. BDCs aren't for everybody.
But they can be excellent investments, and some of the companies that are publicly traded pay very attractive dividends. Keep in mind, however, that the lure of handsome dividends is fraught with risk, so periodic -- maybe "regular" is a better word -- examination of SEC filings is important.
After updating the data I've collected on my five BDC holdings, I've concluded that one of my companies is, at the moment, attractively priced while paying dividends that are near-term sustainable. Three are pushing the top of the price envelope, and I'm flagging one because of concerns.
The summary points:
I'm adding shares and Prospect Capital Corporation (NASDAQ:PSEC), because it appears to be attractively priced.
I'm holding PennantPark Investment Corporation (NASDAQ:PNNT) and its "little brother" PennantPark Floating Rate Capital Corporation (NASDAQ:PFLT). I'm also holding Triangle Capital Corp. (NYSE:TCAP) and BlackRock Kelso Capital Corp. (NASDAQ:BKCC).
I'm flagging BKCC, because it needs to demonstrate more performance strength in the near term if it merits holding.
I've looked at three factors to reach my conclusion: Price as compared with net investment income, price as compared to net asset value, and the five-year net investment income trend of each company.
The chart below compares the five companies on the basis of price. I want to know if price changes since the first of the year bear a relationship to each company's production of net investment income year over year. Here's a look:
BDC Group NII/Price Analysis
Price
Current
NII as of
NII as of
12/31/12
Price
Chg.
03/31/12
03/31/13
Chg.
TCAP
25.49
27.60
8%
12193508
15233465
25%
PSEC
10.87
10.62
-2%
95623
120195
26%
PNNT
11.00
11.74
7%
9759576
14062745
44%
PFLT
12.70
14.76
16%
1544900
1665925
8%
BKCC
10.06
9.60
-5%
19024212
12964078
-32%
Source: 10-Qs and Yahoo
As the chart demonstrates, two of my companies, BKCC and PSEC, have dropped in share price since the first of the year. A drop in price may signal a buying opportunity, if the financial metrics for each have remained acceptable, or -- better -- trended upward. Or, the price drop may simply reflect the market's decreasing confidence in the company's ability to produce; this is a cause for concern.
There is a stark difference between these two when NII is compared. BKCC is not trending well, but PSEC is. Year over year, PSEC has grown net investment income impressively, while BKCC has moved in the wrong direction.
(To explain, the time periods selected for comparison aren't identical. I've chosen year-over-year comparisons for NII, but used first quarter comparisons for price. I'm interested in trends, so the time periods do not have to be identical to suggest buying opportunities. The percentage changes in each category relate only insofar as trend, not amount, is concerned.)
What is the market reflecting? Is there an opportunity to pick up PSEC shares at a good price? More worrisome, should BKCC be flagged?
Meanwhile, on the basis of price to NII comparison, each of the other three is performing sufficiently. TCAP is doing especially well, and may be in "buy" territory despite its upward trend in price. PFLT is a very good performer, but the price may be getting ahead of the performance.
Now let's look at price in comparison to net asset value:
BDC Group NAV/Price Analysis
Price
Current
NAV
NAV
12/31/12
Price
Chg.
12/31/12
03/31/13
Chg.
TCAP
25.49
27.60
8%
15.30
15.32
0%
PSEC
10.87
10.62
-2%
10.83
*
10.71
-1%
PNNT
11.00
11.74
7%
10.22
**
10.50
3%
PFLT
12.70
14.76
16%
13.98
**
14.10
1%
BKCC
10.06
9.60
-5%
9.31
9.47
2%
Source: 10-Qs and Yahoo
* - As of June 30, 2012
** - As of Sept. 30, 2012
Again, the periods selected for comparison aren't the same, but they should be revealing as far as trends are concerned. PSEC and BKCC again emerge as possible buying opportunities, and in this context, BKCC looks stronger; at least its net asset value has trended upward year over year.
PSEC, meanwhile, shows a decrease in NAV since its June 30, 2012, reporting comparison, and its price in the first quarter has trended downward. The metrics aren't as strong as we'd like, but there is nothing in the second table to suggest strongly that PSEC isn't a prospect for share acquisition.
So, let's look at another metric, the five-year trend in net investment income: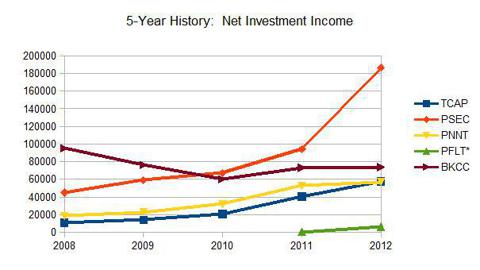 Five-year NII history for BKCC is arguably the worst of the five companies. PSEC, meanwhile, is trending well, especially in the last year.
The other three are trending in similar fashion, with TCAP especially strong.
Conclusion: With these three criteria as support, I've concluded that I'll add PSEC shares when price seems attractive. As I write this, it is trading at $10.70 or so. If I were to plug in this price in the price-to-NAV table above, it would show that PSEC price and NAV are on par, as the chart below demonstrates:
Price to NAV
Current
Latest
Premium
Price
NAV
to Current
TCAP
27.83
15.32
181.7%
PSEC
10.76
10.71
100.5%
PNNT
11.81
10.50
112.5%
PFLT
14.86
14.10
105.4%
BKCC
9.56
9.47
101.0%
Source: 10-Q and Yahoo
PSEC's dividend has grown, but very slowly. The company pays its dividend monthly, and for me that's attractive. What I like even more is that dividends are announced four months at a time. I know what dividends will be through the end of this year and into January of 2014, $0.11 and a growing fraction of a cent per share each month.
With respect to BKCC, I'm flagging it for a very close watch, but I'm holding for the moment.
There is one other thing: Each of these and other business development companies are analyzed by Seeking Alpha contributor "BDC Buzz." He does a an especially thorough job on other qualitative metrics, especially debt and leverage. If you're looking to add BDCs to your portfolio, have a look at his articles here, here, and here.
Disclosure: I am long PNNT, PFLT, TCAP, BKCC, PSEC. I wrote this article myself, and it expresses my own opinions. I am not receiving compensation for it (other than from Seeking Alpha). I have no business relationship with any company whose stock is mentioned in this article.
Disclaimer: Information presented here is not the work of licensed financial adviser or experienced investment professional. Information provided should not be construed as investment advice. It is for educational and informational purposes only, and constitutes the elements of a personal learning project.