Sharp increases in interest rates revive macro risks for Eurozone's indebted economies
Highly leveraged balance sheets of banks and bank reliant companies sour sentiment on Eurozone's equity market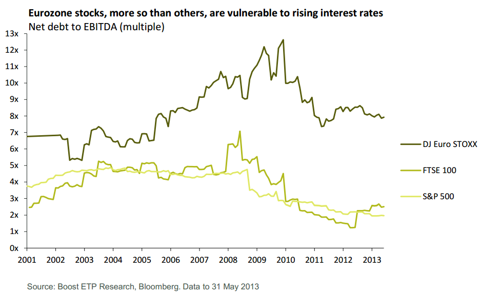 Rising borrowing costs revive concerns over the state of overleveraged balance sheets in the Eurozone. The banking sector is driving the negative sentiment as higher interest rates may hinder their ability to restructure. As a result, bank stocks and industrial stocks reliant on bank funding appear vulnerable in this environment.
Recent interest rate increases have rattled financial markets. Since May, long dated bond yields have increased by 40 to 50 basis points across the US and major Eurozone sovereign issuers. Barring Germany, where yields have risen moderately, the moves in bond markets have been large, relatively sharp and unusual at a time of benign inflation and retreating equity markets.
If bond yields are rising on the back of improving economic outlook, then inflation expectations should also rise. However, there is currently little evidence of this trend taking hold of the Eurozone. Producer sentiment across core Eurozone members, while showing signs of improvement, remain deeply depressed. Meanwhile, inflation continues to fall, evidence that consumer spending remains weak.
In the absence of growth indicators picking up, the rise in bond yields will be perceived by the market as a destabilising macro event for the Eurozone. This is fuelled by renewed uncertainty over the direct link between indebted governments and overleveraged banks. In particular, contingent liabilities, which are assumed by government but are recorded as unofficial debt (given the difficulty in estimating future losses by banks) remain a concern.
Governments of Spain, Italy and Portugal, more than others, depend on interest rates remaining low to refinance debt at affordable levels and help restore public finances. Likewise, the overleveraged banks depend on low interest rates in two ways. Firstly, it keeps the fixed income trading book profitable, which continues to be predominantly comprised of Eurozone securities. Secondly, it allows the distressed mortgages sitting in the loan book to recover. At a time when nonperforming loans are still rising in Spain and Italy, the higher interest rates will undermine this healing process. Until restructuring of the banks and bank debt is completed, contingent liabilities will linger and force related sovereigns bonds to trade at a higher risk premium. This may also undermine sentiment in the Eurozone industrial sectors that, outside of Germany, are reliant on bank borrowing as opposed to debt capital fund raising. The prevailing wide bond yield spreads*[1] shows that investors remain concerned about the creditworthiness of peripheral Eurozone sovereigns. Given the reluctance of the ECB to directly intervene in bond markets, the rising borrowing costs are likely to only undermine sentiment further.
As indicated in the chart, the high level of indebtedness remains primarily present in Eurozone equities. While financial and industrial companies in France, Italy, Spain and Benelux have weathered the prolonged recession by cutting headcount, freezing wages and divesting assets, low interest rates since 2010 have not helped them to de-lever their balance sheets to the same degree as companies in the US or UK. If total outstanding debt (net of cash and equivalents) to operating earnings is anything to go by, then the financial gearing of Eurozone companies is almost 4x larger than those of the US or UK.
With a sector weighting of ~18% in DJ Euro STOXX 600, bank stocks remain disproportionately overweight in Eurozone equity benchmarks, in spite of deeply discounted valuations. This, coupled with the many industrial names that remain overly reliant on both bank funding and exporting to Eurozone countries, are hitting Eurozone equity markets harder than stocks in other markets. The recent sharp increases in interest rates will not help matters.
---
[1] For Portugal, Spain and Italy, the bond yield spread over German Bunds is 490, 300 and 280 bps respectively, as at 13 June 2013
Disclosure: I have no positions in any stocks mentioned, and no plans to initiate any positions within the next 72 hours.
Business relationship disclosure: Boost ETP is an independent ETP issuer.This article was written by Viktor Nossek, our Head of Research. We did not receive compensation for this article (other than from Seeking Alpha), and we have no business relationship with any company whose stock is mentioned in this article.This communication has been provided by Boost ETP LLP which is an appointed representative of Mirabella Financial Services LLP which is authorised and regulated by the Financial Conduct Authority.