With its "Image Activation" and "Right Price, Right Size" Initiatives, and developing Pretzel Bacon Cheeseburger, the Wendy's Company (NYSE:WEN) is attempting to increase its popularity and sales in the short and long term. In the beginning years of operation, Wendy's was known for its premium burgers, salads, and sandwiches and was a leader in the fast-food industry. While still a top fast-food restaurant, Wendy's has seen a growth decline because of additional chains' entry into the market. In order to continue to compete and regain market share, Wendy's needs these future initiatives and products to be successful. Following the summary of the "Big Three," there will be valuation to wrap everything together.
"Image Activation" Initiative
The "Image Activation" Initiative is Wendy's attempt to rebrand itself and is a part of its "Recipe to Win" strategy discussed in its annual report. This initiative is a long term process, and the company's goal is to have this "image activation" in half of the company owned stores by 2015. With its new logo, TV screen menus, unique uniforms, and interior and exterior renovations, Wendy's is showing that they are invested for the long run. Its other immediate competitors Burger King Worldwide (BKW) and McDonald's (NYSE:MCD) are also encouraging their franchise stores to undergo a low-cost remodeling project, but Wendy's competitors are not renovating their restaurants at the same level of quality as Wendy's Co. Wendy's that already have undergone the transformation have seen an average increase of 25% in sales according to CEO Emil Brolick. While the remodeling has shown that it can increase overall sales, Wendy's Company needs to balance sales losses from closed stores due to remodeling.. To counter the capital expenditure increase, Wendy's is encouraging franchisees with a $100,000 incentive for committing to the renovation initiative. However, it is still a large investment to make especially for franchisees (companies who own the individual franchises). Tier one costs $750,000, and tier two and three cost $550,000 and $375,000 respectively. Over the next three years, Wendy's will invest about $470 million, not even including the franchisees. This major increase in capital expenditures was noted by the CFO Stephen Hare as "necessary for Wendy's to compete long term." Below is an "image activated" restaurant.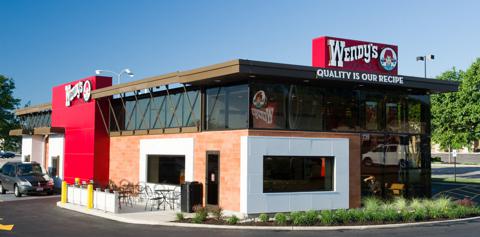 "Right Price, Right Size" Initiative
As a lifetime customer of Wendy's, I do not recall any "value menu" deals offered other than when the Triple Stack was $2 (a long time back) . Mcdonald's has the $1 McDouble and McChicken, while Burger King has the $1.29 Jr. Whopper. Value menu items are necessary for fast-food chains because of such economic uncertainty that lies ahead in the future. Since the initiative has been adopted, sales from the value menu has increased. When comparing the Value Menu from 2012 to its 2013 Right Price Right Size menu, it retained a majority of its items for almost the same price. The reason why the new value menu is growing is because of the marketing initiative and increase in advertisement by Wendy's.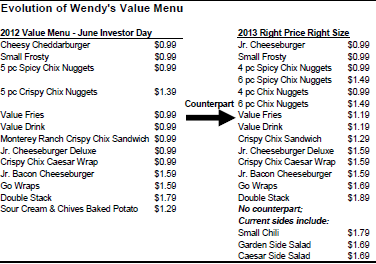 Pretzel Bacon Cheeseburger
While the two aforementioned initiatives hold a great deal of importance, the bright future of Wendy's can become brighter if the Pretzel Bacon Cheeseburger lives up to its expectations. Analysts from Janney Capital Markets changed their ratings from "neutral" to "buy" based on the future prospects of the burger. Janney analysts commented, "Our industry sources inform us that when the Pretzel Bacon Cheeseburger was in test, its performance ranked amongst the best of any Wendy's test items from the last 20 years. This suggests that the potential rewards outweigh the risks of buying Wendy's shares for the next several months." Some analysts even believe that the new burger could increase same-store sales by as much as three percent or even more. Americans have a tendency to have a strong connection with pretzels since so many people in the U.S. grow up eating pretzels. Wendy's hopes to capitalize on this tendency with its Pretzel Bacon Cheeseburger campaign as seen in the picture below.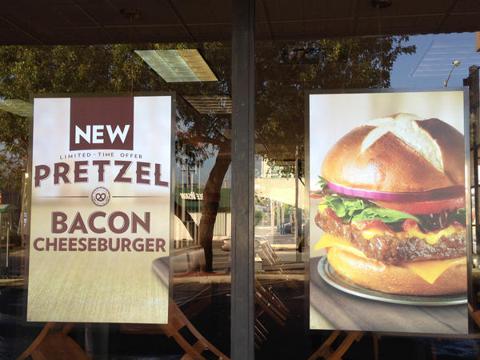 Valuation: Bringing it All Together
The table below summarizes the latest quarterly performance for Wendy's, Chipotle Mexican Grill (NYSE:CMG), Burger King, McDonald's, and Yum Brands (NYSE:YUM).
| | | | | | |
| --- | --- | --- | --- | --- | --- |
| | WEN | CMG | BKW | MCD | YUM |
| Sales increase comparable stores quarter over quarter | 0.8% | 1% | -1.4% | -1% | -3% |
| Operating margin | 3.7% | 16.5% | 15% | 29.5% | 19.2% |
| Operating margin change quarter over quarter | 0.2% | 0.90% | 3.4% | -0.5% | -4.3% |
| Net New Restaurants | -16 | 48 | 22 | 85 | 294 |
| Total Restaurants | 6,544 | 1,458 | 12,534 | 34,454 | 37,140 |
The fact that Wendy's is significantly smaller than most of its competitors gives the company greater opportunities for growth, sustainability and flexibility. As seen from the most recent quarter, Wendy's placed second in same-store sales increases only behind the newer company Chipotle. This is because of the "Right Price, Right Size" value menu and because of its new flatbread grilled chicken sandwich. "Image Activation" is also playing its role in increasing the sales increase. Wendy's is attempting to increase its operating margin through cutting general and administrative costs (cut by $7 million in Q1), but struggles to keep up with competitors. The reasoning behind this is because Wendy's hires more workers in order to increase customer satisfaction, and buys higher quality food than its competitors. The second table below shows valuation metrics comparing the companies.
| | | | | | |
| --- | --- | --- | --- | --- | --- |
| | WEN | CMG | BKW | MCD | YUM |
| Price-to-earnings (NYSE:PE)' 13 | 28.9 | 34.3 | 25.1 | 17.2 | 23.4 |
| PE-to-growth (NYSE:PEG) | 3.0 | 1.7 | 1.8 | 1.8 | 1.0 |
| EBITDA margin | 14.0% | 20.1% | 38.7% | 35.6% | 20.4% |
| EV-to-EBITDA | 9.7 | 19.1 | 14.7 | 11.1 | 12.6 |
| Price-to-sales | 0.9 | 4.0 | 4.1 | 3.6 | 2.4 |
| Price-to-CFO | 9.7 | 22.1 | 28.4 | 14.1 | 14.6 |
| Beta | 0.9 | 0.6 | n/a | 0.3 | 0.6 |
| Dividend yield | 2.7% | 0.0% | 1.2% | 3.1% | 1.8% |
| 1-year total return | 34% | -8% | 34% | 12% | 14% |
Source: JPMorgan Analyst Report: EBITDA - Earnings Before Interest, Taxes, Depreciation, Amortization, EV - Enterprise Value, CFO - Cash Flow from operations.
Wendy's EV-to-EBITDA, price-to-sales, and price-to-CFO all contribute to the notion that Wendy's stock is undervalued. While Wendy's does have the higher PEG ratio, it is hard to decide long-term growth of the company, especially not knowing how its initiatives and new products will pan out. What might worry some investors that Wendy's holds the lowest EBITDA margin, but again this is because the company tries to provide a higher level of quality food and premium service to its customers. CEO Emil Brolick stated that he understood that these operating margins must improve if the company is going to be bound for success in the future. Not included in the table, Wendy's is the most liquid (highest current ratio at 2.47) and has lower total debt-to-assets and debt-to-equity ratios than its competitors (great solvency).
Conclusion
These three qualitative future plans need to come to fruition in order for Wendy's to be prosperous in the future. If Wendy's can continue to increase its same stores sales from its renovation, revitalized value menu, and its new products, the company will be an elite competitor in the fast food industry. A mix between growth and value is what Wendy's stock can offer to investors, and with the future initiatives and products, Wendy's will improve on its operating margins, sales increase quarter by quarter, and will continue to be a leader in the fast food industry.
Disclosure: I have no positions in any stocks mentioned, but may initiate a long position in WEN over the next 72 hours. I wrote this article myself, and it expresses my own opinions. I am not receiving compensation for it. I have no business relationship with any company whose stock is mentioned in this article.