If residential housing markets continue to improve, they may help drag commercial real estate markets higher. If so, companies focused on the commercial real estate market - such as CoStar Group (NASDAQ:CSGP) - may trade higher.
What they do.
CoStar Group operates a commercial real estate research and analysis portal and LoopNet, a commercial real estate listing service acquired a year ago.
It took regulators a year to clear the LoopNet acquisition given the combined company's market clout. But, the regulatory hurdles are firmly in the rearview mirror and CoStar is a year into the LoopNet acquisition. If early results are any indication, the company may find the deal better than initially hoped.
Commercial real estate is highly competitive and correct pricing is critical to reducing vacancy. By subscribing to CoStar's analysis tools and services, owners and brokers get insight into local markets and that insight can make a significant difference to property profitability when spread across large office buildings and shopping centers.
The company keeps professionals ahead of peers through various legacy CoStar research and analysis products, including:
CoStarGo -- a mobile platform
CoStar Property Professional -- a detailed property information service
CoStar COMPS Professional -- comparable sales data for pricing intelligence.
CoStar Tenant -- insight into leading national leasers.
Market reports -- specific insight into commercial market trends.
And, CoStar offers a premium commercial real estate listing service with deeper integration and insight thanks to LoopNet.
Commercial real estate is recovering.
According to commercial real estate firm CBRE (CBG), office vacancy rates fell nationwide in Q1.
"Market fundamentals continue to improve as the economy slowly recovers and the employment picture brightens," said Asieh Mansour, PhD, CBRE's Head of Americas Research. "Although the economic rebound is tepid by historical standards, real estate markets are being helped by a dearth of new construction, which is allowing excess space to be steadily absorbed. The consolidating federal government sector, however, does provide a drag on the recovery in certain markets."
The recovery in office space was led by the Denver and San Francisco markets, which saw vacancy rates fall 60 and 40 basis points, respectively in the quarter.
Fewer vacancies nationally have provided pricing support too. In Q1, CBRE reported class A prices trended higher as owners offered fewer concessions to would-be leasers.
Industrial markets also got stronger, with lower vacancy rates in 8 of 12 markets tracked by CBRE.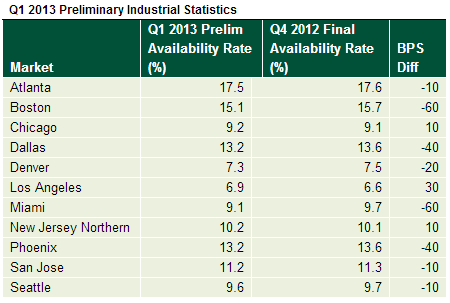 Those findings were echoed by real estate tracking firm Reis (NASDAQ:REIS). Reis reported office vacancy rates fell 10 bps to 17% nationwide in the first quarter. Admittedly, those rates are still pretty high, but they're trending in the right direction.
Their tepid recovery has kept a lid on new development as banks continue to prefer build-to-suit deals. The absence of new inventory helped effective rents inch up 0.07% in the quarter -- a 10th consecutive quarter of improvement.
Reis also reported a 30 basis point year-over-year drop to 8.3% in mall vacancy; 1.6% lower than its peak in 2011. Strip mall vacancy rates remain high at 10.6%, but they've fallen from their 2011 high of 11.1%. Similar to offices, bank lending continues to keep a lid on new supply. Rates at regional malls are outpacing strip malls; with vacancy dropping 30 bps quarter-over-quarter while asking rents improved 40 bps. That 30 basis point quarterly decline was the biggest since 2003.
While office, industrial and mall demand has remained anemic, significant growth has come in multi-family. In Q1, REIS reported apartment vacancy fell to 4.3% last quarter, down from 5% the prior year and well below the 8% peak back in 2009. Effective rents climb 0.5% in the quarter.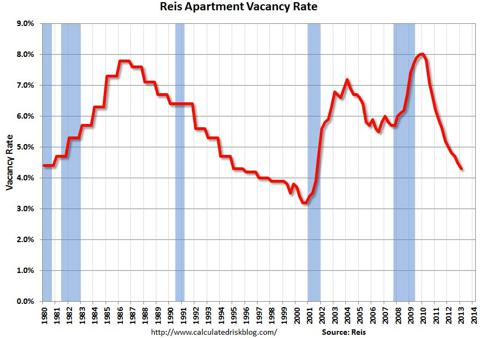 These positive first quarter trends were reported in CoStar's research too.
According to CoStar, commercial real estate pricing improved 10.8% in the past year during April. CoStar reported post recession multifamily strength is starting to spread across other property types, led by office, retail and warehouse. During April, repeat sales transaction volume grew 25% versus Q1 as time-on-market dropped 5.1% from a year ago. At the same time volume has picked up, the gap between asking and sales prices have narrowed 2.2%.
CoStar's revenue and profit reflect the improving trends.
Importantly, the nascent recovery in commercial markets is supporting CoStar's top and bottom line.
In Q1, total sales including LoopNet increased 52% to $104 million. Remove the benefit of LoopNet and organic growth still improved 13%. Growth was led by premium memberships, which increased 16.6%.
In addition to organic growth, CoStar is finding success in marketing across the two business segments. It's selling CoStar analysis tools to LoopNet property listers. And, listings to CoStar research clients. That cross-selling has added another $18.4 million in revenue since the LoopNet deal closed. To put that in more perspective, CoStar reported cross-sales had totaled 14.6 million exiting Q4.
CoStar has also found cost savings more quickly than hoped. In the quarter, savings climbed above its $20 million forecast a year ahead of schedule.
As we go further into the year, CoStar should get additional traction thanks to its March price hikes and a shift in subscriptions at LoopNet. Prior to the acquisition, LoopNet subscribers were overwhelmingly month-to-month. That created significant churn. Post-acquisition, CoStar has focused on converting to annual subscriptions.
LoopNet's listings have also improved nicely. The number of paid listings on LoopNet has increased to 38% of total listings, up from 31% last year. This suggests the company is having success converting people from its free entry level platform.
Registered LoopNet members -- both basic and premium -- totaled 7.1 million exiting March. That represents 22% more members than the prior year.
Even better, the average revenue generated from premium member increased 5% to $69.08 from last year. This suggests the company is monetizing more effectively.
And, while most of the company's business is here in the United States, the economic swoon in Europe is creating an opportunity to gain a foothold there before recovery. To that end, CoStar has recently launched products and services for the U.K. market.
Across the entire company, CoStar counts 200,000 paying customers and 10 million unique visitors. CoStar added $13.8 million in annualized net new sales during Q1 as more people signed up for the legacy CoStar service. Subscribers to the CoStar research tools hit 100,864 during the quarter, up from 94,956 a year ago.
CoStar's forecast suggests additional upside.
Costar is guiding for an annualized run rate of $500 million in sales exiting this year and for $428-432 million in FY13 sales; roughly 4 million more than it had projected earlier.
More interestingly, during the Q1 conference call CoStar's CFO Brian Radecki indicated he believed revenue could double by the end 2017. "...we've essentially doubled the size of our business over the past 5 years. Fourth quarter of 2007, we were at about $50 million, and the fourth quarter of last year, which we just closed out, we were at about a $100 million run rate in revenue. Although our revenue base is much larger than it was 5 years ago, I think it's reasonable to believe that we can accomplish the same thing over the next 5 years as far as revenue growth rate goes. This would put us at about a $200 million quarter by the fourth quarter of 2017, or an annualized run rate of about $800 million, or $700 million annualized run rate in 2016."
A doubling of its revenue over the coming few years would be welcome news for shareholders, especially since margins are improving. During Q1, gross margins expanded from 64.6% last year to 67.7%. Taking out the impacts of stock based compensation, EBITDA increased 68% year-over-year. That results in non-GAAP net income of $13 million, or $0.47 per share, up from $8.2 million or $0.20 per share last year.
The ability to grow the business and maintain strong margins should help provide additional shareholder friendly moves as cash builds. Currently, CoStar has $5.87 per share in cash and equivalents, or $167 million.
How should you approach investing in CoStar?
Shares aren't cheap. Value investors will wince at the shares forward price to earnings multiple of 44. Currently, the Street expects CoStar to generate $2.81 per share in 2014, that's up from $2.79 60 days ago. But, even with CoStar beating estimates in each of the past four quarters, it's hard to imagine shares catching value buyer's eyes anytime soon.
However, homebuilders had sky high multiples when they bottomed too. It wasn't until analysts got more comfortable with double digit increases in sales that earnings projections accelerated enough to depress PE ratios. Perhaps, we'll see a similar lift occur in commercial real estate related plays.
Regardless, investors should approach CoStar with caution. It trades thin at just a bit more than 100,000 shares daily. This means it could trade volatile as investors reposition. Thin liquidity also suggests shares have more running room given days-to-cover held short tops more than 12 days if these sellers cover, shares could move markedly higher.
Disclosure: I have no positions in any stocks mentioned, but may initiate a long position in CSGP, REIS, CBG over the next 72 hours. I wrote this article myself, and it expresses my own opinions. I am not receiving compensation for it (other than from Seeking Alpha). I have no business relationship with any company whose stock is mentioned in this article.