It's hard to believe that the market could reap further gains after the strong rally we saw from November 2012 to May 2013, but upside trends and breakouts to new highs can often go much further than the mind can imagine.
Are we setting up for another upleg in US stocks (some foreign markets haven't participated, so we're focusing on the US here)? The current pattern in the CBOE Volatility Index [VIX] (NYSEARCA:VXX) combined with a potential 'V' shaped bottom in the S&P 500 Index [SPX] (NYSEARCA:SPY) certainly raises the possibility. The last similar setup to this was in November 2012, and we all know what kind of steady uptrend followed that.
Examine the chart below. The VIX staying above 16 currently is a sign of unrest/worry among options traders. And there is understandable reason for that, with Fed tapering on the horizon and volatile price action in stocks over the past month. Not to mention weakness in Gold and Bonds and volatility in Asia and Emerging Markets. But "the chart tells the tale", as we often say, and the market has actually been rallying since June 6.
The last time the VIX hovered around in the 16/18/20 area was right before the incredible steady uptrend that followed. Now, we've potentially formed a V bottom right around the key 1600 round level (also near the location of key Fibonacci retracements) and the VIX is showing signs of a Wall of Worry (that can feed further upside as the skeptics and bears come around).
Is it possible that we may enter an even more accelerated 'blowoff' type uptrend in US stocks (NYSEARCA:DIA) (NASDAQ:QQQ) (NYSEARCA:IWM)? Yes, it's possible. Remember if we do end up going parabolic to the upside, it will end badly - but that doesn't mean you can't ride the trend higher as it may go farther and last longer than anyone expects. In general in parabolic moves we advise from experience to ride the trend higher, keeping position sizes relatively small and taking profits along the way. That way you don't get caught holding a greedy full overexposed bag when the bottom inevitably drops out. Then be prepared to raid quick bearish moves on the downtrend as well.
Lest you forget how high and far a parabolic rally can go (and fall), take a look below at the NASDAQ Composite [COMP] from 1991 to 2002, with a zoom in on 1991 to 1995 and the current SPX 2009 to 2013. This particular scenario was unique in its own way and is unlikely to be replicated, but we have seen parabolic rallies occur more frequently in a variety of asset classes over the past 10/20 years.
Parabolic Rally Chart - COMP & SPX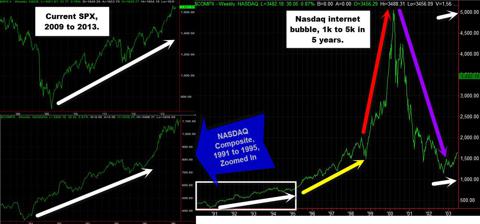 Calling a big market rally (especially after the strong performance we've seen in recent years) that could potentially go parabolic to the upside is not something I'm in the business of doing; you certainly stick your neck out by doing so. What I'm saying is that in my analysis the possibility is there that this may soon be or already is underway.
The price action the remainder of this week and over the weekend is important to determining if a strong new upleg is underway or we get pulled back down into volatility and potential downside. This week ends with a monthly options expiration and there have been volatile Friday/Weekend/Monday moves recently as economic events and global news have impacted markets.
Right now, keep an eye peeled on the charts and an open mind when it comes to price action.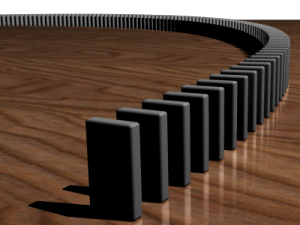 Disclosure: I have no positions in any stocks mentioned, and no plans to initiate any positions within the next 72 hours. I wrote this article myself, and it expresses my own opinions. I am not receiving compensation for it. I have no business relationship with any company whose stock is mentioned in this article.