The recent spike in market volatility has brought the financial markets' ever increasing addiction to the Fed's policy in the limelight. The markets worldwide exhibit astounding fascination with the central bankers' words; whether it's Mario Draghi's "whatever it takes to save the euro" or Bernanke's "possible tapering in upcoming meetings." The most important implication of this fascination is the markets' occasional tendency to "misinterpret" subtle messages, which on face value threaten to unwind the current easy money.
I hold the view that the market has painted a more hawkish picture of the Fed's recent announcement of a possible slowdown in the pace of its asset purchase program in the upcoming meetings. Although Bernanke might have chosen his words to engender a curb on excessive risk taking (through chasing yields) he certainly did not indicate much possibility of "tightening." In response, yields shot up and although the current yield levels were witnessed in early 2013, the pace with which yields have currently risen is extraordinary. Consequently, stocks with bond like features such as those in the utilities sector, witnessed heavy sell offs; the utilities sector went down ~9% when signs of possible Fed tapering began to emerge (Refer to Figure below).
Fig 1: XLU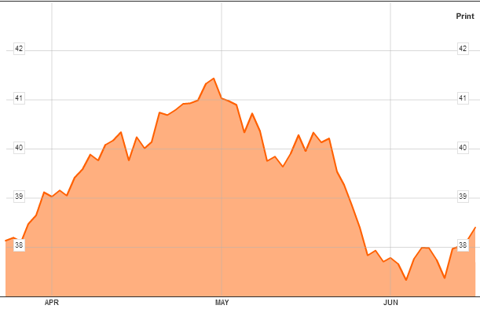 Source: Bloomberg
Also, the volatility in the markets wasn't confined to a certain asset class. Stocks, emerging market debt and currencies around the globe witnessed swings. The Fed is concerned about spooked investors and the exaggerated response at home and therefore Bernanke is likely to calm the investors' nerves in his next announcement. But beware, "calming" does not constitute a complete reversal of the original statement. In other words, Bernanke is likely to stick to his original message but will stress that future policy action is contingent on labor market conditions and furthermore he will highlight that "tapering" is not tantamount to immediate rate hikes.
Pertinent to the above discussion is the point that the Fed has a dual mandate. The Fed is concerned with both the labor market and inflation. Inflation, measured from PCE index, fell to 1% in April and is well below the Fed's desired level. This observation is troubling in its own right and may augur the risk of deflation, but not much attention has been paid by the markets on this issue. Hence, low inflation extends more room to the Fed in continuing its easy policy; it might even necessitate continued easing.
Therefore, since I believe that the Fed is likely to calm the markets by playing down the possibility of immediate rate hikes, I forecast a bounce back in the utilities sector (which has recently suffered under the prospects of rising yields). Investors could play the rebound through the Utilities Sector Select SPDR Fund (NYSEARCA:XLU) or through two of my favorite utilities stocks: Southern Company (NYSE:SO) and Duke Energy Corporation (NYSE:DUK). SO currently trades at 15.5x its forward earnings against an industry average of 16x and offers a dividend yield of 4.6%. It also has a low PEG of 3.3 compared with its peers and offers a decent five-year growth rate of 4.8%.
DUK is another stalwart of this sector. It currently has a dividend yield of 4.5% and trades at 14.9x its forward earnings. It furthermore has a PEG of 3.8. Both SO and DUK are attractive investment opportunities at the moment and I recommend that investors buy both of these stocks.
Disclosure: I have no positions in any stocks mentioned, and no plans to initiate any positions within the next 72 hours. I wrote this article myself, and it expresses my own opinions. I am not receiving compensation for it (other than from Seeking Alpha). I have no business relationship with any company whose stock is mentioned in this article.