Well what has long been believed is now a near certainty as President Obama remarked on Charlie Rose Monday night that Chairman Bernanke had "stayed a lot longer than he wanted or was supposed to." While many have assumed that Bernanke was going to step down at the end of his term in January 2014, much of the speculation has now shifted to who will replace Bernanke, whether it will be a hawk or a dove, and how the markets will react to the change. There is, however, one thing that hasn't been talked about, that is who will be voting members next year.
The Federal Open Market Committee (FOMC) is the part of the Fed that is actually responsible for monetary policy. Those who actually vote on monetary policy currently consist of seven votes from the Board of Governors, a permanent vote from the President of the New York Fed, and four rotating votes from other Reserve Bank presidents.
I have two main concerns regarding the Fed next year, one the markets reaction to whoever the new Fed president is, and two the voting members on the committee next year.
So who are the hawks and who are the doves? Well first, a hawk is someone who generally wants tightening and a dove is someone who wants a more accommodating monetary policy. Here are the members of the board and their leaning.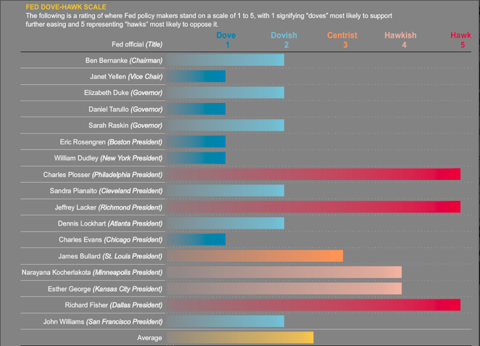 Source: Thomson Reuters
I think that next year could be ugly for the market because of who the four voting members will be. Here is who will be voting next year.
2013
2014
Voting Members

Boston

Chicago

St. Louis

Kansas City

Cleveland

Philadelphia

Dallas

Minneapolis

Non-Voting

New York VP

Cleveland

Philadelphia

Dallas

Minneapolis

New York VP

Chicago

Richmond

Atlanta

San Francisco
Source: FRB FOMC
Next year the voting members lean as follows.
Cleveland- Sandra Pianalto- Moderate Dove
Philadelphia- Charles Plosser- Very Hawkish
Dallas- Richard Fisher- Very Hawkish
Minneapolis- Narayana Kocherlakota- Hawkish
So we have a very hawkish makeup of voting members next year. Combine that with a new Fed president, who will most likely be slightly dovish and we could get some volatility. It seems that some people think that going from $85 billion a month in easing to $65 billion a month would be tightening, when in fact it would just be less easing. Given that Richard Fisher and Charles Plosser are two off the biggest hawks out there will be voting members at the same time next year the market could be in for a rude awakening. The voting members generally go with what the Chairman has proposed, with maybe one of the people who disagree with the policy actually offering a dissenting vote. I doubt that there would be significant discord at the Fed, at least not more than there is now, but even the slightest hint of disagreement at the Fed would not go over well in the markets.
If you don't think that it could get ugly pretty quickly, take a look at what the 20 Year Treasury ETF (NYSEARCA:TLT) has done since Bernanke's testimony before Congress last month. The 10 Year Treasury has rocketed from 1.63%, going as high as 2.30%.

Imagine that chart if there was a hawkish slant coming from the Federal Reserve. Like I said, it could get ugly. This shouldn't cause you to flee from the markets, but it is something that I will be watching closely as we get closer to January 2014.
Disclosure: I am long TLT. I wrote this article myself, and it expresses my own opinions. I am not receiving compensation for it (other than from Seeking Alpha). I have no business relationship with any company whose stock is mentioned in this article.