Solar stocks have seen a sharp rally in 2013 due to improvement in solar panel prices, strong demand from Japan and China as well as better results being reported by companies such as Jinko Solar (NYSE:JKS), JA Solar (NASDAQ:JASO) and First Solar (NASDAQ:FSLR). The strongest rally has been seen in companies with a strong installation/downstream business like First Solar, Sunpower and Canadian Solar (NASDAQ:CSIQ). Chinese stocks rallied sharply yesterday after the Chinese government said that the grid companies and banks should support the solar companies during these difficult times. Even badly indebted and "zombie" companies such as LDK Solar (NYSE:LDK) and Suntech (NYSE:STP) saw a sharp stock rally. However, investing in these stocks would be foolish based on this statement, as the Chinese government keeps issuing such statements from time to time. The authorities in Beijing have become wary of supporting basket cases such as Suntech, which have almost zero chance of becoming a viable business ever again. LDK Solar has imploded and defaulted twice on its debt payments in the last 6 months. GCL Poly Energy (OTCPK:GCPEF), which is the biggest Chinese solar company by market capitalization, fell sharply today, after the Chinese sovereign fund sold 40% of its stake in the company soon after the government told financial institutions to support the company.
Chinese government issues statement of support for Solar stocks but CIC sells GCL Poly stake
The Chinese premier indicated that solar companies in China should be supported by the state apparatus. He advised that they should be given grid preference and banks should be lenient on the loans given to these companies. The weaker solar companies such as LDK Solar are under a huge distress. LDK Solar's massive 15,000 ton poly plant is closed and it has fired ~60% of its workforce. The company has defaulted twice on its debt payments. Suntech, which used to be the world's biggest supplier of solar panels in 2009, has also defaulted and CEO Zhengrong Shi has been ousted. The EU-China trade spat has raised the specter of further widespread bankruptcies of the weaker Tier 1 solar companies as well as thousands of job losses. But soon after the statement, the Chinese sovereign fund CIC sold 40% of its ~20% equity stake in GCL-Poly. No reason was given for the stake sale, which had been bought by CIC four years ago. This news led to a sharp fall in GCL stock price in Hong Kong today.
China's cabinet approved new measures to combat air pollution on Friday, in the latest step by China's new leadership to address the country's enormous environmental problems, with pollution a key source of rising social discontent in China…Friday's State Council statement also acknowledged difficulties afflicting China's solar industry but pledged to maintain support for the industry through "reformed methods". Specific measures include price support for the sale of photovoltaic electricity to electricity grids and requiring grid operators to purchase all the electricity that solar generators produce.

Source - Business Spectator
Chinese Solar Stocks have rallied recently
Most Chinese solar stocks have seen sharp rallies in 2013 due to their extremely low valuation, improvement in industry fundamentals, increase in U.S. solar stock prices (particularly SolarCity (SCTY)) and better-than-expected anti-dumping ruling by the European Union. Canadian Solar and JA Solar have outperformed the rest as they have benefited from the Japanese solar boom. The other solar stocks such as Daqo New Energy (NYSE:DQ), LDK and Suntech have also increased in sympathy. However, I would not touch some of these stocks because it is hard to see them ever returning to profitability.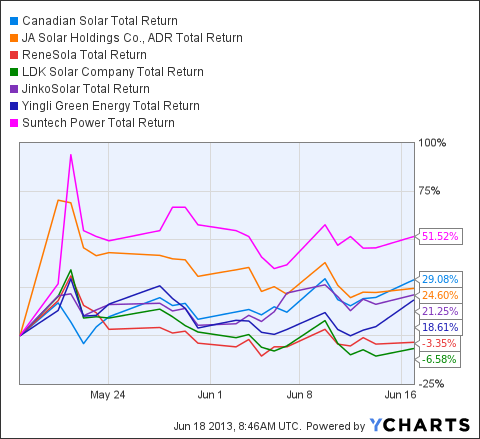 CSIQ Total Return Price data by YCharts
Be wary of sorting the Good from the Bad
Investing blindly in the solar industry is a sure shot way of suffering from massive losses as the bad companies will most probably go bankrupt in a couple of years. Some of them already have a negative book value and the reason why they are trading at > $100 million capitalization beats me. LDK Solar reported revenues of ~$100 million in the current quarter, while its quarterly interest payments are 50% of its revenues at ~$50 million. I don't see how the company will be able to ever return to the black. The same holds for Suntech as well given its pathetic financial state. First Solar recently issued more than ~$400 million of equity at ~20% below its stock market price. The company diluted equity to take advantage of the sharp price rally in the last year, when it increased by more than 400% from its all-time low. I think that investing in the fundamentally strong stocks that have not risen too much might be a good idea right now.
So which stocks should you look at?
ReneSola (NYSE:SOL) and Jinko Solar were the two of the three best-performing Chinese solar stocks in 2012 and I think they will perform almost as well in 2013 too. Their stock rallies have not been as sharp as the others, which means that a lot of potential gains are left. Yingli Green Energy (NYSE:YGE) is also a good prospect given its No.1 position and a 3,000 MW order that it got in China. Though YGE has substantial debt, it is not a LDK Solar.
Summary
Solar stocks are highly volatile and can give both huge profits and losses in a short period of time. Buying good companies in this industry can be highly rewarding, as the solar industry is showing signs of returning to normalcy. However, it is not a one way street up since adverse news can lead to big price falls as well. Also investing in low-quality stocks can only lead to pain, so investors need to be careful of the stocks they buy. Some solar stocks are trading at extremely low valuations; some of them are trading at very high valuations. I would look to invest in some of the better companies such as ReneSola, which can give a multi-bagger return on a one-two year time frame.
Disclosure: I have no positions in any stocks mentioned, and no plans to initiate any positions within the next 72 hours. I wrote this article myself, and it expresses my own opinions. I am not receiving compensation for it (other than from Seeking Alpha). I have no business relationship with any company whose stock is mentioned in this article.